We have covered How Big is Sony, Netflix, Walmart and Nike? in the past few months, and so far, we've experienced a pleasant ride. Then, one fine day we thought, let's do something different this time as all of the companies we have covered till now have been situated in foreign lands, and this simple thought provoked us to shift our focus from foreign companies to our Indian giants. The search began, and we started looking for Indian companies that contributed remarkably to our country's growth, and at the end of the day, we mutually decided to go with Wipro, India's third-largest outsourcer of IT services.
How was Wipro started?
Wipro is a widespread name in Indian households as the majority of Indians prefer to use electrical products and an energy-efficient range of LED lighting solutions manufactured by Wipro, but many of us aren't even aware of the now popular multinational corporation that provides information technology, consulting and business process services was initially started as a maker of vegetable and refined oils in Amalner, Maharashtra. Though you can always ask your grandparents, they might be aware of the trade names of Kisan, Sunflower, Dalda Ghee, and Camel, popular products of the company during their early days.
The company was founded in 1945 as Western Indian Vegetable Products Ltd. by Mr Mohamed Premji, and later on, it was inherited by his then 21-year old son, Azim Premji. In 1966, the latter was pursuing electrical engineering at Stanford University in the United States, but due to his father's sudden demise, he returned to India and became the company's chairperson at the bare age of 21. Mr Azim Premji officially renamed the company to Wipro Products Limited in 1977, when he took over the family-owned business and expanded the company's product line to include hydraulic cylinders, bakery fats, toiletries, soaps, and lighting products.
How Wipro entered into the IT sector and expanded its other ventures?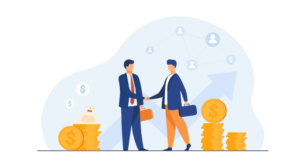 The chairperson of Wipro Products Limited, Mr Azim Premji, was a visionary man and always wanted to do something in the IT and computing industry, and when the opportunity knocked at the door, he tucked it in. Wipro gradually started entering into the IT business in the late '70s, and at that time, IBM India was at its pinnacle and was the biggest competitor for newbie Wipro. Many business groups in the country called Wipro's move a foolish one but to the company's luck and the arrival of a new government with fresh foreign exchange rules, in 1978, IBM India shut its operations and withdrew its services from the country, which helped Wipro advance its services in the field and ripe the opportunity.
Wipro commenced its IT sector journey by producing microcomputers under a technology-sharing agreement with US-based Sentinel Computer Corporation, and within a decade, it became the first Indian company to explore offshore IT services. In between this, Wipro once again updated its name from Wipro Products Limited to Wipro Limited in 1982, added mobile hydraulic cylinders and heavy-duty industrial cylinders to its line of products in 1988, formed a joint venture called Wipro GE Medical Systems with the United States' General Electric (GE) for the manufacture, sales, and service of diagnostic and imaging products and started making one Santoor talcum powder and Wipro Baby Soft, a range of baby toiletries in 1990.
Further Growth & Collaborations
The economic liberalisation in India during the early '90s led to an increase in foreign investment and high economic growth. The movement helped our country grow its Gross Domestic Product (GDP) from $266 billion in 1991 to $3.3 trillion in 2021. Thanks to economic liberalisation, Wipro further expanded into manufacturing lamps, oil-based natural ingredients, beauty care products, medical and diagnostic equipment, and IT hardware products such as printers and scanners.
In 1999, Wipro became the only Indian computer manufacturer to obtain the complete Y2K compliant certification from the United States' National Software Testing Laboratory. In the next couple of years, Wipro continued to perform strongly, with IT remaining its core industry. They also collaborated with Acer to produce personal computers for the Indian market and soon arose as one of India's largest software exporters and the second-largest listed company in the country.
Azim Premji, chairman of Wipro, who's informally known as the Czar of the Indian IT Industry, is currently the 13th richest Indian, but from 1998 to 2003, he stayed as the richest Indian. Wipro enjoyed a tremendous level of prosperity throughout the late '90s and early 2000s. They started internet service in India by partnering with KPN (Royal Dutch telecom) to form a joint venture company, Wipro Net Limited and also opened a Business Process Outsourcing (BPO) unit in 2002. In the five years where Azim Premji stayed on the top position of richest Indian, Wipro performed historically on the Indian stock exchanges. In the following years, Wipro also became one of the first software companies to get SEI (Software Engineering Institute) Level 5 certification.
Wipro Acquisitions
Currently, Wipro is headquartered in Bengaluru and is known for its array of services such as IT sector, BPO services, cognitive computing, robotics, hyper-automation, testing, research and development in the software and hardware areas of companies around the world. The Indian multinational corporation Wipro was ranked 1st in the 2010 Asian Sustainability Rating (ASR) of Indian companies. The company even offers its services to several enterprises like Finance, Utilities, Energy and Entertainment. Under Azim Premji's bold leadership, Wipro tasted more success rather than failures and emerged dramatically as one of the leading IT companies not only in India but all over the globe.
Wipro acquired more than 15 companies till now and has spent over $2.5 billion on acquisitions. Wipro acquired Chandrika, an ayurvedic and herbal soap brand in 2004, Northwest Switches and Sweden-based Hydrauto Group AB in 2006 for Rs. 102.2 crore and Rs. 142.6 crore, Infocrossing in August 2007 for Rs. 2,430 crores, Singapore-based Unza Holdings Ltd. in 2007 for Rs. 1,010 crores, the personal care brand Yardley from the Lornamead Group in 2009, Appirio, an information technology consulting company for Rs 3,300 crore in 2016, Florida-based HealthPlan Services for $460 (over Rs. 3100 crores) million in 2016 and tied up with Israel Aerospace Industries to manufacture composite aerostructure parts and assemblies in 2017.
Top 5 Wipro Subsidiaries
Wipro Infrastructure Engineering
Wipro Infrastructure Engineering was established in 1976 as a part of Wipro, and it is one of the principal subsidiaries of Wipro. It is the hydraulics business section of the company and has been into manufacturing hydraulic cylinders, cargo handling, mining, freight, truck cylinders, and their components. The subsidiary has delivered over a million cylinders to original equipment manufacturers across the globe. The division also launched specific solutions during the pandemic to fight against Covid 19.
Wipro Consumer Care & Lighting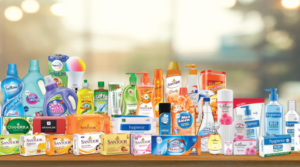 Wipro Consumer Care and Lighting (WCCLG) was established as a division of Wipro in 1945 to cater for the fast-moving consumer goods (FMCG) segment dealing personal care, home care, lighting and furniture products. The first manufactured product by the subsidiary was Sunflower Vanaspati oil. The firm has ventured into selling personal care products like Santoor, Chandrika, Aramusk, Wipro Baby Soft ranges and Yardley, along with lighting products like Smartlite CFL and LED lights. The division is one of the fastest-growing in Asia, and Africa, with more than 75 crores sales revenue in 2019-20.
Yardley
Yardley or Yardley of London is a British personal care brand established by the Cleaver family in 1770. The brand is specialized in cosmetics, fragrances and relevant toiletry products. It is one of the oldest firms globally and one of the biggest manufacturers of soap and perfumes. Wipro consumer care brought Yardley in 2009 except for businesses in Germany and Austria, where it is still owned by Lornamead, a part of Hong Kong's Fung Group.
Opus Capital Markets Consultants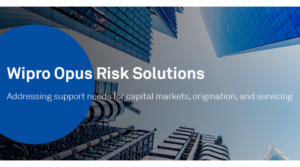 Headquartered in Lincolnshire in Illinois, United States, Opus is one of the top companies in the financial services industry, and since 2013, it has been owned by Wipro. Opus Capital Markets Consultants offers multiple services like Residential & commercial mortgage, Compliances services, servicing reviews, advisory services, quality control, servicing oversight and operational assessment. Recently, it has been fully integrated with Wipro and renamed as Wipro Opus Risk Solutions LLC.
Topcoder & Appirio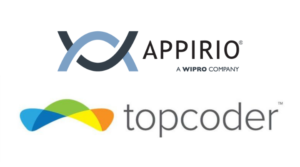 Topcoder is a crowdsourcing company that pays community members for their projects and sells community services to corporate, mid-size, and small-business clients. The company was founded by Jack Hughes in the year 2001, and its name was formerly spelt as "TopCoder" until 2013. Wipro acquired Topcoder in 2016 along with Appirio, an information technology consulting company founded by Chris Barbin, Narinder Singh, Glenn Weinstein and Mike O Brien. Appirio competes with Accenture and Deloitte in the business by offering SaaS services such as Salesforce and Google apps.
Logo Evolution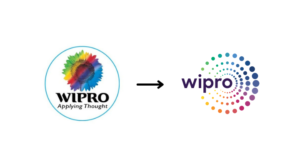 Wipro introduced its first logo in 1998; the logo features a very detailed sunflower diagonally coloured into 7 colours of the rainbow, placed above the sleek and stylized wordmark with a tagline, "Applying Thought," and enclosed into a thin blue circular structure. Later on, after two decades, in 2017, the company revamped its old logo with a new logo, comprising of dots that represent the way the company 'connects the dots' for its clients. Wipro removed the colourful sunflower and changed the wordmark from the capitalized inscription to a lowercase one. The new logo features four different sized circles formed by dots representing growth and progress.
Valuation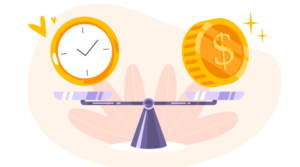 Wipro is headquartered in Bangalore, Karnataka, India, operates across all six continents and is ranked the 9th largest employer in India, with over 200,000 employees. As of September 2021, Wipro is the world's 374th most valuable company, with a market cap of $51.00 Billion.
Philanthropy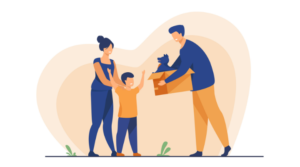 Of course, Mr Azim Premji will be remembered for transforming Wipro from a vegetable oil seller to a software giant, but along with this, people will remember him for his big heart.  Mr Azim Premji is the first Indian and only third non-American who signed The Giving Pledge, started by Bill Gates and Warren Buffet, to donate the majority of their wealth to charitable causes. He has donated $21 billion of his wealth as part of the pledge. Apart from this pledge, he has pledged 39% of Wipro shares for philanthropic activities and has also donated an amount of $2 billion to improve education in India.