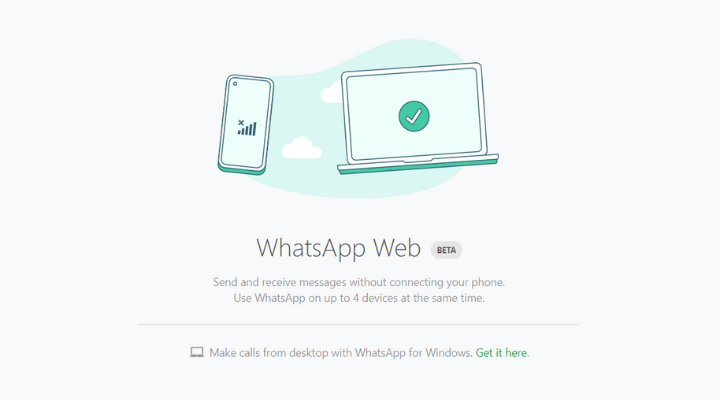 ---
Since WhatsApp launched the WhatsApp Web service to offer people access to WhatsApp through multiple devices, people have been waiting for the next-level feature where they can link their WhatsApp account to secondary devices and continue sending and receiving messages without the primary smartphone online, but is it really possible to operate WhatsApp without a smartphone intermediary?
Well, it is possible, and the mission is accomplished as WhatsApp has recently confirmed and launched the multi-device feature where users can use linked companion devices without the need to keep their smartphones connected. The company has been testing a multi-device beta program for the last few months, and now it is officially rolling out the feature on both Android and iOS versions.
How to use WhatsApp Web on PC Without a Smartphone Connection?
Gone are the days when you had to make sure about your smartphone connection before you could bring a conversation on your linked web browser. WhatsApp has confirmed that users can send and receive messages from PC or WhatsApp Web over an internet connection without even the smartphone acting as a mediator. However, users can connect only four devices to the platform at the same time.
To use the feature successfully, users will be required to initially link their device to the Web, Desktop, or Portal, which is a one-time-only process. After which, users will be able to use WhatsApp Web without their smartphones up to 14 days after the smartphone goes offline. The feature also includes audio and video calling directly via WhatsApp Web or desktop, and now it's high time to take a quick look at how you can activate the feature?
Open WhatsApp on your primary smartphone and log in on your WhatsApp messenger.

Head to the three-dotted menu at the top right corner of the home page of your WhatsApp and tap on it.

Tap on Linked Devices and join the Multi-device beta program.

Select "Link a Device" and tap on continue.

Scan a QR code from the web version of WhatsApp (on a laptop, desktop or tablet) – web.whatsapp.com.

Soon, both the devices will get connected, and WhatsApp Web will synchronise your messages.

Once logged in, even if your primary smartphone gets switched off, you will still be able to send and receive messages via WhatsApp Web.
WhatsApp web client might take some time, but it will work without much struggle once the device gets connected. Unfortunately, the feature arrives with a few limitations for iOS devices as it doesn't allow users to delete messages or conversation threads from a linked device. About safety, the newly launched feature is end-to-end encrypted and completely secure.