Android is packed with powerful and effective security features, but many features are out of the way but reasonably deserves your attention. Recently, several tech experts, politicians and media houses expressed deep concern over the Pegasus phone tapping, which grabbed users attention and created a panic wave of mobile spying. 
Fortunately, spying tools like Pegasus will not spend time tapping ordinary peoples phones, but several other hacking and spying software might do the needful, and that's the reason we have come up with the 7 valuable tips to keep your Android smartphones safe and secure. 
Lock your phone:
One of the first and foremost ways to keep your smartphone safe and secure is by locking the phone with a PIN or a pattern. We know it's an old piece of advice, but still, many users don't care about it. If you keep your phone unlocked and lose it to some snatcher, you're more likely to get into trouble as these guys can use your personal information and credit cards like their own. There are various options available to lock your phone, but we recommend PIN as all the remaining options can be hacked easily compared to pin codes.
Two-factor authentication (2FA):
Two-factor authentication is technically a Google account feature, but it provides an outstanding level of security to Android smartphones. The feature adds an extra layer of protection to your account and prevents others from logging into your account, even if you've accidentally saved your password in their system or phones. 
Nowadays, single-factor authentication doesn't provide reasonable security, and for hackers, it's straightforward to crack it. When you activate two-factor authentication, it not only asks for a password but also asks you to prove your identity with a unique verification code that's sent to your phone to go further.
Route to turn on the two-factor authentication: 
Settings > Google > Google Account > Security > Signing in to Google > 2-Step Verification
Keep your location to yourselves:
Every other app requests for your location when you install them or when you're using them and provides three options for you, allow permission all the time, allow when using the app and never allow. We understand that some apps can not work precisely without having access to the location, but if some app requests access to a location in the background, even if it's not related to the app's core functionality, you should not allow the location permission to the app and consider looking for an alternative app.
Use VPN Provider:
We've stopped our outdoor adventures for a while now, but soon we'll go out for vacations/holidays like we used to do in the past. Some of us still do a lot of travelling due to our work needs, and whenever we're out somewhere, we always look for a Wi-Fi network, whether we're entering a coffee shop or an airport sitting area but have you ever thought about the internet privacy? 
Well, now that you've warned about it, use a VPN on your smartphone whenever you're using an unknown Wi-Fi as they attach an additional security layer to your internet connection. Also, encrypting the internet connection is always the best way to keep your device secure. ExpressVPN, NordVPN, PrivateInternetAccess, PrivateVPN and TorGuard are a few of the trustworthy and reliable VPN providers.
App Permissions: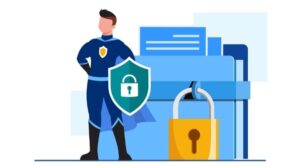 Android apps can never access your data or any part of your phone unless you explicitly permit them to do so. Whenever you install a new app, along with the location, some of the apps ask for permission to access your camera, contacts, call logs, calendar, messages, and media. Now, you should understand why a gaming app needs access to your call logs or calendar? 
You can not undo what has already happened, but you can stay alert in the future before allowing these apps permission to do unnecessary sections. Whenever you're free, follow the below route and turn off the unnecessary permissions to ensure future privacy. It'll surely take time but do it now to avoid the upcoming glitch.
Route to turn on the two-factor authentication: 
Settings > Privacy > Permission Manager
Choose the section where you want to update the permission, tap on it and click on the app's name to allow or deny the access.
Never allow your smartphone to save passwords:
Whenever our smartphones ask for permission to save passwords, we often let them save because it saves time, and we don't want to type the password after every visit. Though the practice is beneficial for us, at the same time, it raises concern over our Android phone security. Along with not allowing your smartphones to save passwords, you should not use the same password for everything. Instead, use a different password for every app/site, and to set yourself free from remembering all of them, use password managers like LastPass, 1Password, and Dashlane.
Do not download apps from third-party stores:
Android phones have their native store, Google Playstore, which lets users download apps securely. The vast majority of Android malware and viruses enter your phones when you use third-party stores to download apps, which provides easy access to your smartphones for hackers. Also, avoid using unauthentic apps as they might be bogus and use trustworthy anti-virus software to increase your Android security. Anti-viruses help resolve your Android security issues, such as finding malware or a bug in a smartphone, and they also provide an added security layer over Google Play Protect.