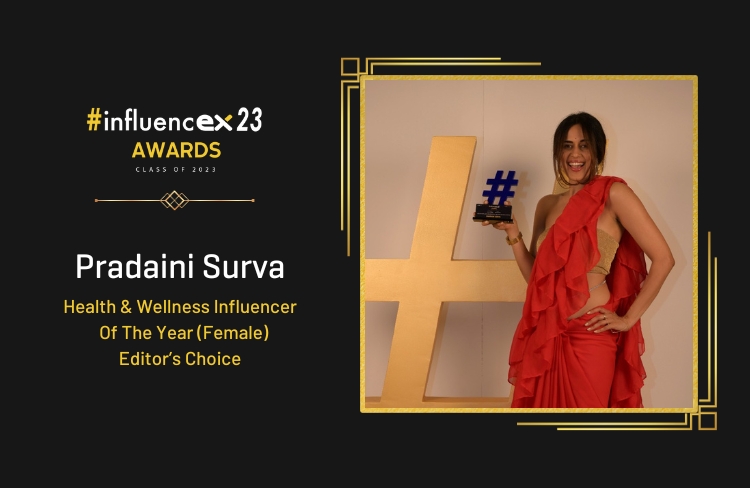 Ex : How did your content creation journey kick start?
I have been a model for a while, and that allowed me to keep my Instagram active with all the campaign images, and over a period of time, the whole scene transitioned to brands reaching out to me to create content!
Ex : What is your most viral reel/short? How did the idea come, and how long did it take to shoot?
The reels that do well are the saree-draping ones. I shot the first one casually, which happened to work, so I continued with it.
Ex : Any 4 creators you want to collaborate with in the future
I can answer this one year from today.
Ex : What piece of tech is your favourite
Headphones.
Ex : Assuming Instagram is shutting down in 24 hours, what will you do?
I'll start my yoga retreats right away.
Ex : Do you have an industry mentor?
Honestly, I look up to quite a few people for different reasons. I don't have a single niche; I share the full spectrum of my life. So, I have people in various streams I draw inspiration from.
Ex : Tell us about a project that you are the most proud of.
Being a creator, where I am the team and show up to put everything together. I am pretty proud of that!
Ex : Give us one or more hashtags describing you
#withness #willingness
Ex : Can you describe a BTS / blooper that happened during a shoot but didn't make it into the final content piece?
Haha, so many. I have tripped during saree videos, my tripod has fallen. I've dropped the phone on my face and a lot more!
Ex : What's the first-ever trend that you hopped on?
Presets! When I first became an influencer, I knew no other influencer, and I was watching all the OG creators from Mumbai using presets !!! I had no idea what they were doing to their pictures, I went nuts. I wanted that so much, and I did a lot of research and found what "presets were," and boom.
Ex : What will the creator landscape look like in 10 years from now?
It would be huge, there would be massive communities and many more platforms. Having a YouTube channel is going to be basic!
Ex : What are the platforms you are active on – how do you decide what goes where?
Currently, only Instagram.
Ex : What's the next big thing in the pipeline for you?
Executing what I have been thinking and talking about.
Ex : What is your dream project?
Retreats and building a yoga community!
Ex : Advice you would like to give to budding creators.
Stay unrushed and try different streams until you have a genuine calling to be on a certain path. In the process, there is a lot to be learned. Success brings great joy, it's still a worldly label, but satisfaction hits differently.