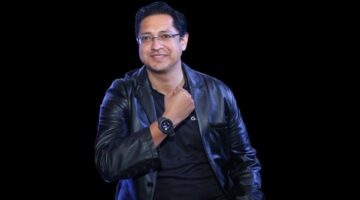 Ex: What is one truth you believe in that most people disagree with you on?
Ali: In our world, where change is the only constant, I personally feel that 'Nothing is permanent'. Everything is constantly changing and evolving around us. Be it science, technology, society, human evolution, nothing stays the same. We are
always seeing new mutations and generations with each passing day.
Ex: What is the one subject you think aspiring leaders should learn?
Ali: An aspiring leader should not only have the effect to keep their management and work in sync, but one should also have the Ability to Listen as well. Good listening skills and the perfect amount of humbleness can be the answer to a lot of tricky situations.
Ex: One thing you believe is absolutely necessary for sustained growth?
Ali: I believe that Hard work and persistence is the only way to reach the top.  There are no shortcuts in life to success.
Ex:  One book you keep coming back to?
Ali: The book is called Blue Ocean Strategy by W. Chan Kim which gives a whole different perspective on how to compete in the market today with a more challenging and innovative approach.
Ex: Leadership quotes that you live by (Can be multiple)
Ali: This quote is one true quote I believe in with all my heart: "Integrity is the quality needed to succeed in business – John Maxwell".
Ex:  How difficult is it to maintain a work-life balance?
Ali:  Work-Life Balance seems like a big obstacle for many. But It's not if you really want a balance. It's something you need to do to keep a healthy life be it professionally or your personal life.
Ex:  What has been your biggest learning in the pandemic?
Ali: These past few months have been really tough for everyone. I am extremely grateful for all the things around me that have made my life comfortable and I have been able to sustain the pandemic from the comfort of my house.
Ex: Some productivity apps and technologies you use in your daily life?
Ali: Since the pandemic has forced us to find alternative ways of working out from indoors, I have been hooked onto the Cult Fit App, religiously following their workout regime, and has helped me keep an active workout schedule at home.
Ex:  What is your technology detox like?
Ali: My technology detox is definitely, No Internet, all gadgets off, and quality time with self and family.
Ex: How extensive is your data on offline navigation?
Ali: Garmin offers a robust satellite navigation system to its users, which means internet data is not required. Thus the cost of navigation is zero. We offer Navigation features to Outdoor expedition, Golf, Marine, cycling & automotive ensuring they get the best and accurate navigation results.
Ex: Apart from wearables, is there any personal electronic accessory that you would like to delve into?
Ali: To me Self Driving cars & Gesture Control Technology is quite interesting and this is something I would like to get my hands on.