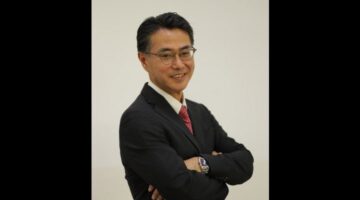 Ex: One thing you believe is absolutely necessary for sustained growth.
Atsushi: 'Accepting the change' be it in your professional life or personal, it is important to adapt to the change. The business environment is becoming more and
more dynamic and the needs and demands of the society are constantly evolving.
Ex: One book you keep coming back to.
Atsushi: It's a book called 'RYOMA SAKAMOTO' by Ryotaro Shiba. The book is a biography of samurai Sakamoto Ryoma, a founder of modern Japan.
Ex: When will you say you have fulfilled all your goals?
Atsushi: Probably towards the end of my life when I will look back at the entire journey with utmost happiness and a feeling of content.
Ex: When have you failed and how did you overcome it?
Atsushi: When I have decided something without considering other view points. Upon realizing the mistake, I have always focussed to do right things based on the actual situation and harmonizing with others' opinions.
Ex: What has been your biggest learning in the pandemic?
Atsushi: Pandemic has given us many advanced digital solutions for business continuity & taught us to connect virtually. I have personally learnt how to communicate through online platforms without having face to face meetings.
Ex: One futuristic feature that you can't wait to introduce in your vehicle.
Atsushi: Any feature that could take us in the future…may be like Time Machine.
Ex: Which old-school car/bike design inspired you the most?
Atsushi: In four-wheelers I would say it was Honda Prelude (2nd Generation) and among two-wheelers it was Honda CB750K0.
Ex: When does Honda plan to begin electrification of its line-up in India?
Atsushi: Electric vehicles are not new for Honda Motors, we had the technology for more than two decades and was being used in the Japanese market. In spite of
having a long history, there are still many challenges pertaining to cost, range & infrastructure. In India, our first task is to prepare a complete roadmap for EVs. We have already started our research and market study on EVs. However, there is no concrete timeline for its introduction in Indian market.
Ex: Since motorsports has been officiall recognized by the Indian government, what steps will you take to promote it in the future?
Atsushi: Motorsport is in Honda's DNA. We have been actively promoting motorsports in India for more than a decade now. I'm proud that today we have Indian team & riders competing in the Asian Championships. We will continue our talent development programs in India using our advanced racing machines like NSF250R (Moto 3) and best trainers from global Honda. At the same time, our new advanced & sporty products will continue to expand the fun riding culture in India.