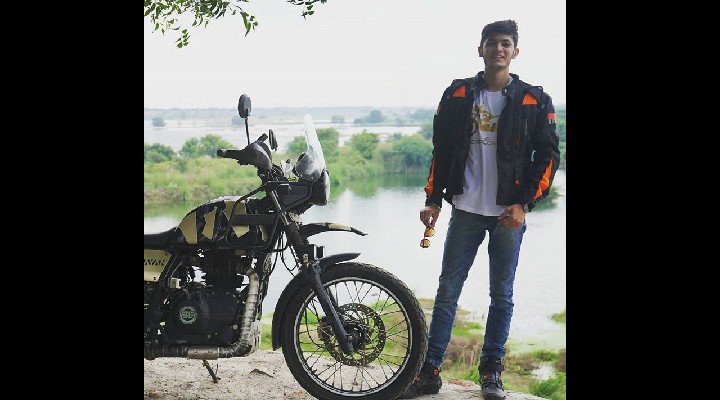 Ex: Tell us about a change you've seen in the digital blogging space since you started your journey? How has this space evolved? 
Lakshay: It's been quite a long and treacherous journey and it definitely hasn't been a bed of roses for me. Many things have changed in the sphere of digital blogging. Honestly, the biggest change that I've seen is that many young, talented individuals are coming forward and starting channels and profiles of their own. The digital blogging space is becoming more creator-friendly day after day and I hope that it will bring in a lot of new talent as we move forward. 
Ex: What would be your calling in a parallel universe? 
Lakshay: Well, to be honest, I don't think I'd have done anything else apart from moto vlogging. I am extremely indebted to this as moto vlogging and the world of social media influencing has made me what I am today. So, I guess that the Lakshay in a parallel universe is probably vlogging on a Battlestar Galactica Gunship! 😀 
Ex: A technology you wished you'd invented? 
Lakshay: I honestly wish I could invent a motorcycle that would make gasoline out of thin air. I would never have to stop for gas that way!. 
Ex: What does success mean to you? 
Lakshay: For me, success means seeing my parents being proud of me and being happy with my work. It also means the happiness that I find in the thing that I do. I still maintain the principle that no matter how successful a person is, if they aren't happy with the work they do, then there's absolutely no point in all that success. 
Ex: What is your dream car or motorbike? 
Lakshay: Well, I'd love to own an RV someday and travel across continents. That would definitely be a dream come true. 
Ex: As the current pandemic has seriously impacted the automotive industry, what does the future hold for automobile bloggers? 
Lakshay: The current pandemic has hit us hard. As a matter of fact, every single industry is suffering huge economic losses in the lockdown. India, as a country is also suffering badly. So, I feel that for automobile bloggers the future is a little uncertain as of now, but like everything else this too shall pass and we will ride again and travel to the various corners of the country as soon as this pandemic blows over. 
[button href="https://www.youtube.com/channel/UCJHy3w8Ac7bDDT2I7iMC9Ag" type="btn-primary" size="btn-lg"]FOLLOW[/button]