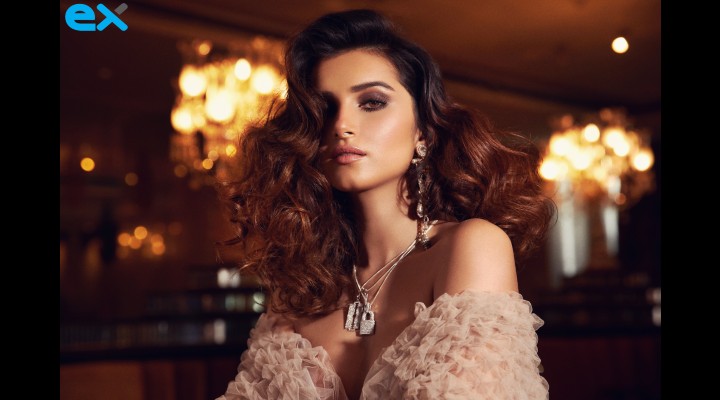 We're wrapping up this year with our Blazing Star 'Tara Sutaria'! So much has changed since the last time she had taken over our September '19 Issue. We were shooting in an amazing outdoor location on the outskirts of Maharashtra and she had just stepped into the showbiz with the mega-hit Student of the Year 2 & was preparing for the release of Marjavaan. Since then, we've seen her career graph reach new heights and how she has evolved as an artist too.
In conversation with Arshi Naqvi, Tara shared her journey from wanting to become a singer to stepping into acting, stories from the lockdown period and how she went back to her artistic hobbies.
Ex: You made your debut in the industry starring opposite Tiger Shroff, you are now reuniting with him for 'Heropanti 2', tell us something about your relationship with him on sets & are there any new projects coming up?
Tara: Shooting for Student of The Year 2 was a really special experience for me because it was my debut and of course, I got to share that experience with Tiger and he was so giving as an actor and such a wonderful person to work with, so dedicated. So that was something that was really nice to see and something that I, you know sort of drew from him as a quality and he's a dear friend of mine and I'm really really really excited to work with him again and in Heropanti 2, I think it's special because that was the first film that was his de0 but so it's special for many reasons and I can't wait to reunite with him.
I have just begun filming the last chunk of the RX-100 remake that I'm doing with Sajid Nadiadwala, Milin Lutria & Ahan Shetty, I'm really excited because we're almost done with the film, I can't wait to see the final cut and I have Heropanti 2 coming up and of course the prep for Ek Villain 2 as well.
Ex: We all went #AtmaNirbhar during the lockdown period which also resulted in some disastrous moves but we also learnt so many new things. Staying home, what new things have you learned?
Tara: I learned how to bake and cook and I was cooking almost every day at the beginning of the lockdown now of course work has picked up and I'm filming again but I had lots of time to spend at home with my twin sister, so we were training in dance together because she's a ballet teacher so she was teaching me and I was getting back to my dancing and of course my music and I was getting back to my charcoal sketching so it was really nice to get back to all these things and learn so many new things as well.
Ex: You've always wanted to be a singer, but what made you consider acting & how satisfied are you with this decision?
Tara: I think I always wanted to be a singer but when I was in my teens I was the ambassador of Disney in India and I was doing a lot of musical theatre productions and just theatre in general and I think that obviously involved a lot of acting as well so I think you know that that's sort of struck me that I could do that as well and of course when I graduated from college I met Karan and Student of The Year 2 happened for me and that really changed my perspective toward what I wanted to do and for me now acting and singing are on power with each other and I'm really excited to get to sing in the Ek Tha Villain sequel that I'm doing so I get to do both the things that I really love to.
Ex: What's one part of our society that you wish you could change?
Tara: One part about the society that I wish I could change would be the amount of judgment that everyone has on everyone else in our society. I think you know everyone has their own journey their own struggles and so much in life that they're dealing with that I think we should all cut each other some slack focus on what's really important in life and you know especially with the lockdown and so many stresses and so much newness and all of our lives I think we should really like I said to give everyone a break, give ourselves a break cut everyone and ourselves some slack and just reduce this constant judgment I think we have that is I don't know whether it's media-induced or what it is but I think in our society we can really do without that.
Ex: How do you stay mentally and inspirationally aligned?
Tara: I think I stay mentally and inspirational aligned because I have an amazing support system and I always and that's what sort of always reminds me to stay who I am, keeps my morals, values and beliefs in place and I think that's all any individual really needs to stay aligned as a human being I think you just need to remember where you come from, stay grounded and just enjoy every minute of what you're doing.
Ex: What do you wish people were talking more about in today's time?
Tara: It's really important to encourage people in today's time to talk about what their feeling because I think especially to do with this whole Covid-19 situation we've all been cooped up in our homes we're all very confused, we're a bit lost and I think we should be encouraged to talk about it rather than hide it and keep it in because I find so many people are scared to talk about how they feel and I think that we could all do with talking to each other and giving each other that support so I just you know would like to urge people to stop talking about how they feel rather than keeping it in a because we're all going through the same thing in the whole world and that in itself is soothing so if we just talk about it rather than hiding it and keeping it in that will probably be much better.
Ex: What's the first thing you notice in a person?
Tara: I think the first thing I notice in a person would probably be if they can have a laugh about themselves. I think a sense of you one life is really important and it's something that I get very excited about but I see it and someone else.
         Quickies : 
A gadget/app you can't live without?
The most favourite gadget you've gifted yourself?
A slang that you're using the most lately?
Who should everyone be following on Instagram right now?
Everyone should follow Chrisy Teigan, she is such an amazing human being and so funny, just incredible and supports girl power so I think she rocks.
If you could raid one woman's closet who would it be?
I think I would like to raid Elizabeth Taylor's closet for her jewels and Jennifer Lopez.
Dream road trip destination?
The south of France and Italy.
What does your travel playlist include?
My travel playlist might sound a little boring, it's mostly music from the 50s, 60s & 70s.
What's your favorite show to binge-watch?
There are two shows, 1 is Friends which I think everyone loves and the other one is Who's line is it anyway.
A male actor you wish to work with?
It would be the amazing Rajkumar Rao.
What was your first red carpet look?
I think most of my red carpet looks are my favorite, I really love to dress up and show up.
 What are you too much of?
I think I'm too much of just being sensitive.
If you had to describe yourself in a hashtag?