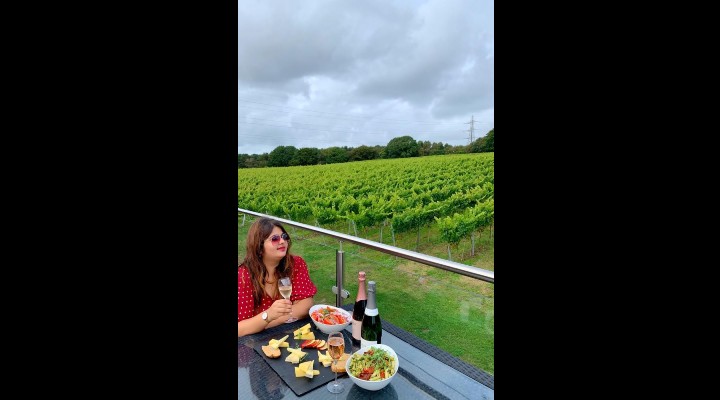 Ex: Tell us about a change you've seen in the digital blogging space since you started out your journey? How has this space evolved?
Devashree: I started The crazy indian foodie 5 years ago when digital blogging was quite new. It's evolved tremendously over the years.
Ex: Can you give us an insight into social media platforms that only an Influencer can know?
Devashree: For me, posting consistently and posting unique, engaging content is the key to succeed on social media. If you have a business account you can see insights and keep track of what posts work best for you and post accordingly.
Ex: What would be your calling in a parallel universe? (Alternate career options) :
Devashree: I'm a lawyer too and I quit my job at a law firm two years ago to pursue blogging full time. If there was a parallel universe, I'd definitely continue my law practice.
Ex: If you were stranded on an island, what are the 3 gadgets you'd take along?
Devashree: My phone, portable charger and laptop.
Ex: A technology you wished you'd invented?
Devashree: A time machine so I can travel back and forth in time to whatever place I want! Also a fresh gourmet food vending machine like the one in the Jetsons.
Ex: What's been your favorite encounter with a fan so far? (DMs included!)
Devashree: I was in Lonavala for a weekend and posted a story about it. A fan messaged me saying she'd love to meet me so we did and she baked me cupcakes with The crazy indian foodie on them, made me meet her whole family with a lot of excitement and we spent a lovely time together.
Ex: Social Media is known to expose vulnerabilities, with influencers being at the epicenter. How do you deal with the dark side that comes with the medium?
Devashree: Every career has its good and bad side. There will always be trolls and people with lots of free
time on their hands who will pass offensive and derogatory comments but I choose to ignore them as there will be hundreds of others who will post positive, motivating ones. It's something you learn to deal with over time.
Ex: Which is that one dish or cuisine that you haven't tried yet but are looking forward to?
Devashree: There are so many on my list! I really want to travel to South America, Japan and Russia to try their local cuisines. Dish wise, In India too, there are a huge number of local dishes from various states that I'd love to try, for example food from North East India.
Ex: What do you do to make your content unique from others?
Devashree: I always add a personal touch to my content, post a mix of everything from street food to restaurants to unique destinations to luxury hotels to some lifestyle content too. There's something in it for everyone and I always try to create high quality content that stands out.
[button href="https://www.instagram.com/thecrazyindianfoodie/" type="btn-primary" size="btn-lg"]FOLLOW[/button]