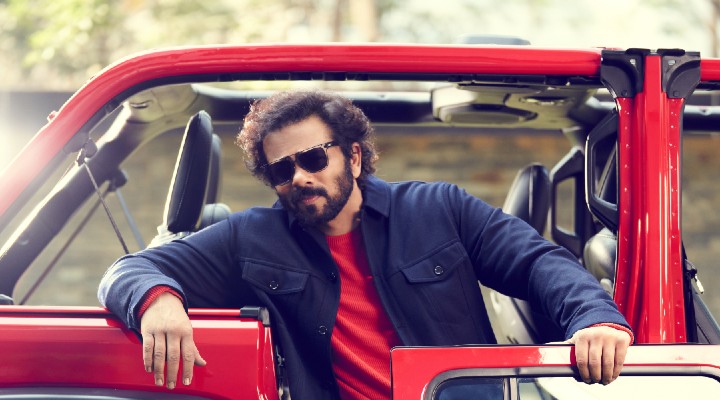 Intro: From being a filmy young boy who started his journey at age 16 to being known as "Ye voi jo gaadia udata hai", Rohit Shetty's journey as one of Bollywood's most successful directors has been nothing short of magical. In a candid interview with Ramesh Somani, Rohit unveils his lesser-known side and first-hand insight into the world behind his lens.
Ramesh Somani:  You love powerful machines that tear up the road, and you are unstoppable just like the Jeep. How has been your journey?
Rohit Shetty:  My journey has been, I would say, adventurous. It was quite filmy, like a boy who starts his journey at 16 and has seen a lot in life. Dad is one of the finest action directors of his time, and I wanted to be like him, so I started doing car stunts at the age of 18. All I ever wanted to be was an action director, so I started with it, and I got to work with Ajay's father, a renowned action director. I learnt a lot from him, and then I was working as an assistant director. Gradually, it started with being an action director and then every other thing happened with the flow. Before working as an AD, Ajay, with whom I was working, started his production. Then came a turn in my life where he said now you direct a film and that's how everything happened. That's why you see in all my movies that cars blow up and action scenes because the action director is still there inside me.
Ramesh Somani: You've had a long history with cars. You've driven them, blown them apart, sent them hundreds of feet in the air. Which moment is your favourite one among them?
Rohit Shetty: I have done more than 100 stunts with a car. We have blown up more than 200 vehicles. To be honest, I have even lost count of it. I also do a show called Fear Factor and because of that, what has happened to me is I love action. I have met the action teams worldwide, like how food lovers meet other food lovers who have the same taste of food or fashion, but I met many action teams when I was doing Fear Factor. At that point, I created my group, which is also from around the world. If there is some specific stunt I want to do or want some stunt guy to do it, I call them from Cape Town, Bulgaria, and multiple places like those and work together. In my latest movie Suryavanshi, I have a bike stunt in which the stunt guy is from Bulgaria. The other for the car stunt is from Cape Town so that's how these come together and shoot for me. We had a CGI shot with drifting, so they did it. Coming back to your question, the Guinness book of the world record for a topple is for Casino Royale. You will not believe the Bulgarian driver name Kaleem. He was shooting and did a 7 round, but the record is for eight topples, so if we had two more, we would have broken the world record for it.
Ramesh Somani: Do you love adventure and sports? Driving on rugged terrains? What have you been itching to do next?
Rohit Shetty: I just want to go to the next level, and now because we have a team, it is like a family. As you say, the world is small. Now we work along with worldwide people. Sometimes we have people from abroad coming here for shoots, and we have our people going there. Hence, I just want to keep increasing the level. If you see the Hollywood projects, they have bigger budgets and more sophisticated equipment, and we here don't even have a proper drifting school like the ones in South Africa or America. I want to open an action school where people can train, and we can create worldwide drivers under one roof and not only that, I want to expand Hindi cinema when action is concerned.
Ramesh Somani: If you have to take this Jeep to an off-roading destination – where will you dash out to?
Rohit Shetty: I have never been to the Himalayas. I would take this Jeep to the Himalayas, and I have not even visited Leh and Ladakh. I think I am the only director who has not shot in Leh and Ladakh.
Ramesh Somani: Which is the most recent car you crashed while shooting, and how did you do it?
Rohit Shetty: The most recent car crash was a few days ago, it was a Honda Accord and we were shooting for a noodle ad. There is a team that was working with my father at that time and my team as well. The driver who skids the car is my father's team member's son so basically, we have three generations of drivers with us. People think that we topple cars, and it's straightforward, but that's not the case. It is a dangerous thing we do, and many mechanisms go under the process. The main priority is the driver's safety. We put a cage around the car, which is like piping. It's used so that after the vehicle is toppled, it does not crash. We will make sure the whole unit is safe and precautions are taken. One example of this is we had a stunt with a Lexus SUV, so for that, a lot of things had to be considered, like the engine weight and the platform through which it is going to be jumped. We have to gauge how much speed it should be jumped so that it lands appropriately, and so much science goes behind this. Still, in our country, there is no respect for it.
Ramesh Somani: Difficult people or difficult situations, what's your mantra to handle them calmly?
Rohit Shetty: Difficult people and difficult situations; to be honest, I have not faced anything like that till now. My mantra, though, is that we have to stay firm with difficult people and polite people. At work, you lose your temper sometimes, but it's natural. My team, which is working with me, has been with me for over five years. They are married and are still working with
me. Some have been working for more than 15 years, so they know my temper.
Ramesh Somani: Your garage is very envious. Let's start with the Urus. How do you like it and what's next in your buy?
Rohit Shetty: I like the one I am driving right now, the Jeep Wrangler. I am buying the first assembled Indian Wrangler. As our PM says, we should be an Atmanirbhar Bharat, and I am happy and thrilled to be buying this car. It is a great car to drive and the pricing is exceptional. It is how a Jeep should be. The most important thing while driving the jeep is that you should be able to see the bonnet. Another dream car that I have is G63.
Ramesh Somani: What does the word legend mean to you? What do you think are the qualities one must possess to be legendary?
Rohit Shetty: It all started gradually. When I started, I wanted to become an action director who was in love with cars since he was a kid. When I started doing stunts for my films after 2-3 movies, I realised that I am becoming like a brand to everyone who connects you with cars. Now people recognise me with "Ye voi jo gaadia udata hai". But this was not the plan. I was working on my movies, but then I realised I have become like a brand. It is sporadic that what you love becomes your profession, and now that I have reached this position, I feel the most important thing is honesty towards my life, fans, movies. Whatever I do, it has to be honest. My first movie that crossed the 100cr mark was in 2010, and it's been 11 years since each of my films has crossed that mark. And it's not that I am some great director. It's the people I work with, like the actors, technicians and the entire crew, that make it possible.
Ramesh Somani:  Movie making requires significant teamwork, and you are the captain, some leadership advice you would like to share?
Rohit Shetty: Being a leader, the most important thing is there are a lot of sacrifices involved. If somebody does something wrong, you have to stand by their side and say, I am with you, which makes it unique. As a leader, how my character will be my team will behave accordingly. If my team is working for 18 hours, I'll see that I am working for 20 hours. The leader has to work more than the team. Another most important thing is to treat them as a family. I make sure that salary and all are fine, but the team also knows that I am there for them whenever they need me.
Ramesh Somani:  The pandemic halted the world for the better part of the last year; things are slowly but steadily coming back to normal; how has the return to work been for you?
Rohit Shetty:  Pandemic hit us all. After a month or so, no one knew what was going on. When will things get to normal? How will things happen from now? I had a company to run, I didn't know what to do, my film was about to be released, and we had to hold it back because the theatres were shut. I mean, people are still asking when the movie will come, and all, but what I had in mind was that the world wouldn't get over, right? I went out to shoot Fear Factor in July. I did not meet my family as my mother lives with me, and she is old. I did not want to risk her life, but I was shooting, and life has to move on. That time was also tricky. I had to stay in isolation for 45 days during the shoots, but I started working, and that is the only way, and now if you see we are not out of the pandemic, but people are working currently, going to offices and now we have accepted it that we have to live with it.
Quickies
Ramesh Somani: What do you enjoy more? Directing or hosting?
Rohit Shetty:  Directing, for sure.
Ramesh Somani: If you could sum up your experience as a director in one hashtag, what would it be?
Rohit Shetty:  #Magical
Ramesh Somani:  If you could choose just one car for the rest of your life which one would you choose?
Rohit Shetty:  Range Rover
Ramesh Somani:  Who is your favourite director that you look up to?
Rohit Shetty: There is not just one, but if I have to name a few, Raju Hirani, Shankar, Rajamouli, James Cameron and Michael Bay.
Ramesh Somani:  One actor/actress you wish to direct?
Rohit Shetty: I want to make a full-fledged film with Mr Amitabh Bacchan.
Ramesh Somani: Would you choose an EV or a petrol engine in the long run?
Rohit Shetty: It depends. I have not driven an EV. If the EV gives me the same kind of performance as a petrol engine, then definitely go for an EV.
Ramesh Somani:  What app do you check first when you get up.
Rohit Shetty: Instagram
Ramesh Somani:  Which Books inspire you, and which ones are currently on your reading list?
Rohit Shetty:  Goldy, Vijay Anand Autobiography.
Ramesh Somani: Which are some of the best roads you have driven on? What's the farthest you have gone or travelled on a single trip?
Rohit Shetty:  Cape Town, I love the roads there.
Ramesh Somani:  There is so much tech that is used in movie-making, especially yours. Tell us some of the cool techs that you use.
Rohit Shetty:  There are many things, but the most exciting thing we use is a crane named a Boult, it moves within seconds, and then there is this camera I love called the Phantom.
Ramesh Somani: Your upcoming film "Cirkus" starring Ranvir Singh recently got a release date of 31 December 2021. How excited are you about the movie?
Rohit Shetty: It is quite a mix of all things. It's based in the '60s and '70s, and it's a funny entertainer. We are trying to get a new feel to it with many special effects, and it's like a fairy tale world.

[button href="https://www.exhibit.tech/videos/rohit-shetty-behind-the-scenes-march-2021-issue/" type="btn-primary" size="btn-lg"]Watch Video[/button]