Interviewed | September 2017
Leaping forward moment by moment and Tan Tana-ing her way to the top, Taapsee Pannu returns to add her exclusive charm on the Exhibit cover once again. While at that, we revelled in a lot of nostalgia – catching her between shots as she touched her makeup and she bowling us over with her bold aura. But like she said, February wasn't too far away when we shot her first. So we wonder has anything changed at all?
Well, by the looks of it, it was long enough for
Taapsee
 to become absolutely fit, do multiple films, have a big release under her belt that I'm sure you all know about and mark her "here to stay" spot in Bollywood, too. The last time was an intense conversation about Bollywood, 
Taapsee
 as an individual and her strong tech game. So this time, we decided to ask her a bunch of strange questions. But the undaunted 
Taapsee
 answered like a Queen and we expected nothing less from this intelligent actress who has been ever so smart in her film choices just like the Hyundai Verna she poses with that's equally intelligent in design and style.
We took a little tour inside 
Taapsee
's mind, and it was more entertaining than the Netflix show you're going to watch today.
Ex:

When we shot you in February cut to now – what has changed since we spoke last?
Taapsee Pannu:
I have reduced a few inches! Apart from that, I've had an interesting change over in terms of the film that I'm doing and something totally different coming up. It's a very good, upbeat phase of my career. Actually from the time I shot for Exhibit the first time, there has been a very interesting up-phase of my career where people have started noticing me much more, not only in terms of the roles and films I've been choosing and doing but also beyond films that I've been doing. Everything has been going extremely well without a plan.
Ex:

You are on a roll and we're super excited about seeing you in Judwaa 2. How was your experience working in it?
TP:
It was a very different experience from what I've done so far but it wasn't a new experience because I've been doing that kind of big, glamourous films in South. It's just that in Hindi it's the first time I'm a doing a film of this scale with all glamour and fun. So that way it is new, I've done it after a really long time. It felt nostalgic working with David Sir again because I started my career with him in Hindi so getting to work with him again is a big back to square one kind of a feeling. It actually felt like a continuity coming back to the set because a lot of people are same behind the scene when it comes to David sir.
A lot of different co-stars but the same set. Even the choreographer Ganesh Acharya has been doing the Oonchi hai buildings to the Tan Tana Tans and he choreographed Chashme Baddoor and he's back here. So there were a  lot of deja vu moments being on a David Dhawan set. I think I had my moment of being a quintessential Bollywood heroine – you get to wear the best of clothes, the best dances and be the Diva. So it's like I had to go through those entrance exams to finally be the Bollywood Diva. It was like a picnic or like a gift you get when you've done well where I could just enjoy and be like royalty.
Ex

: Tech and Fashion – what do you think of this unique relationship?
TP:
When you talk about a person who bends towards Technology, we very rarely care about what Fashion is because we're so into what technology about, what's new, what's coming up, what can be changed and rebooted. But when it comes to gadgets, they need to be extremely in sync with Fashion because it becomes a part of your look. So gadgets need to be in sync with Fashion, I feel. That's where Fashion comes in Technology.
Ex

: Who is your fashion role model and why?
TP:
It has always been Kate Middleton. I've always seen her as a fashion inspiration.
Ex

: What's your go-to Fashion trend?
TP:
Actually I don't follow trends; it's more like what you are comfortable in or what you can carry with confidence or with which you can make your own style statement.  I don't keep track of trends actually, my stylist does it for me. I'm very bad at keeping up-to-date with what is going on in the Fashion world right now.
Ex:

Name the worst fashion blunder you made.
TP:
When I went by someone else's fashion sensibilities, feeling nice about what I was wearing just because I thought that person was better than me. It turned out to be a big blunder because I was not comfortable, it didn't match my sensibilities and I wasn't carrying it well.
Ex

: What is the best learning you have had as an actress?
TP:
Just forget that there is a camera. A lot of times people act for the camera, I used to do that too. The moment you forget that there is a camera, you'll become a better actor.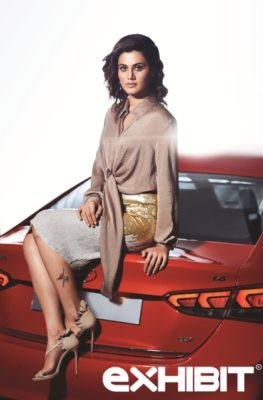 Taapsee PANNU –

the Tech Freak
Ex: Tell us the techiest fact about yourself. 
TP: That I'm still one of those teenagers or kids who get excited when they see a toy. I still spend 24 hours non-stop whenever I get a new gadget in hand. So I get very excited with my new gadgets.
Ex: The latest gadget you're trying your hands on?
TP: New Macbook Pro
Ex: Best tech you own?
TP: Being a traveller, I'm very proud of owning a GoPro because I feel like I don't need anyone to take my pictures anymore and take some really cool pictures.
Ex: A gadget you can't wait to get your hands on?
TP: I need to get some new Wi-Fi speakers for my place which I can connect to my TV, my phone or computer.
Ex: Favourite App?
TP: Right now I'm trying some courier app which can help me deliver couriers without going to a place.
Ex: Thoughts on AI?
TP: I want AI to tell me which picture or video out of the lot is better because I always get confused.
Ex: Favourite feature in a phone?
TP: That I can multitask in between my mails, calls, messages and pictures.
Ex: A gadget you wish is invented?
TP: Time machine.
IF-
Ex: You could live in any era what would it be?
TP: I would probably want to go back to 90s. There's some nostalgia about, that time.
Ex: You were the President for a day what would you do?
TP: I would give myself a National Award.
Ex: You had to be stuck on an island, 3 things you'd have with you?
TP: I don't want my phone at that  point (laughs). I would want a boat but not to go back home, but to go exploring, a small sleeping bag because I live to sleep and my GoPro!
Ex: You could have one superpower?
TP: Travel in time.
Ex: You could master one instrument- Flute
TP: Your life was a book, the title would be- Live life Queen size.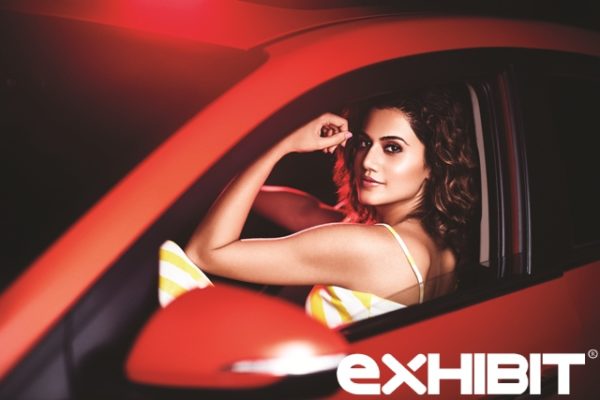 THAT ONE-
Ex: Country you'd like to visit?
TP: There's not one. I need to visit many before I die. But the one country I'm really looking forward to seeing is Caribbean because there are so many islands! I want to get stuck on one of the islands there.
Ex: Thing you can't live without?
TP: I think I can live without anything. I'm not over-attached. I know the art of detachment.
Ex: Person who makes you starstruck?
TP: Sam Clafflin, Andy Murray and Robert Downey Jr.
Ex: Sci-fi character you wish comes to life?
TP: I want all Avengers to come to life. My personal fav is Iron Man. He should come to life and I should get to meet him.
FAVOURITE-
Ex: Movie?
TP: I'm a huge X-men fan so it has to be the X men series.
Ex: Cheat food?
TP: Chole Bhature or cake.
Ex: Quote?
TP: "Jo hota hai ache ke liye hota hai aur acche logon ke saath hamesha accha hota hai" – that is something I always tell myself whenever I feel a little down or out.
Ex: Cocktail?
TP: I'm a hopeless teetotaler. I can't even tell you the difference between any type of alcohol.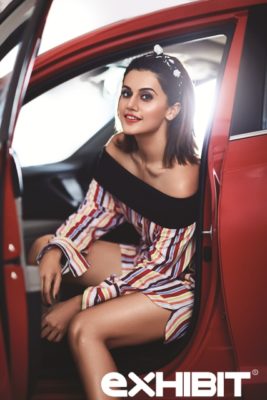 THE BEST
Ex: Piece of advice given to you?
TP: "Suno sabki karo apni" – by my dad.
Ex: Gift you have given?
TP: I think I give the best gifts to my sister. I give her gifts without her knowing it's a gift. She gets free trips to Goa, she gets everything sitting at home be it holiday or the best of restaurants to go to or the spas.
Ex: Pinch me moment?
TP: I still don't believe it has happened when I had dinner sitting next to the President of India. I saw Pink next to him and then I went and sat next to him to have dinner.
Ex: Inspirational movie?
TP: Chak de India.
We're sure you never got asked this but-
Ex: What makes you judge a person the most?
TP: Just the sense of conversation, how that person strikes a conversation.
Ex: What song are you listening to on loop?
TP: A Thousand Years by Christina Perri
Ex: Your spirit animal?
TP: Tiger
Ex: Best and worst pick up lines said to you?
TP: Some of them are very lame like, "Do you believe in love at first sight or should I walk by again?"
Ex: Funniest person you know?
TP: My sister.
Ex: An animated character you love the most?
TP: All the three Powerpuff girls.
Ex: Weirdest hashtag you've read?
TP: There is one I made which is called #IDon'tKnowHowToUseFilters because I try to use them and I make it worse at times. So I just say #NoFilter because #IDon'tKnowHowToUseFilters.
For no reason at all:
Ex

: Worst habit?
TP:
I eat my nails and the skin around it.
Ex

: Priciest thing you've splurged on?
TP:
I don't spend on anything as much as I spend on my travel.
Ex

: Funniest thing you've read about yourself on the internet?
TP:
When I started my wedding planning company people just didn't understand that I was not the one getting married.
Ex

: Ideal first date?
TP:
It will be either in the middle of the air while skydiving or underwater while scubadiving.
Ex

: Most romantic thing someone can do for you?
TP:
If he just lets me be without expecting anything from me in return. Just not expect me to always be nice or sweet or be active or do something for him. That is romantic enough for me.
Ex

: You always travel with?
TP:
Phone, wallet, keys, earphones.
Ex

: Secret talent?
TP:
That if need be, I can act really well in real life also.
Also Read: