There were times when spending Rs 50,000 wasn't enough for a good laptop. With new technological innovations and price drops, times have certainly changed for the better. 
During the COVID 19 pandemic, people have been working mostly from their homes and hence the demand for affordable laptops have skyrocketed. 
The best of laptops have to offer a great balance between power, performance, and price. The laptops that we have compiled in this list may not be the fastest or the most powerful laptops, but they will get you through your day-to-day workloads without causing any issues. 
There are also few ultrabooks in this list that can be considered a decent gaming laptop. Let's look at the options:
HP 15 15s- gr0012AU
The HP 15s laptop comes with a 15.6-inch display and a dedicated number pad. It is powered by the 3rd generation AMD Ryzen 5 325OU processor, which is paired with 8GB RAM, 256 GB SSD, and a 1TB hard disk. The graphics are handled by the Radeon Vega 6 integrated graphics. 
You can get an HP15s laptop from Amazon for Rs 41,990. 
MI Notebook 14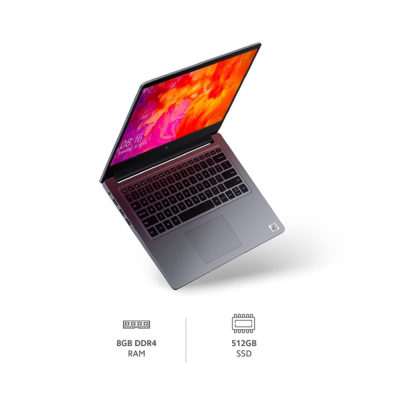 MI Notebook 14 XMA1901-FA is light but versatile machine and is powered by the 10th Generation Intel Core i5 – 10210U processor with 4 cores and 8 threads. The laptop offers 8GB RAM and 512GB SSD. 
MI Notebook comes with a scissor-switch keyboard and a multi-touch trackpad and is perfect for multi-tasking. It is powered by a 46 Wh battery and can run up to 10 hours of usage on a single charge. 
You can buy MI Notebook 14 from Amazon for 48,000. 
ASUS Vivobook 14
The ASUS Vivobook 14 features a 14 inch Full HD LED-backlit anti-glare display and is powered by the AMD Ryzen 5 3500U processor. The system is designed to be thin and light and is coupled with 8GB DDR4 RAM and 128 GB SSD. 
The display is a matte 1920×1080 IPS panel and you get a subscription to Microsoft Office 365 and Windows 10 Home with this laptop. 
You can buy ASUS Vivobook 14 from Amazon for 40,000.
Lenovo ThinkPad E15
The Lenovo ThinkPad E15 is a perfect laptop for multitasking. It comes equipped with the 11th Generation Intel Core i3 1115G4 processor and has a 15.6 inch Full HD display. The machine is paired with 8GB of RAM and 256 GB SSD. 
You can buy Lenovo ThinkPad E15 from Amazon.