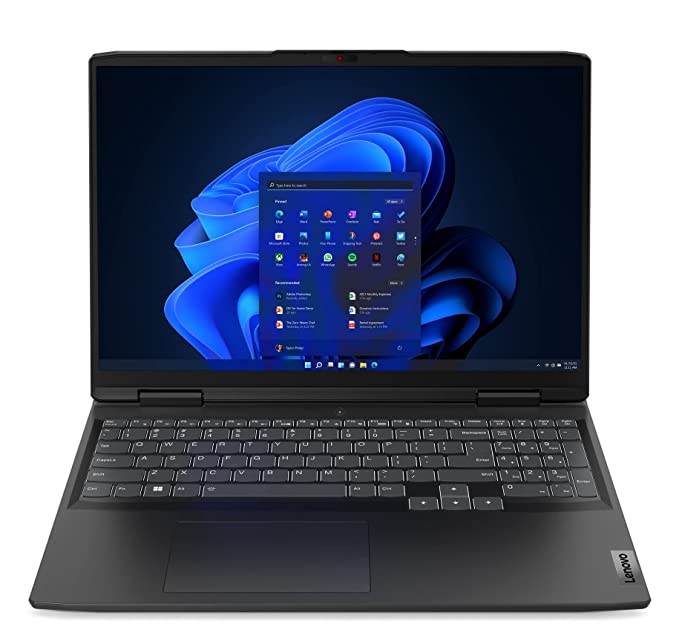 With the influx of gaming content creators flooding the internet and video game plays garnering millions of views across multiple portals, it is not a surprise to see a number of gaming laptops making their way to the market. While the premium gaming experience is limited to expensive laptops that can make you cash out up to Rs 5 lakhs and more, there are some capable computers that provide a considerable gaming performance at a cheaper price point. Lenovo is one such company that is offering gaming laptops at both a premium and a mid-range price point and we are here to review the latter. Before we jump on the detailed review of the IdeaPad Gaming 3i 15IAH7, here is a quick conclusion for those who do not have time – It is amazing! (for the price)
Design and Display
While buying a gaming laptop, it is only natural for people to assume that it'll come with the best display. Well, that's not the case here. The 15.6-inch variant of the IdeaPad 3i comes with an FHD IPS display with a 165Hz refresh rate. There is no 2K or 4K display here but rather a 1080P display which is vibrant for its limitations. The design of this machine is especially eye candy that does not comes with aggressive branding all over. There's subtle Lenovo branding on the top and the base of the laptop which gives it a sophisticated look. One additional point to Lenovo for adding ample ports to the IdeaPad Gaming 3i that include USB Type-A ports on either side coupled with major ports including a Type-C at the rear of the laptop. It comes with a vibrant 1080P webcam that was more than just good enough to attend zoom calls.
Connectivity
The IdeaPad Gaming 3i's connectivity proved ample options ranging from Wi-Fi 6 to Bluetooth 5.0. I was easily able to connect and disconnect from Bluetooth devices experiencing little to no delay while gaming on Bluetooth earbuds. The Wi-Fi performance was top-notch having no issues in loading high-quality videos and downloading heavy files from the internet.
Keyboard and trackpad
Being a content writer, I spend my days typing away a thousand words daily. While using the IdeaPad Gaming 3i as my daily driver, I found no issues while typing on the keyboard as it is evenly spaced out making for a seamless typing experience. While I understand that the RGB-lit keyboard is the current trend and it differentiates gaming laptops from others, I found myself keeping the keyboard lights shut down as they were more of a distraction at times. While I was provided with the IdeaPad gaming mouse which was an amazing experience, I made sure to spend a long chunk of my gaming hours on the trackpad. There were no issues while using the trackpad that was worth noting.
Performance
Now, jumping on the big gun! How does this budget gaming laptop actually perform? During my extensive testing of this gaming laptop I played Marvel's Spider-Man: Remastered in its entirety along with some Fortnite and Valorant sprinkled on the side. With the NVIDIA GeForce RTX 3050 Ti and Intel i7 12th Gen working hand-in-hand, the laptop was capable of producing some engaging gaming performance. While the lack of a 4K screen was dearly missed, the vibrancy of the display and the smooth performance made up for it. The 170W charger provided was quick to juice up the laptop during extended gaming sessions, however, I found the battery to drop too quickly while playing games for my liking.
Verdict
The Lenovo IdeaPad Gaming 3i is an ideal gaming machine that strikes the perfect balance between pricing, performance, and even portability with its lightweight form factor. If you're looking for a gaming laptop that does not burn a hole in your pocket then this is definitely the one for you!
Rating – ★★★★