Mass consumption has always been a norm for the current generation but it was never as apparent as it is now. We go to theatres & watch masala entertainers to whistle, scream, and have the time of our lives. The idea is simple – people want their money's worth in all aspects of their lives be it entertainment or tech and there is nothing wrong with it. This is where the Lenovo LOQ 15IRH8 laptop comes into the picture which I believe is the laptop that massy appeal.
Design & Build
I've been tasked with testing a lot of Lenovo gaming laptops and the universal design form factor of these laptops is a winner for me. Be it the Legion or LOQ, they share a similar if not identical design which streamlines Lenovo's product portfolio really well. What we get here is a simple no-nonsense design with familiar touch. Sure, it's not a metal build and sticks to plastic but complaining about it would be nitpicky at this price point. The outer build's only metal part is its logo which a good attention to detail. I wouldn't call this laptop a portable gaming machine as it weighs 2.4Kgs and shuffling between office and home having it in my backpack was not exactly a pleasant experience.
There is ample port selection here with the majority of the ports placed in the rear. On the left side, you get a USB-C coupled with a headphone jack, and on the right side, you get a slow USB 2.0 coupled with a web-cam On/Off switch (a welcoming addition for sure) However, the lack of an SD card and a faster Thunderbolt 4.0 port stings. It has a similar webcam cutout on to the top which most Lenovo gaming laptops boast currently. The hinge is fairly sturdy and the overall build of the LOQ laptop is a clear winner. Lenovo has left no stone unturned to ensure this laptop comes with a solid build that is reflective in its tactile keyboard. There is minimum flex on the keyboard, even better than some premium laptops. However, the backlight RGB cannot be selected per key which is a disappointment, though not a big one. The trackpad placement is kinda off, leaning to the left side. However, it ensures a comfortable palm placement for the user's right hand; a win-win situation!
Display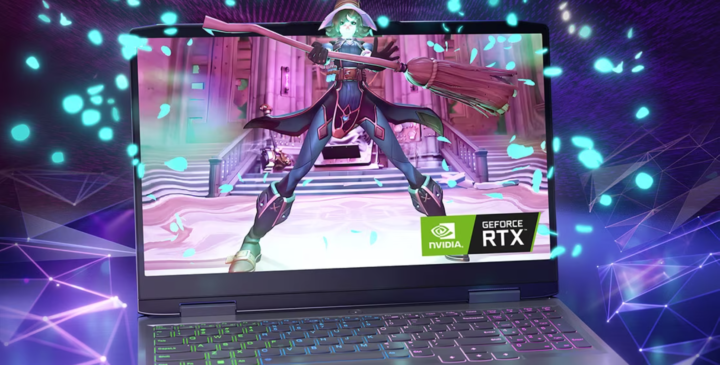 There are two display variants for the LOQ 15 with 1080P and 1440P resolutions. My review unit is the latter variant which is the one I would recommend if you're in the market to get the LOQ. Sure, it is an IPS-grade display which is expected in an entry to mid-segment gaming laptop but the matte finish gives it a premium feel. Visuals are crisp with minimum loss of detail. What makes this display a sureshot winner is the refresh rate clocked at the maximum 165Hz. It's buttery smooth with an above-average brightness of 380 nits.
I take pleasure in watching vibrant saturated visuals while playing games and watching films. The LOQ 15 laptop delivers in that aspect really well. Be it playing Spider-Man Miles Morales or Starfield, I was mesmerized by the visual output of this machine.
Performance
The Lenovo LOQ 15IRH8 comes equipped with the Intel Core i7-13620H processor which sports six performance cores and four efficiency cores. On top of it sits my beloved Nvidia GeForce RTX 4060 GPU which makes up for the sweetest combination for casual to intermediate gamers. It also packs 16GB DDR5-5200 RAM and a 512GB M.2 SSD which was sufficient for my usage. I used this laptop as my primary driver for two weeks and did not witness any frame drops or lags. However, the bottom-firing heat dissipation is counterproductive as the laptop gets heated up exactly at that spot & it does get pretty hot. One key aspect of this laptop's performance is stability. It does not leave you hanging in the middle of an intense gaming session. One can easily call it a reliable machine.
During heavy gaming sessions, the laptop lasts only a meager 60-75 mins. Now, I understand that is normal for a gaming machine but it is never not disappointing. However, the laptop lasts me a good half-day at work as a workstation machine. Overall, the Lenovo LOQ laptop packs a balanced performance for an optimum gaming experience.
Verdict
The Lenovo LOQ 15IRH8 is the perfect choice for people looking for a capable gaming machine that does not burn a hole in their pockets. It brings premium hardware components to the mid-range price category enhancing the price-to-performance ratio in the gaming laptop market overall. It's not just massy, but a balance of mass and class!
Rating – ⭐⭐⭐⭐½