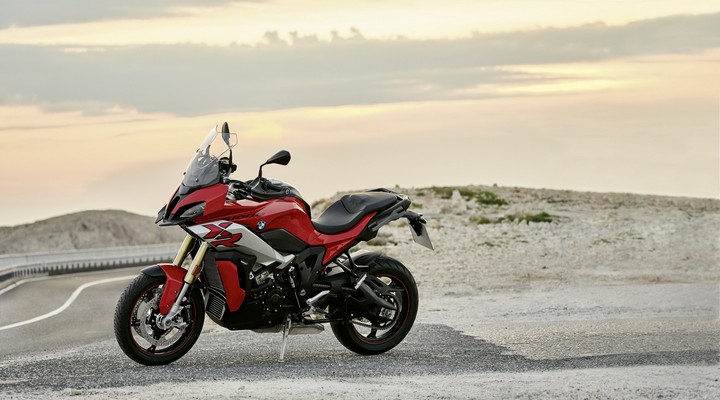 If luxury brands are your thing, it is impossible that you have not heard of German luxury automobile manufacturer BMW. Its Indian wing, BMW Motorrad India has officially launched its internationally best-selling adventure sportbike, the all-new BMW S 1000 XR in India. It's an all-days sports bike that uniquely blends sporty and long-distance performance in perfect form. Its sporty aggressiveness comes from its fully-faired sibling, the S 1000 RR. Its outstanding GS ergonomics with the upright, relaxed seat position, lets the riders enjoy all curves and straight roads.
BMW has designed the motorcycle to reflect pure performance and the promise of long-distance traveling comfort with a riding position that is impressively active yet relaxed. The front fairing and lighting systems are defined by sharp edges. Combined with striking beading, the overall line is shaped aggressively and consistently to the finish. The visually short tail is also reminiscent of a sportbike. The revised aerodynamics, fairing, comfortable handlebars along with long-distant seating position ensure great riding fun miles after miles. The adjustable windshield provides even better protection against the cold, driving noises, and the elements allowing the rider to keep the eyes on the road. All lighting units such as the headlamp, taillight, indicator lights, and instrument cluster use the latest LED technology. The integrated parking lights enhance the bike's unmistakable appearance.
The newly developed 999 cc in-line 4-cylinder engine is based on the BMW S 1000 RR engine and delivers an output of 165 hp at 11,000 rpm and a maximum torque of 114 Nm at 9,250 rpm. The engine speed range is broader and harmonious to enhance rideability. The 4th, 5th, and 6th gears now have longer ratios, low noise levels, lower fuel consumption, and lower engine rpm at cruising speeds. The motorcycle sprints from 0-100 km/hr in just 3.3 seconds and can achieve a top speed of over 200 km/hr.
The new BMW S 1000 XR has four standard riding modes – Rain, Road, Dynamic and Dynamic Pro. The 'Dynamic Pro' mode is fully configurable and offers riders a wide range of setting options to suit their riding style. The throttle response, engine brake, ABS control (Anti-lock Braking System) and traction control, wheelie control (including the new 'Power Wheelie' setting) can be configured separately for the first time. While the BMW Motorrad ABS system already provides a very high degree of performance and safety when braking in a straight line, ABS Pro takes this a step further when braking in a banking position.
The adventure tourer features the latest generation of BMW Motorrad Dynamic ESA (Electronic Suspension Adjustment) as standard. The best-in-class 6.5- inch colour TFT screen instrument cluster along with BMW Motorrad connectivity offers unmatched display and access to information. In addition, the BMW Motorrad Connected App offers handy arrow-based navigation suitable for day-to-day use directly on the TFT screen. The multi-controller on the left-hand handlebar panel enables quick, safe, and convenient screen operation.
A wide array of retrofit equipment and gear options are available to further enhance the riding experience with a range of storage bags, backpacks, rider gear, navigation, and communication. Customers can augment their bikes with safety accessories such as radiator grille, hand protector, brake disk lock with an anti-theft alarm, and protective glass for TFT screen.
Quick maintenance at home or while touring is made easy with assembly stand, multifunctional tool kit, tyre pressure travel pack, breakdown assistance kit for tubeless tyres and a compact foot pump.
Mr Arlindo Teixeira, acting President, BMW Group India said, "The all-new BMW S 1000 XR is an agile achiever that sets a new benchmark in the adventure sports segment. It is a power-packed performer that brings the real racetrack feel to everyday roads. With its newly developed engine and uncompromising ergonomics, it offers awe-inspiring performance, sporty ride and long-distance capabilities. Riders waiting for a distinctive experience will be drawn to the multi-faceted all-new BMW S 1000 XR. It's a perfect companion, ready to hit the road for all kinds of journeys with sheer motorcycling enjoyment."
For complete peace of mind and to ensure that the journey of pure motorcycling continues uninterrupted at all times, the all-new BMW S100 XR comes with a standard warranty for 'three years, unlimited kilometers', with an option to extend the warranty to fourth and fifth year. Roadside Assistance, a 24×7 365 days package further ensures prompt services in case of breakdown and towing situations.
The new bike can be ordered as a completely built-up unit (CBU) from today onwards throughout the BMW Motorrad dealer network. The all-new BMW S 1000 XR will be offered in a Pro variant in Ice Grey and Racing Red colour options. The ex-showroom price is Rs 20,90,000.