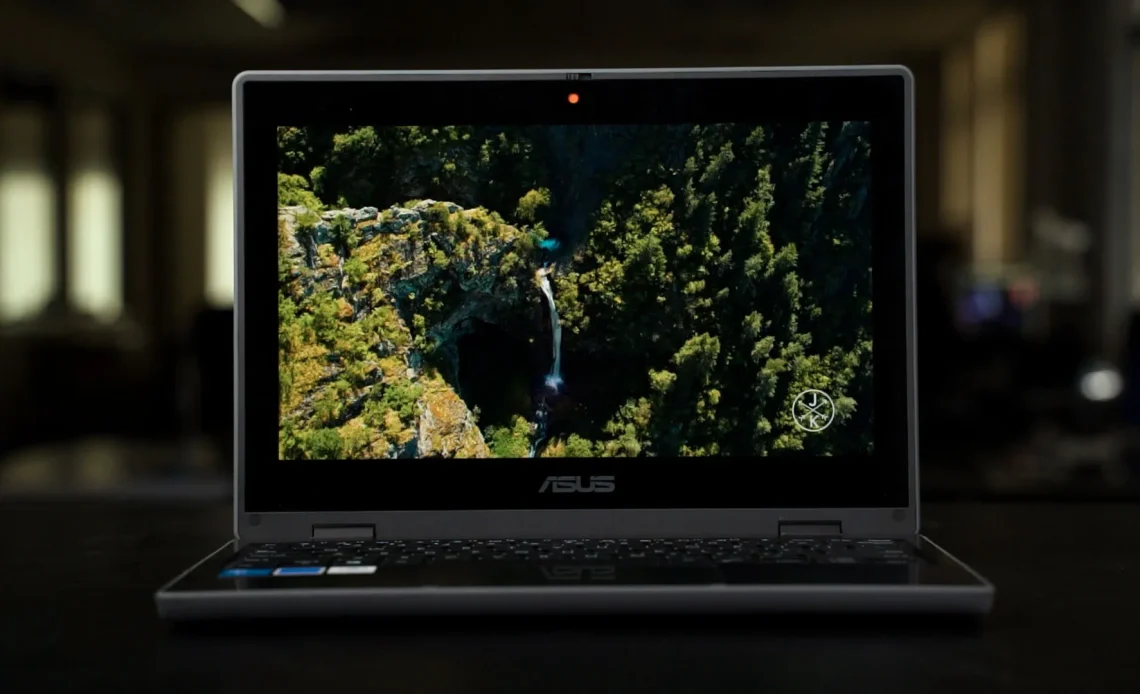 In 2022, everything is expensive, especially computers and computing parts. Thanks to an ongoing pandemic, most of us work from home, and kids learn from home too. There has never been a better demand for computers as in this era and although your phone is yet another computer with a smaller display and different OS, the need for a full-fledged computer has increased many folds. Add the fact that most laptops are easily over the price of 30K. Asus launched their BR 1100 series, one with (BR1100FKA) and one without a touchscreen (BR1100CKA), for as low as 25K! We review the latter. 
Design – Small chassis, smaller screen
A 180-degree opening hinge on something like a 13-inch laptop chassis with an 11-inch 1366×768  anti-glare display makes this little wonder usable from many angles. The keyboard is not backlit but has tactile feedback and does the job for countless hours of typing. It is definitely a little cramped and takes time to familiarise. The trackpad is also smaller than most current laptops but supports gesture recognition and decent multi-touch support. The design is enforced with steel connectors, military-grade MIL-STD-810H certified with soft rubber circumference and a beautiful matte texture on the front and comes in a dark grey, light grey highlights and black keyboard accentuating the appeal of this budget laptop.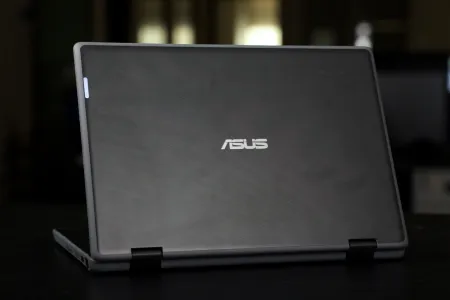 Made for connectivity 
The chassis on both the FKA touchscreen and CKA non-touchscreen models are the same, and thus both enjoy some diverse utility and connectivity. The front and back panels are neat while the LHS houses a Kensington lock, 45W barrel charge port, USB (G3.2 with charge support) Type-C, USB (G3.2) Type-A, full HDMI 1.4 port, a blank cutout of the FKA stylus while the RHS has a full RJ45 port, USB (G2.0) Type-A port, another blank cutout, 3.5mm headphone jack, power button and volume rocker like most phones. Couple that with Intel wireless AC-9560 WiFi connectivity, and the laptop supports high-speed dual-band connectivity with Bluetooth 4.2, an impressive connectivity package for the price. 
Performance – Not bad but too limited 
At this price, Asus has packed the chassis with consistent ruthless usage in mind like students and field operators. The laptop comes with a dual-core Intel Celeron N4500 (1.1 – 2.8GHz) paired with a generic 4GB DDR4 RAM, and a 64GB internal memory marks a limit to this laptop's usage. Chrome with multiple tabs pin this laptop's RAM and at times processor use at alarming levels. 4GB and 64GB are the bare minimum, but somehow our unit received and ran Windows 11 Home 21H2 update with ease. What seems to limit everyday use are the RAM and internal memory. Assigning more virtual memory did little to nothing. Tabs refresh more often than expected, and memory management only loads the tab you are accessing at the moment. The processor does a decent job of keeping things snappy overall.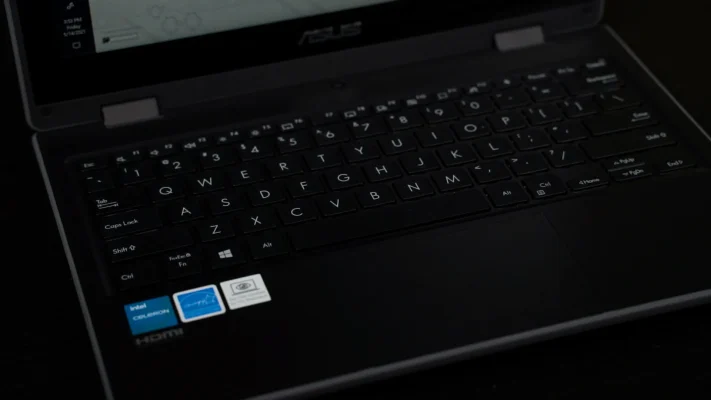 The laptop has multiple shortcuts assigned to FN keys and one-touch software-enabled buttons to disable the noise-cancellation enabled mics and camera. The 0.9MP 720p camera is clear and decent for video connectivity with support for 720p 30fps recording. Viewing angles on the LED-backlit display are good, but outdoor display brightness could be an eye strain. The user-facing speakers are impressively loud and clear and make a great companion for online classes, conferences, videos, and multi-media. The efficient internals aid this laptop's 45Wh battery to last as long as 7+ hours of use. At 1.26Kgs and 25K starting price, the Asus BR1100CKA is an interesting laptop. It does all justice to its form factor, and despite being chunky, it feels trustworthy to wield. 
Verdict – Not bad for the price
Laptops are expensive this year, and Asus BR1100CKA proves a great companion for someone interested in regular text use with occasional multi-media consumption. It offers a whole Windows experience at the cost of low-tier hardware with good connectivity, but products like the Xiaomi Mi Pad 5 with an external keyboard offer a much more versatile package at similar prices. Think before you choose!
Good – Price, military-grade protection, connectivity
Bad – Low-tier hardware
Ugly – Better competition