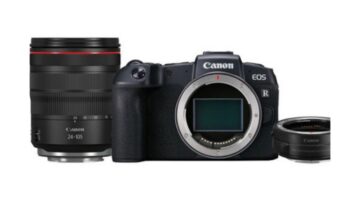 Not too long ago, Canon had launched their first mirrorless camera, the EOS RP. The EOS RP from Canon is an attempt to bridge the gap and it is quite a camera to plug-in the gap, especially in their mirrorless segment. It is like Canon has taken the 6D Mark II's soul and put it in a smaller, lighter body which missed out on the mirror. The result is a very handly and well-balanced camera. But how does it fare in this heavy mirrorless competition, let's find out?
Build, handling and ergonomics
The EOS RP is placed alongside the Canon EOD 6D Mark II in its lineup and most importantly, it shares a lot of tech with the latter, including the sensor and some feature set. But what makes this EOS RP a completely different camera is the well designed and small body, which is lightweight and easy to carry. At 485 grams, you might as well call it the lightest full-frame camera and that would not be wrong either. To my surprise, I found that it is quite as close to the EOS 800D body and that is a real win for Canon.
If you looking to pair it up with a Canon EOS L lens and the adapter, you will be surprised to see how easy to handle this camera is. But for now, you will only have to do with some of the bulky native lenses from the EOS R-Mount.
On the top, you have the Mode dial which sits flush on the panel. Similarly, the on-off switch on the other side which is again seated flush. The 0.39-inch 2.36 million dots electronic viewfinder sits on top without a major bump on the top. What makes a lot of people happy is the fully-articulating, 3-inch, touchscreen display which is very responsive. With the incorporation of the fully-articulation screen, Canon has just widened its reach to make videographers and vloggers who are looking for quality video output and also want a fully tilting display. Overall, it is a well-designed body which is light in weight and easy to use with less clutter.
Specifications and Features
The Canon EOS RP features a 26.2 MP image sensor and is powered by the new Digic 8 processor. The sensor is almost similar to the one on the 6D Mark II, but it has received some design changes to fit the RP. The RP features an ISO range of 100 to up to 40,000 and is expandable to a crazy 102,400. Now we all know that sensitivity really isn't being used on a daily basis, but Canon has been thoughtful over it. As expected, Canon's Dual Pixel CMOS AF makes its way into the RP and it claims to focus down to -5EV, which I can say, the camera never had many issues focussing in dark places. Canon also claims a focus speed of 0.05 seconds, and as per my use and experience, it has never really let me down with AF issues. The AF covers 88% – 100 % which provides a whopping 4,779 AF pointers which again are divided into 143 zones. What this essentially means is that the AF performance does not let down.
Interestingly, the servo AF now supports eye AF and Face Tracking. The EOS RP can shoot 4K videos with up to 25 frames per second, but you would not get the Dual Pixel CMOS AF and also gets a brutal 1.76 times crop. It can shoot 1080p videos up to 50 frames without a crop, where you get the Dual Pixel AF working for you. The RP does not get in-body image stabilization, but it uses Dual Sensing IS which along with the IS lenses compensates for the shakes caused while using the camera handheld.
Performance and Image Quality
For the time the EOS RP was with us at the office, I have used it extensively to shoot images and have been very satisfied with the overall performance. The review unit had been sent with a native 24-105mm f/4 lens which was an all-rounder and served multiple purposes. From shooting stills to taking videos, the EOS RP was a good performer. The images that came right out of the camera were sharp and had great colours which are very true to the scene. The ISO performance has been decent and low-light situations have been very satisfying and I have at times pushed the ISO up to 6400 to see very less grains and noise.
The video performance has been great. As we spent time shooting videos of gadgets and vehicles, the output videos were very crisp. With better lenses, expect the quality to go up even further. With the burst mode, you get 4 fps on servo mode and 5 fps with One-Shot. While this is not a great number, you can still get 50 14-Bit RAW files on a high-speed UHS-II SD card, which stands pretty impressive. You must remember that it is not a sports-oriented camera which is usually meant for snapping many frames per second.
The RAW files have enough depth and colour information which allows you to retain as much as information in the image files. This will allow you to bring out most details and tweak the images as per your liking when working on the image in post-processing. Overall, the image quality will definitely suffice all sorts of needs, be it a budding photographer who has just upgraded or a full-time professional who needs a light-weight back up camera.
Verdict
So, the question is, should you really buy the EOS RP? If you ask me now, I might have already invested my money on one. It ticks all the major boxes of performance and then brings in the soul of the 6D Mark II in a smaller and more lighter version. Technology is eventually forcing things to go smaller and yes cameras are a big part of it. Since DSLRs are now slowing down in the race with the mirrorless counterparts, it is worth investing in one, especially if it promises such performance.
Sample Images