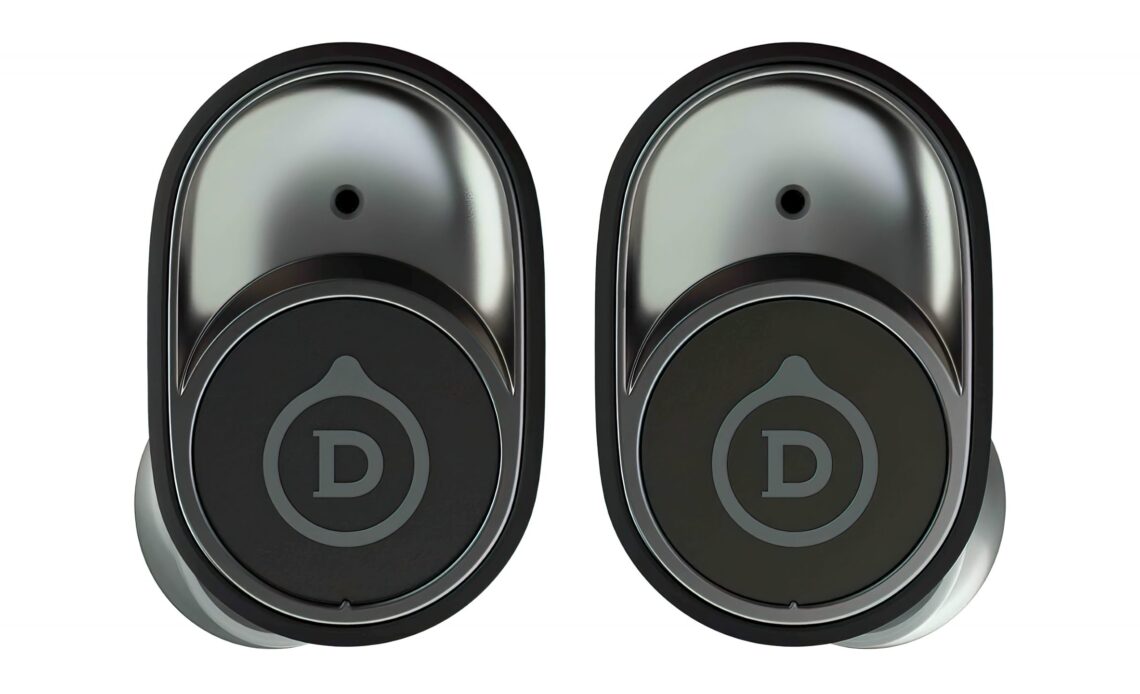 One thing is for sure – these Active Noise Canceling true wireless earbuds aren't going to attract a lot of ears due to their price range but are surely going to charm their way to luxury. 
The Devialet case manages to draw your attention from the very start with its 'flip and open' architecture. The signature design looks reasonably distinct and premium. 
Devialet Gemini Fitting
The earbuds offer a large oval shape which I guess is to maintain a strong noise-isolating presence. The outer part has a distinctive metal alloy sheen to it with the touch control imprinted on the Devialet logo. The Gemini wireless earbuds reflect the Ear Active Matching which adapts the sound to your ears and tell you if you have the right silicone plugs on. 
Overall, it was a snuggly fit for me, but to some, it can be a bit loose and it's understandable considering the shape of the earbuds. Although you get four different sizes, from XS to L, you might find one that fits just right on you. 
Devialet Gemini Features
Gemini's ANC is just at par. It is based on the company's proprietary Pressure Balanced Architecture (PBA), which also integrates Devialet's Internal Delay Compensation (IDC) tech. To explain it simply, the PBA technology uses vents that allow air within the ear canal to flow outwards while also stopping external noise from penetrating through, optimizing low-end frequencies. 
Honestly, when you put these earbuds on, the world takes a backseat. Vehicles glide past, commutes are quieter, voices are rendered more intelligible. 
The Transparency Mode with its high and low options gives you a sense of what's around you. Music still sounds nice, loud, and clear. 
Devialet Gemini Sound Quality
When it comes to sound, Devialet never fails to impress. The sound in Gemini is lifelike and extremely detailed. You can hear the vibrations and instruments playing in the background quite clearly. The notes do not diffuse into each other and manage to sync well. The amplifier is a bit weak but the bass! the bass steals away the thunder. 
Mobile calls through Gemini work pretty much fine. There are many other earbuds with a louder sound, but what bugs me is that they have higher distortion, sharper midrange, and a more closed treble than Gemini.
Devialet Gemini App
The Devialet Gemini app is purely magic! You can easily choose between different presets of sound or make your own using a six-band graphic equalizer. Through the app, you can also decide whether you want the double-tap to activate the voice assistant or start the previous or next track. 
You can also select up to three degrees of noise reduction(low, mid, and high) and two degrees of sound penetration(low and high), or you can select neutral to deactivate it all. 
Conclusion
Devialet's wireless earbuds are good ones but not enough for the price that it has to offer. Gemini costs around 32,000 which are considered high considering the features that we get here. Other brands such as Bose and Sony set a different bar altogether that Devialet fails to reach. 
Overall, I would definitely recommend buying these if you are up for luxury tech.