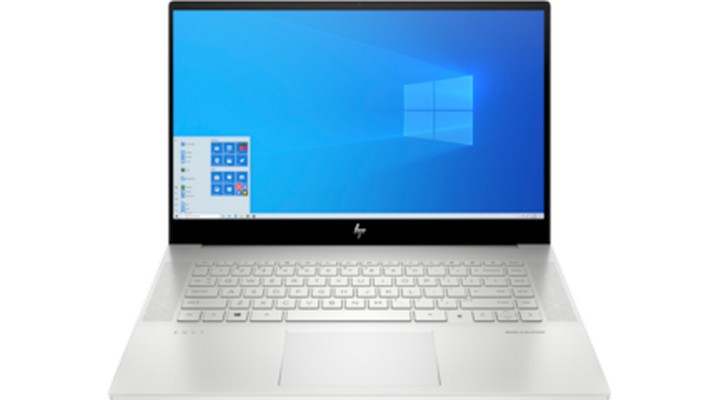 Hewlett Packard, or HP as it is most commonly known, has always been the go-to brand for style, functionality and reliability. Among its wide range of laptops is the latest Envy 15, which targets the professional users such as video editors, creators, and graphic designers. While it is loaded with top-notch specs, it does have its share of shortcomings. Will the HP Envy 15 make your colleagues green with envy? Find out.
Aesthetics and first impressions:

One glance at the HP Envy 15 is enough to conclude that it is indeed a professional laptop and it carries that badge with pride. Thanks to its aluminium build in a silver-metal finish, the laptop oozes subtlety and elegance. That is complemented by the stylish chrome HP logo on the display lid, while the slim bezels on the top and sides of the 15.6-inch full HD IPS display panel further enhance the sleekness of the laptop.
The bottom bezel, however, takes away some of the glamour with its rather large design. The backlit keyboard is flanked by speaker grilles on both sides (From Bang & Olufsen, particularly) that give out quite decent audio output, while the arrow keys are accompanied by a nifty fingerprint scanner. The touchpad is also quite smooth (more on that later).
Two USB-C ports with Thunderbolt 3 support, a full-size HDMI 2.0 port, a USB-A 3.1 port and a microSD card reader constitute the left side of the laptop. The right side houses a headphone jack and another USB-A 3.1 port. All this is housed in a sleek case measuring 14.1 x 9.3 x 0.7 inches (LxWxH) and weighing 2.14 kg. This does seem like a lot, but it can be seen as a compact design if you consider the specs it comes loaded with.
Video and Audio:
As mentioned above, the laptop gets a 15.6-inch full HD (1920×1080 pixels) IPS, anti-glare display. Its 60 Hz refresh rate might not be in the same league as 144Hz screens, but the display is clear, crisp, and colourful nevertheless. Most colours on-screen pop out vibrantly, but it isn't too abrasive to the eye.
HP has added a 720p webcam to the mix, which does its job as it should but is nothing to ponder over. However, the highlight of the webcam is the external shutter and microphone mute keys on the keyboard. Coming to the B&O speakers, a decently stereo surround sound can be experienced, though an immersive experience is not guaranteed.
Hardware:
I can safely say that the HP Envy 15 gets one of the best keyboards to work on. Comfortable, intuitive and well-lit, the keyboard looks as pleasing as it is to work on. The trackpad also does its job well and there is hardly anything to complain about here. If you had to be nitpicky, you could wish for a bigger trackpad, but that will only be an occasional woe rather than a regular complaint. The keys are not only well-spaced, but the back-lighting also ensures that every individual key can be clearly seen. The layout is overall quite symmetrical and pleasing to the eye.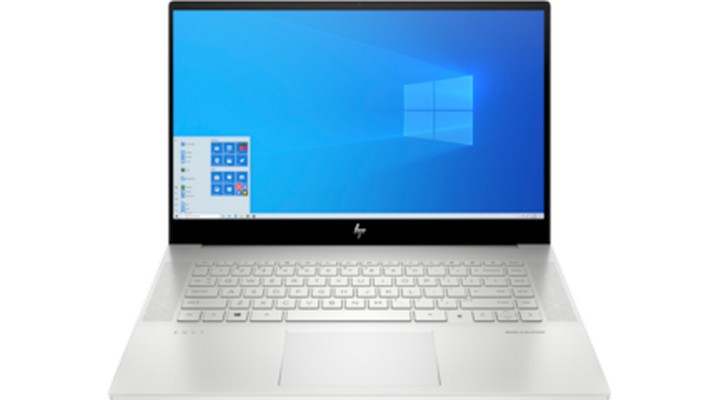 Internals:
Armed with an Intel Core i7-10875H CPU, Nvidia GeForce GTX 1660 Ti Max-Q GPU, 16GBDDR4 RAM and 1TB NVMe SSD, the laptop can take on anything that you throw at it. Be it heavy files, complex designs or intense gaming, there is nothing that the HP Envy 15 can't handle. However, the laptop isn't immune from heating, which it does after a while of extensive usage. It isn't unmanageable, however, and can be overlooked as well. For the average commercial user, this laptop will fulfil all purposes and will still have the capacity for more. Nevertheless, it could offer a better performance had it been equipped with better internal components such as an Nvidia RTX series graphics card or 32GB of RAM.
Should you go for it?
Priced well above the Rs 1.50 lakh mark, the HP Envy 15 is not a casual buy for sure. But if you are willing to invest that kind of money, you will definitely be pleased with the outcome. There is not much that is left to desire for after owning an Envy 15, but that is only if you are a jack of all trades. Purpose oriented buyers such as gamers or professional video creators might want something more from it, but the Envy 15 will still carry all the tasks given to it diligently.