HyperX Pulsefire Haste is a mouse that will put most gamers in the same doubt, is lighter indeed better? Well, the answers might differ; but everybody who has experienced the mouse will agree on one thing: lighter is faster!
First impressions:
The mouse fits in the hand like it has been customised for the player. With a black matte colour on a hexagonal comb shell, the HyperX Pulsefire Haste is a sleek and minimalistic mouse. The cover exposes the internals too, which is an interesting touch. However, that's not the only purpose it serves. The shell primarily helps to shed off a considerable amount of weight while retaining its strength and durability.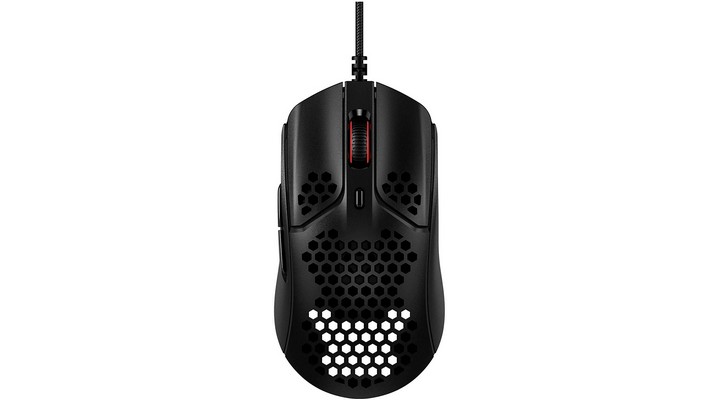 The box it comes with also has extra rubber grips for the buttons and the sides. It also has an extra set of PTFE skates that can keep the mouse running smoothly for longer. Since the honeycomb shell design extends to the mouse buttons, the rubber grips provide much-needed functionality.
Usage:
Being customisable up to 16000 dpi, the HyperX Pulsefire Haste is lightning fast. It also has six programmable buttons, including the left and right clickers, to increase the accessibility on-screen. However, since the mouse has a compact design, the buttons can feel too clumped-up and a little cumbersome to use. 


The mouse also features RGB colours only under its scroll wheel, which makes it look slightly underwhelming. Nevertheless, it is a nifty indicator of the mouse's position if you are playing in darkness and lift your hand off the mouse. The HyperFlex cable also ensures zero entanglements no matter how you jerk or pull the mouse. Being lightweight and petite, it does not tire the hand, and I could use it effortlessly for hours on end. The open design also massively supports airflow and ventilation, preventing the mouse from overheating at any point.

Verdict:
The mouse will ensure long hours of use without exhaustion and add slight flair to your setup. However, its compactness proves to be a hurdle for people with rigid palms or oversized hands. Not that it is a drawback, but that is where its bigger competitors will hold ground better. With a price tag of Rs 3,890, the HyperX Pulsefire Haste might not be the cheapest option on the market, but it is indeed the sleekest. It will be available on Amazon from March 22nd.