Laptops are one of the most used personal devices after smartphones obviously. The main factor for choosing laptops is the form factor and portability. Laptops are getting even smaller than they were before. They are slimmer, have less weight and also have a host of hardware such as high-quality screens which makes these small computers really powerful for all your day to day work.
But does the laptop still has to be this big in the days where physical hardware is slowly starting to lose its meaning? Most smartphone makers have found innovative ways to increase the screen real estate on the front and have been eliminating (read concealing) their physical hardware like front cameras and sensors inside the phone itself. You can see how the latest smartphones like the OnePlus 7 Pro, Oppo Reno and the Asus 6Z which have mechanisms built-in to pop and retract the camera module.
Now it's about time that manufacturers start making smaller, more portable and powerful laptops with innovative designs. Not only this, the trial and error of making the devices smaller are giving birth to even more possibilities. Not too long ago, Asus added a small screen in place of the trackpad of the laptop which also works as a secondary screen. Following up on this development, Asus has recently unveiled a powerful laptop with dual screens. Yes, two screens on a laptop. An OLED screen as the primary one and secondary screen where you would expect the physical keyboard to be. The physical keyboard has been moved ahead and the trackpad has been moved to the right of the keypad. This gives the laptop a unique design and perspective for use, especially when multi-tasking. We expect this laptop from Asus to be commercially launched soon as it is a very innovative way of making a laptop different.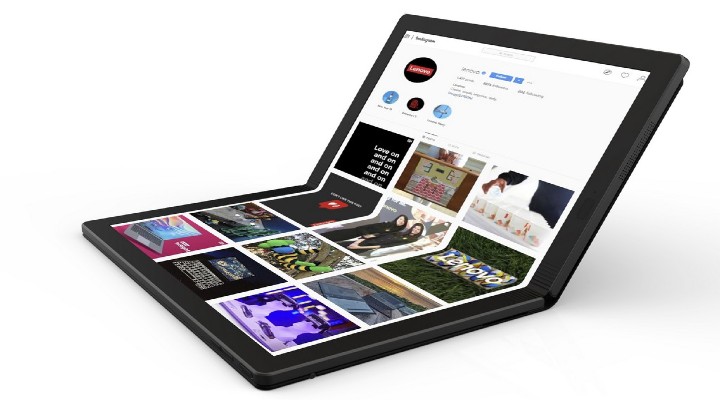 Now in an interesting attempt, electronics giant Lenovo has come up with something very unique. Something which might have been tried by many, but was perfected by none. Lenovo has created a folding screen which loses out on the physical keyboard but gets an OLED 13-inch OLED 2K screen which folds in half to make the form factor not more than a small hardbound book. The fordable PC is being called by the name of Lenovo ThinkPad X1, which is expected to join the list of Lenovo devices as early as 2020. The device is still in its early stages of development. However, Lenovo was smart enough to rope in a few tech experts and sent the device for an opinion.
The device in question if a fully folding OLED display. An OLED display is something even high-end laptops miss on. However, manufacturers are now trying to incorporate better screens on laptops which would definitely enhance the overall viewing experience. The ThinkPad X1 is something which has been imagined to be in a laptop territory without being too big or have any issues of portability. This device can be folded in half and can be used with a separate keyboard or simply used with the on-screen keyboard. However, some people would still miss a physical keyboard as mentioned by many tech experts who have had a hands-on with Lenovo's latest innovation.
The idea and attempt to create something like this is commendable. But, there are a few questions that arise with the device. Is the folding display really a good idea? Will it have a life long enough to go through the daily grind of power-hungry multimedia users, how long will be the battery life on a portable device of this size and how will the company create the similar typing experience on the device which physical keyboard users are looking for. Unless this technology becomes mainstream, it is really difficult to have an opinion about it or even to speculate anything. Going to work with a book-sized device which fulfils every bit of requirement of a laptop, a fully-fledged one would simply be an amazing experience.
With such small and space-saving devices, computing is about to take a very interesting turn. Physical hardware is slowly disappearing and screens are replacing major hardware and experiences. This surely is going towards a very interesting direction where smaller devices will be more powerful and have equal or more features, and the day doesn't seem too distant either.