Let's be real, projectors are much of a specialty product in the Indian market as they're usually placed either in school or office settings. Only a few true cinephiles in the country set up projectors in their home setting to get the best cinematic experience and picture quality. When I was told to review Epson's beefy beast LS12000B projector, I was taken back to my school days when going to the A/V room was something every student looked forward to. So, does this heavy-duty offering by Epson deserve to be your next home projector? To put it simply, YES! However, there are other aspects of this device one needs to consider before making a purchase as it does not come with a cheap price tag. 
Design and Functionality
The LS12000B is not really a lightweight product, it weighs over 20Kgs which makes it a rather stationary product. It is meant to be placed in one spot in your home and let rest there for the entirety of its lifetime unless you want to carry the stone of a projector around a lot. It comes with a powerful 3LCD system inside which allows it to project content even in a well-lit room without missing out on details. The picture doesn't struggle much in a brightly lit room, but it surely stands out when the ambiance is turned dark. The design of the projector is pretty straightforward. The matte layer on top of it is truly beautiful. One standout design feature here is the powered lens cover that slides open when the projector is turned on and shuts back when it's powered off. This allows for keeping the lens clean and also gives off a futuristic vibe. 
There is a lot of flexibility here with features like zoom, lens shift, keystone controls, and focus. If you already have a destined spot to place your projector then you won't need to change it as the projector can adapt to the room thanks to its optical zoom. Epson has managed to tick off all the right spots with the LS12000B's 4K HDR visuals that are crisp and vivid. I played a few action scenes from Cameron's Avatar and was surely taken aback by its visuals. The projector is capable of scaling up to 300 inches and down to 50 inches which gives more flexibility to its users. One key aspect to note for a projector is how bright it can get and Epson is clearly not playing around here as the LS12000B is rated for 2,700 lumens. Make sure your curiosity doesn't make you peep right into the projector lens while it's on!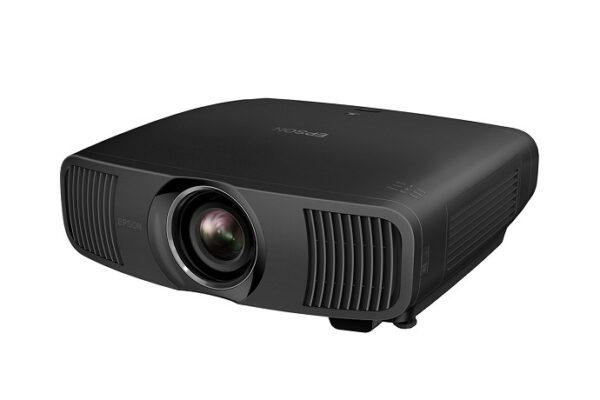 Pricing
The LS12000B is surely an expensive affair. It is priced at Rs 6 lakhs in the Indian market which puts it in the luxury tech category. However, even with that heavy price tag, it does not come with smart TV features. That issue can be quickly resolved with the help of a firestick so it's not a grave concern.  On the other hand, there is also no speaker output here. Simply put, the LS12000B is awesome, but it is just a display. Ultimately, the LS12000B is targeted to the most indulgent cinephiles amongst us and if you're one of them then this is definitely worth the price for you! 
Verdict 
The LS12000B is a luxury product meant for true cinephiles. While it misses out on Smart TV features and speakers, it makes up with crisp and eye-pleasing picture quality. If you want to make the perfect home theatre setup with the best quality then this is the projector for you.
Rating – ★★★★