Some brands declare the dates and launch their products while some straight away launch the product; that's the power of confidence, and Apple has honed it over the years. Yesterday, Apple unveiled the 2023 MacBook Pro 14-inch, MacBook Pro 16-inch and Mac mini with the new Apple M2 Pro and M2 Max processors. 
MacBook Pro 14″ and 16″ with M2 Pro and M2 Max
The 2023 MacBooks are supercharged by M2 Pro and M2 Max chips and offer up to 20% faster CPU performance and 30% faster GPU performance than the previous generation M1 variants. The lightning-fast M2 Pro and the incredible M2 Max are the most powerful and efficient chips in MacBooks.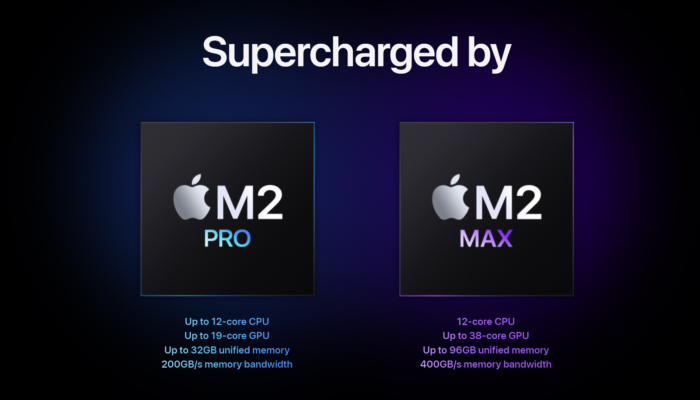 The 2023 version of 14″ and 16″ MacBooks sports a stunning Liquid Retina XDR display, have all the ports you need, delivers exceptional performance and now has even longer battery life. Regarding video editing, the 2023 MacBook Pro with M2 Max is 15.7x faster, while the M2 Pro is 9.6x faster when compared to the Intel‑based MacBook Pro.
Apple is offering M2 Pro and M2 Max in two options – M2 Pro with a 10-core CPU and 16-core GPU or 12-core CPU and 19-core GPU, while the M2 Max can be configured in either a 12-core CPU and 30-core GPU or 12-core CPU and 38-core GPU options. The 16-inch model of the MacBook Pro has the longest battery life ever in a Mac.
Price:
14-inch
16-inch
Mac Mini
Wanna buy something extraordinary, then the new Mac Mini should be on your cart as it is cheaper than the latest iPhone 14 series and packs the speed you need to get more done faster. When compared to the previous-generation M1 Mac mini, the new Mac mini with M2 Pro delivers up to 4.2x faster ProRes transcode in Final Cut Pro and 2.8x faster gameplay.
The new Mac Mini starts at the price of ₹59900 and will be available for sale from January 24th. The base models of the Mac Mini will have the M2 processor with an 8-core CPU and 10-core GPU, while the premium model will arrive with the M2 Pro with a 10-core CPU and 16-core GPU as standard but can be configured with the 12-core CPU and 19-core GPU variant.
Price: