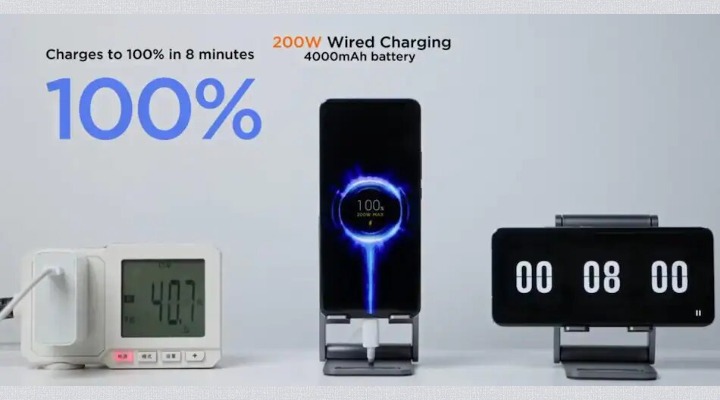 Xiaomi launches a 200W HyperCharge fast charging technology and excites other smartphone manufacturers in ongoing charging wars. The Chinese smartphone brand claims to charge a 4,000mAh battery in less than 8 minutes, and with that, Xiaomi brings a long-awaited vision into reality. Along with 200W HyperCharge fast charging technology, the company has introduced 120W wireless fast charging technology that fills the same battery capacity in under 15 minutes.
Xiaomi became the first Original Equipment Manufacturer to come up with a practical concept of 200 W HyperCharge technology in a smartphone. Last year, the company introduced 120W wired charging and 80W wireless fast charging in the Mi 10 Ultra. Along with Xiaomi, currently, Realme has its 125W UltraDART, and Oppo has its 125W Flash Charge in the wired charging war that claims to charge a 4,000mAh battery in 20 minutes.
https://twitter.com/Xiaomi/status/1399186017421127680?s=20
The Chinese tech giant announced the invention of 200W charging on Twitter along with a video, where the experiment took place with a custom-built Mi 11 Pro with a 4,000 mAh battery instead of the 5,000 mAh regular model. We can see in the video that the phone reaches 10% charge in 44 seconds, 50% in just 3 minutes, and accomplishes the benchmark of 100% within 8 minutes with the wired fast charging technology.
On the other hand, we can see a 10% charge on the wireless charging test in less than a minute, followed by a 50% in seven minutes and ultimately a 100% charge in 15 minutes. HyperCharge fast charging technology looks excellent at first glance, but only regular usage will tell us whether it's a good invention or not, as such kind of fast charging might harm the device.
Xiaomi is a top-five vendor in over 47 countries worldwide and one of the most popular smartphone makers in India. Though, the company has announced 200W wired and 120W wireless charging technologies but hasn't shared a timeline of when we can expect to see these two chargers in the box and which phones will get it first. However, it's expected to debut this year with the upcoming flagship models from the company.