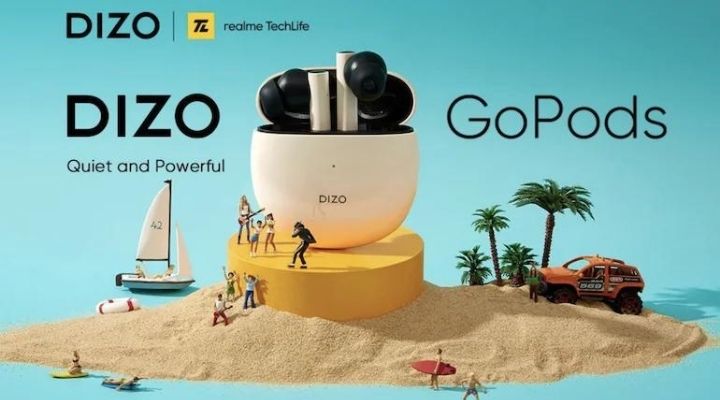 Back in late May, Chinese smartphone manufacturer Realme unveiled its first AIoT sub-brand, DIZO, focusing on smart home gadgets, accessories, lifestyle, and entertainment products. Now the company is gearing up to launch its first product under its all-new DIZO sub-brand on July 1. DIZO is expected to launch new wireless earbuds, headphones, smartwatches, and feature phones in India, but their first product could be TWS headphones as the brand is teasing us with all the music-related tweets.
The Vietnamese e-commerce website Shoppe has been teasing the upcoming products from the Realme sub-brand, which are claimed to be called the DIZO GoPods, DIZO GoPods D, and DIZO Watch for weeks now, and all these leaked products are similar to Realme Buds Air 2, Buds Q2 and Watch 2, respectively, with a few exterior changes. As per the leaks, along with these products, the brand is also planning to bring a Bluetooth speaker and a vacuum robot.
The feature phones have come a long way and a number of people, mostly old-age people still prefer them first. Most of them can now support WhatsApp, Google, YouTube, and Gmail apps. DIZO is expected to launch two feature phones allegedly called DIZO Star 500 and DIZO Star 300. 
The launch of these feature phones will mark the debut of Realme in the feature phone segment. DIZO feature phones have already created hype around the Indian market, and once they launch, they would surely offer a decent fight to the old bosses of the feature phone market, Jio, Samsung, and Nokia. 
The company aims to launch over 100 new AIoT and lifestyle products in 2021; the long list includes TWS products, affordable smart TVs, smart plugs, trimmers, smart bulbs and more. All the recent leaks and speculations hinted that DIZO would be rebadging some of the existing Realme products and will share more teasers about the products to build the hype.