Asus has a tradition of creating innovative products, and the company recently launched a new special-edition laptop – Zenbook 14X OLED Space Edition to celebrate the silver anniversary of the Asus P6300, the first Asus laptop to be sent to the Mir space station. The P6300 laptop spent about 600 days in orbit and made its way back to earth in mint condition. Let's see what the new Asus device holds within.
Design & Build Quality
The special-edition laptop has unique space-themed packaging, and though it has an almost identical shape and looks like Asus P6300, it stands apart due to the notable changes in the design. The 14X OLED Space Edition has a tiny 3.5-inch monochrome OLED ZenVision display mounted on the lid which shows battery status, animated space graphics and allows you to add/edit a customised message of your choice like WhatsApp about.
On the outside, it has a Morse code along with arc lines that state "Ad Astra Per Aspera", which means "Through the hardships to the stars". The aluminium built 14-inch Asus laptop is 15.9mm thick and weighs 1.4 kg. Once you open the lid, the Space Edition laptop looks the same as the regular Zenbook except for the space theme graphics near the sides of the trackpad and copper hue painted spacebar.
Display
The Zenbook Space Edition laptop is designed for young professionals, tech-savvy trendsetters, storytellers, space and science enthusiasts. The Zenbook 14X laptop has one of the most excellent displays, and Asus has taken care of your binge-watching with a 2.8K resolution, 100-per cent DCI-P3 colours, and a 16:10 aspect ratio. The laptop has a punchy OLED touchscreen display with a 90-Hz screen refresh rate.
The Zenbook 14X laptop has a 92% screen-to-body ratio, HDR support, a 720p HD camera, and a 10-bit OLED panel that displays sharp images even during sunlight, helping you while working outdoors. The display of the laptop comes with Pantone validation for colour accuracy and has perfect viewing angles. The Zenbook 14X is best for content creators, gamers, movie lovers and designers who need accurate colours while working.
Keyboard, Trackpad, Ports & Battery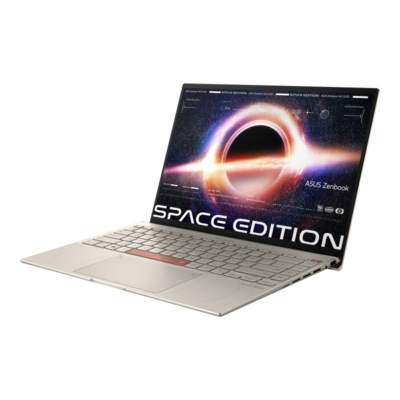 The Zenbook 14X Space Edition laptop has perfect keyboard ergonomics as it comes with an ErgoLift hinge design which is best suited for the people who type on a regular basis. The keyboard layout is slightly raised to offer a perfect palm rest to the users, and it also provides 1.4mm key travel, which is one of the longest in this class of laptops. The trackpad comes with a NumberPad 2.0 integrated for a better multitasking experience.
Along with the spacebar key, it has a power key with a copper hue colour painted on it which comes with an integrated fingerprint sensor. In terms of connectivity, the Zenbook 14X OLED Space Edition offers two Thunderbolt 4.0 ports, an HDMI 2.0 port, a USB 3.2 Type-A port, a 3.5mm audio jack and microSD card support. The laptop is powered by a 63WHrs battery with 100W Type-C fast charging support.
Performance
Our review unit was powered by a top-notch 12th Gen Intel® Core(TM) i9-12900H processor, which helps you balance power and battery life perfectly. It has Intel(R) Iris(R) Xe Graphics, 32 GB of LPDDR5-4800 memory, NVMe SAMSUNG MZVL21T0HCLR-00B00 disk, and a very fast 1 TB gen4 SSD. The laptop has a hybrid design with 6 Performance and 8 Efficiency Cores, as well as 20 combined threads.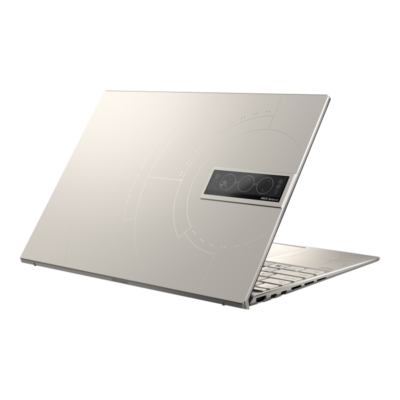 The Zenbook 14X laptop is made for creative professionals, offering a decent gaming experience. However, when you play high-end games for long hours, try to transfer multiple heavy files simultaneously, and when the battery meter hits below 30% of charging, the laptop starts lagging and turns into a heater. Overall, performance-wise it is a good machine, and I hope Asus will improve the software in future updates.
Verdict
I fell in love with this special-edition laptop at first sight, but it has flaws like every other love story. When it comes to special-edition laptops, companies usually don't invest much time in them, but Asus has worked hard on this special edition, and one can easily notice it. The price of the laptop starts at ₹1,14,990, and the review unit we received was priced at ₹1,69,990. If you're a creative professional and into cool gadgets, go for it.