Are you ready to dive into the world of smartwatches? With a smartwatch by your side, you'll be living life in the fast lane, just like James Bond! But before you dive headfirst into the world of smartwatches, there are some things you absolutely must consider. It's time to decode the secrets of the smartwatch universe and make the right choice for your wrist.
Compatibility
Imagine buying a smartwatch that doesn't play well with your smartphone – it's a nightmare, right? Compatibility is your golden ticket to the land of smartwatch bliss. Ensure your smartwatch is compatible with your smartphone's operating system, whether iOS or Android.
Display
The display is your smartwatch's soul. Opt for a vibrant, responsive touchscreen that makes interactions a breeze. Whether you're checking your heart rate, reading messages, or navigating through apps, a stunning display makes all the difference.
Battery Life
Imagine your smartwatch running out of juice mid-adventure. Yes, that's why battery life is a must-check before buying a smartwatch. Look for a smartwatch that can keep up with your action-packed lifestyle. Some can last a day, while others go the extra mile, lasting up to a week on a single charge. 
Communication
Your smartwatch should allow you to send messages, make calls, and even summon voice assistants with a flick of your wrist. Whether you're sending coded messages or just ordering pizza, a smartwatch that excels in communication is a must-have for anyone.
Fitness Tracking
A smartwatch is like having a personal trainer on your wrist – minus the yelling! Look for a smartwatch that comes packed with fitness-tracking features. From heart rate monitoring to step counting and even sleep tracking, your smartwatch should be your trusty sidekick on your fitness journey.
Price
Last but not least, the price! While we'd all love to have an unlimited budget for our gadgets, the reality is that we need to be mindful of our finances. Smartwatches come in a range of prices, so make sure to find one that fits your budget without compromising on the essential features. Remember, you don't need to break the bank to own a smartwatch that suits your needs.
Best Smartwatch – Apple Watch Series 9
Price: Starting at ₹41900*

Display: 45mm or 41mm Always-On Retina display

Water resistance: Yes, swim-proof

Battery life: Up to 18 hours, 36 hours in Low Power mode

SOS – Emergency SOS, Fall Detection and Crash Detection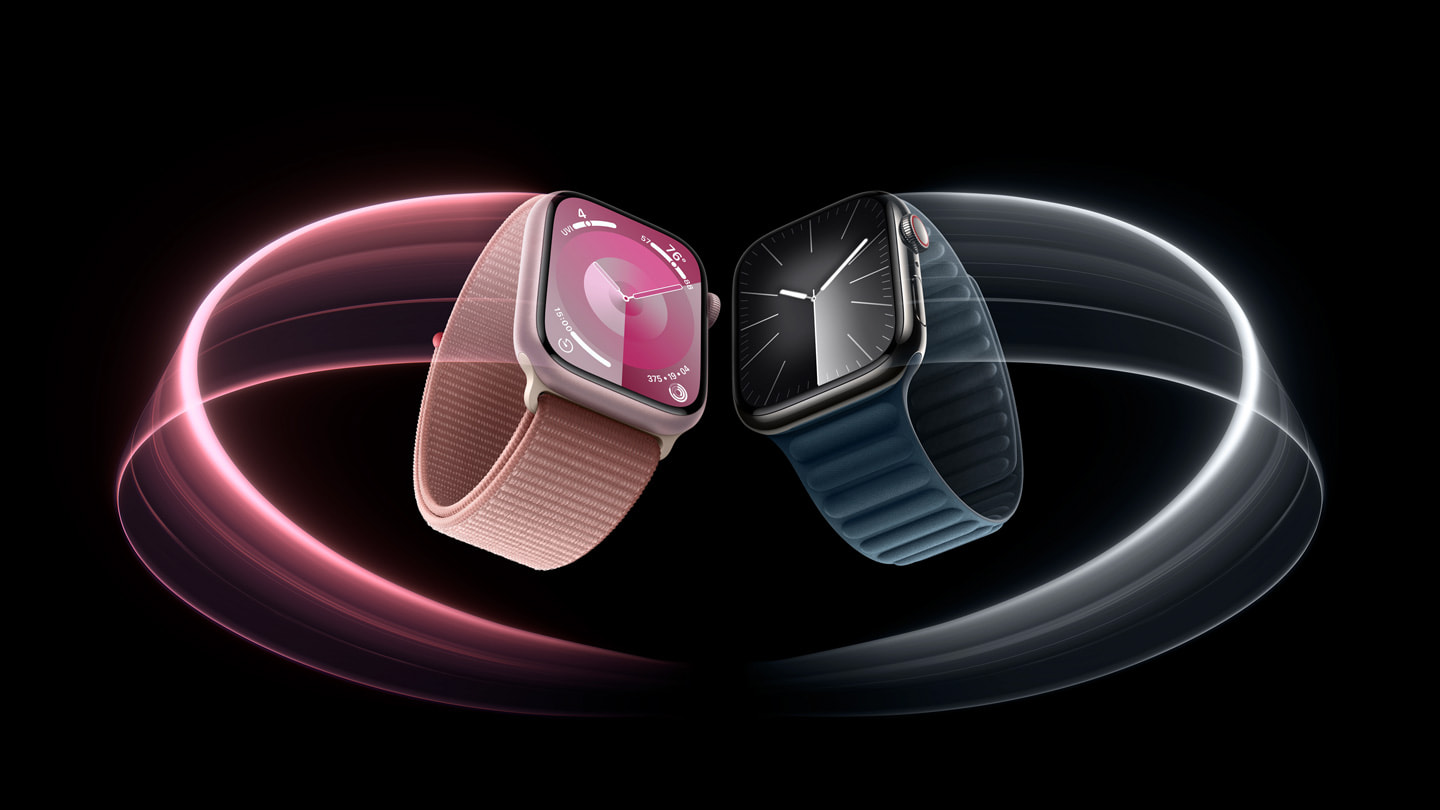 Since its debut in 2015, the Apple Watch has transcended timekeeping and has evolved into the undisputed champion of smartwatches. The latest gem in the lineup – the Apple Watch Series 9 marks a leap into a touchless future. It introduces an ingenious "Double Tap" gesture, a digital dance inspired by the Assistive Touch accessibility tool.
With a simple pinch, you can navigate the watch's complicated interface without the need to lay a finger on the screen. The Series 9 has also harnessed the power of Siri like never before, thanks to the new S9 system-in-package (SiP) processor. Speedier responses are just the beginning, as Siri now lends a helpful ear even when you're off the grid.
The Series 9 watch boasts a dazzlingly brighter screen that adjusts for nighttime and a slick watchOS 10 facelift. With its focus on Siri and touchless interactions, Apple continues to reign supreme in the smartwatch realm. While sleep-tracking might lag behind competitors, do you have any choice other than to ignore it for a couple of years?
Best Android Smartwatch – Samsung Galaxy Watch 6 Series
Price: Starting at ₹32,999*

Display: Sapphire Crystal – 44mm or 40mm and 47mm or 43mm

Durability: 5ATM+IP68/MIL-STD-810H

Material: Armor Aluminum and Stainless Steel

Other: Sleep Tracking, Infrared Temperature Sensor
With the unveiling of the Galaxy Watch 6 series this year, Samsung once again reaffirms its dominance in non-Apple smartwatches. The iconic spinning bezel once temporarily shelved, makes a triumphant comeback in the 2023 Galaxy Watch 6 Classic. This time, it returns in a sleeker and lighter form, providing an exquisite tactile interface for navigating the new Wear OS 4. 
The display is now brighter, ensuring effortless readability even under the sun's direct glare. What truly elevates the Galaxy Watch 6 above its predecessors are its revamped health and fitness tracking capabilities. An overnight skin temperature sensor aids in monitoring ovulation and menstrual cycles, while innovative sleep coaching tools offer invaluable insights for achieving better rest. 
The watch also brags irregular heart rhythm monitoring and personalised heart rate zones for optimal cardiovascular tracking, catering to runners' needs. With enhanced processors, improved battery life, and a pack of optimised wrist apps, the Galaxy Watch 6 series sets a new benchmark and stands as the unrivalled all-inclusive choice, promising an unparalleled experience in the wearable tech arena.
Best Budget Smartwatch – Samsung Galaxy Watch 4
Price: Starting at ₹9,999*

Display: Corning® Gorilla® Glass with DX+ in 44mm or 40mm

Durability: 5ATM+IP68/MIL-STD-810H

Material: Armor Aluminum

Battery 361mAh or 247mAh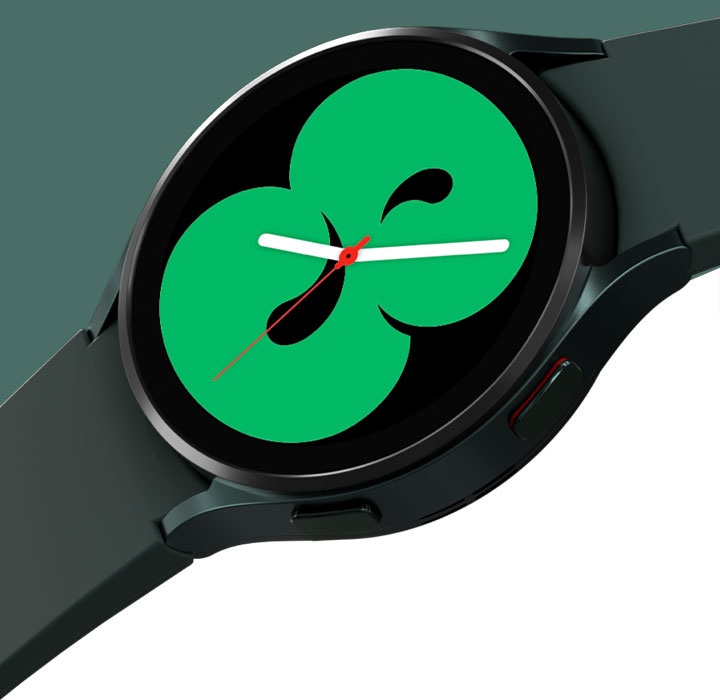 Well, if you had asked, "What's the best budget smartwatch?" in 2022, I would have said Fitbit Versa 2, but now that the Samsung Galaxy Watch 4 is available under 10k, I'm changing my statement. The Samsung Galaxy Watch 4 emerges as a beacon of brilliance in budget-friendly form. Like a siren calling you to the shores of affordable luxury, this timepiece seamlessly combines style, substance, and, most importantly, savings.
With its sleek stainless steel case, vivid AMOLED display, and customisable watch faces, the Galaxy Watch 4 doesn't just blend in—it stands out. It's the wristwear equivalent of a tailored suit at a thrift store price. But this smartwatch isn't just a pretty face; it's a powerhouse of functionality. It's your personal wellness guru, boasting health-tracking features like ECG monitoring, SpO2 tracking, and advanced sleep analysis. 
Its fast processor ensures smooth performance, and it syncs seamlessly with your Android device, making it the ideal companion for productivity and play. By offering the Galaxy Watch 4 under 10k, Samsung has woven affordability into a tapestry of innovation, making it the ultimate choice for those who seek both style and savings in their smartwatch experience. It's time to embrace the future without breaking the bank.
Best Rugged Smartwatch – Garmin Instint 2X Solar
Price: Starting at ₹50.490*

Connectivity: iOS, Android

Display: 40mm, 45mm or 50mm

Water resistance: Yes, swim-proof

Charging method: Solar power, plug charger

Battery life: Unlimited in the sun, 28 days without solar energy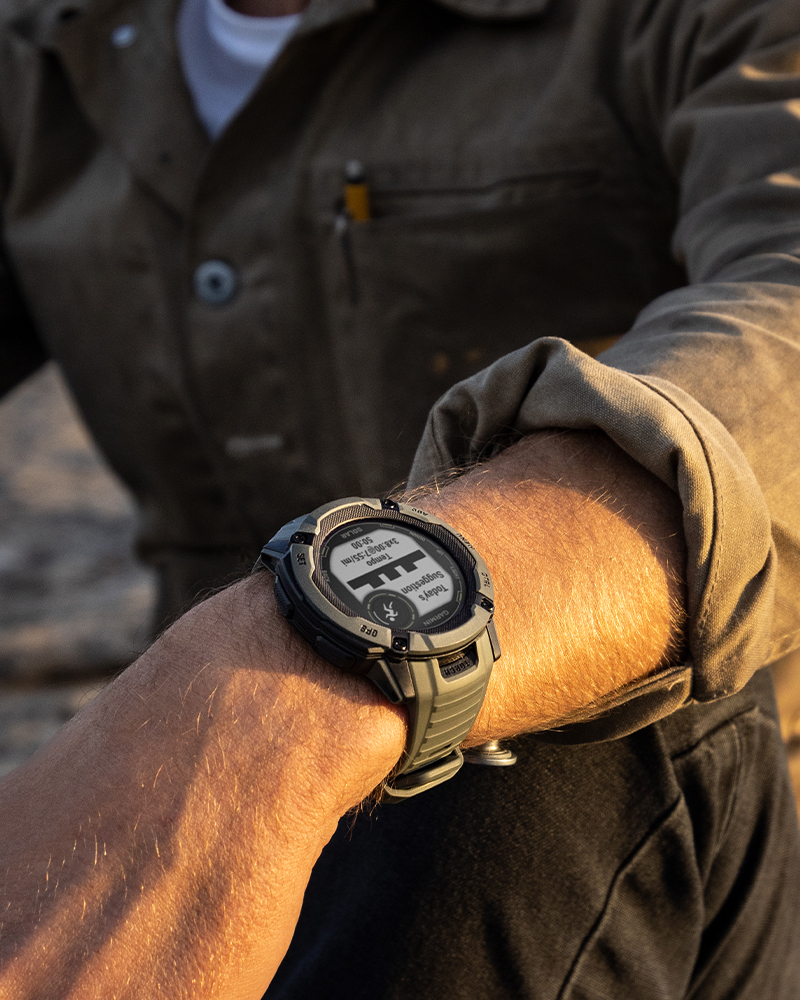 Not all people have time to take care of and charge their smartwatch after every day or two. So, to have them on board, Garmin arrived with Instinct 2X Solar – a beacon of innovation and practicality. At the price of ₹50,490*, this remarkable smartwatch is not merely a timepiece; it's an all-encompassing companion that combines the rugged reliability of a military-grade device with the futuristic charm of solar-powered technology.
The Instinct 2X Solar is a multitasking marvel that seamlessly transitions between roles: executive assistant, fitness coach, weather oracle, and even a digital wallet. With its enhanced solar panels, it boasts extended battery life, ensuring that you're never left in the lurch during your adventures or daily grind. It isn't just any smartwatch; it's a workhorse, built tough and designed for readability even in the most challenging conditions. 
Its rapid GPS acquisition, military-grade durability, and impressive water resistance of up to 100 meters make it a true outdoor warrior. Sure, like any piece of tech, it has its quirks, but the Instinct 2X Solar's pros far outweigh the cons.
Best Fitness Freak Smartwatch – Fitbit Sense 2
Battery Life: 6days+

Display: 1.58 inches, AMOLED, touchscreen

Body: Aluminum case/Stainless steel bezel

Memory/Media: 4GB, Microphone, Loudspeaker

Compatibility: Android and iOS Check supported devices
Elevating the legacy of its predecessor, the Fitbit Sense 2, a true flagship masterpiece, refines the essence of well-being tracking. Its distinguishing feature, the groundbreaking cEDA sensor, ventures boldly into the labyrinth of your stress levels, unveiling its secrets with unprecedented precision. Stress, slumber, cardiac vigour, and physical pursuits all fall under its perceptive gaze, meticulously mapped out on its canvas of knowledge. With an aesthetic that mirrors an artist's brushstroke, this smartwatch unfurls a vivid story of your daily vitality through its elegant graphs—an essential compass guiding you towards complete holistic well-being. Yet, if your appetite for innovation craves something new and exciting, the recently unveiled Google Pixel Watch 2 beckons with its own promises of technological wonders.
Best Stylish Smartwatch – Fossil Gen 6
Battery Life: 24hrs+

Body: Stainless steel, Stainless steel

Compatibility: Android 6.0+ and iOS 10.0

Display: 1.28 inch, AMOLED, Touchscreen

Storage: 1GB RAM, 8GB ROM, Microphone, Loudspeaker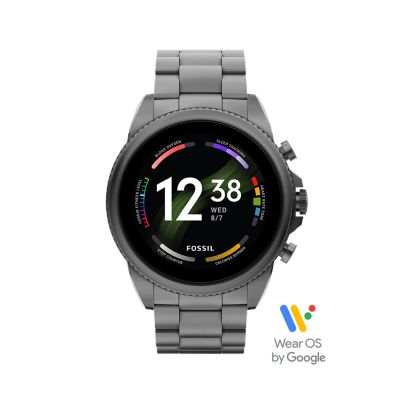 For those in pursuit of a smartwatch that harmonises seamlessly with every ensemble adorning your closet, Fossil's Gen 6 Smartwatches deserve your undivided attention. While Fossil's reputation for tasteful design precedes them, these timepieces are more than mere fashion statements, boasting an impressive array of cutting-edge features that elevate them to a league of their own.
What sets the Fossil Gen 6 apart isn't just its aesthetic allure; it's the technological prowess that lies beneath the surface. Rapid battery charging, swim-proof resilience, and a lightning-fast processor are but a few highlights. These watches have traditionally leaned on style over substance, but beneath the elegant exterior, they've undergone a transformation.
The Snapdragon Wear 4100 Plus chipset is fueling their performance, propelling them to a blazing 30% faster speed than their predecessor. Bolstered by 1GB of RAM and 8GB of storage, the Fossil Gen 6 emerges as a powerful and stylish accessory tailored for Android lovers who demand top-tier heart, health, and sleep tracking, all wrapped in an undeniably chic package.