Apple launched the iPhone 14 lineup last month during its 'Far Out' event. The tech giant took a significant amount of the event to talk about its new crash detection technology. According to Apple's own website, the crash detection feature is designed to detect severe car crashes. The latest iPhone 14 and 14 pro models can detect front, side, and rear-end collisions and rollovers in a range of vehicles like sedans, minivans, SUVs, pick-up trucks, and much more. If a heavy collision occurs, the iPhone 14/14 Pro models sound an alarm or display an alert. If a user is unable to respond to the alert in 20 seconds, the device automatically calls emergency services. While this feature has the potential to save many lives, a new test has shown that the iPhone 14 was unable to recognize a car collision.
iPhone 14 fails to detect collision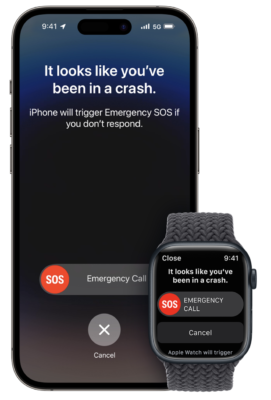 A video from Wall Street Journal recently surfaced on the internet. In the video, a demolition derby driver can be seen ramming two different cars. The driver had placed the iPhone 14 model while wearing an Apple Watch Ultra in the vehicle. The driver also had a Google Pixel in the vehicle which has a similar feature. The testing showed that the Apple Watch Ultra worn by the driver was successful at detecting crashes. But on the other hand, the iPhone did not register the impact in the car. Check out WSJ's video testing the devices' Crash Detection features below:
The Google Pixel device did detect one crash inside the driver's vehicle but neither of the two devices detect the crash during the second test. During the second crash test, the testers drove around the vehicles before crashing in to make the smartphones think the crash was legitimate. But the crash did not trigger the smartphone. As an important feature that was highlighted as one of the key reasons to get the new iPhone 14, this is surely a disappointing result. WSJ reached out to both Google and Apple after the tests. Apple revealed that the lack of data could be the reason why the iPhone 14 failed to detect the crashes. Not being connected to Apple CarPlay or not having the tester drive around the vehicle long enough could be the reason iPhone 14 failed to register the crashes.