The Department of Telecommunications (DoT) has now made it mandatory for phone manufacturers to register the International Mobile Equipment Identity (IMEI) of all mobile devices with the Indian government. Importers will also have to register each device's IMEI number before importing it into the country. Besides this, the IMEI of the mobile phones imported into India even for research and any other purpose shall also be registered by the importer.
IMEI number registration mandate
On September 26, DoT issued a notification gazette amending the prevention of tampering with the Mobile Device Equipment Identification Number, Rules 2017. The notification read, "The manufacturer shall register the international mobile equipment identity number of every mobile phone manufactured in India with the Indian Counterfeited Device Restriction portal of the Government of India in the Department of Telecommunications prior to the first sale of the mobile phone." The notification added that IMEI number of mobile phones being imported for India sales, testing and research also "any other reason" will also have to be registered on the same portal "prior to the import of the mobile phone into the country." Check out the official notification issued by DoT below: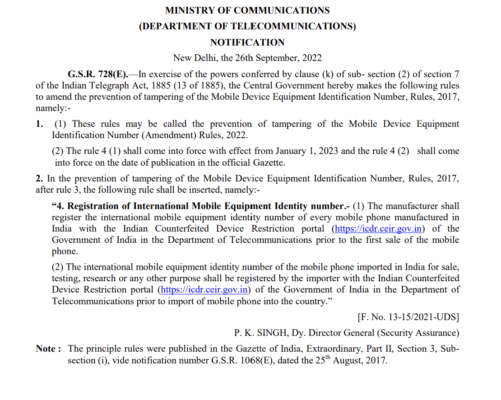 Why register IMEI numbers?
The government is all set to tackle the rampant cloning and theft of mobile phones. The Communications Ministry had previously rolled out the Central Equipment Identity Register. According to the register, mobile phones are categorized based on three lists, White, Grey, and Black. The mobile phones with IMEI numbers in white are permitted for use, whereas, the blacklisted devices are the ones that are stolen or lost hence not allowed to access any network. The ones in grey are allowed to connect under supervision as they do not conform to standards.