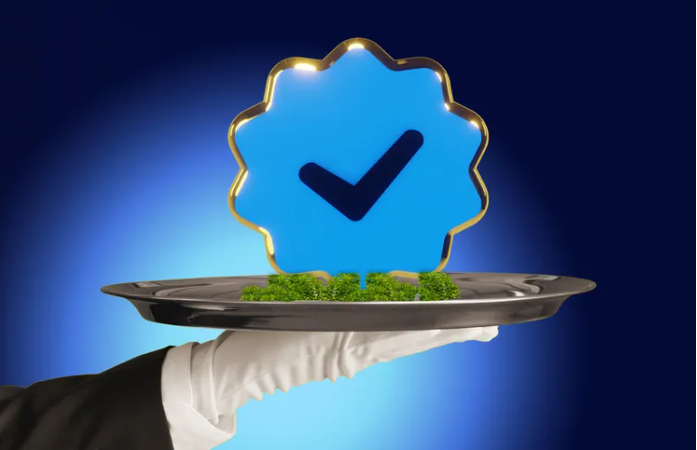 Tumblr is currently basking in all its glory! It is experiencing a resurgence due to its policy changes that allowed nudity on the platform and also the ongoing chaos unfolding on Twitter. A few known celebrities like Ryan Reynolds and Lynda Carter also made their way to Tumblr to escape the Twitter drama. However, like almost all other social media platforms Tumblr does not verify high-profile accounts of celebrities and politicians. To keep up with the ongoing trend of Elon Musk charging $8 for a verified check on Twitter, now Tumblr has launched a subscription of the check mark at $7.99!
Tumblr blue check mark
Before you start accusing Tumblr of hopping on a trend to make a few bucks and exploit users, let me tell you that it is actually just a parody. While Tumblr is definitely selling the blue check mark at $7.99 it's more of a joke item presented by the company and does not give users any other benefits! It is a one-time payment and not an actual monthly subscription. Users can buy the blue check mark from Tumblr's web store and basically get what they'd expect in return, a blue check. That's all! Well, two blue checks to be precise. Tumblr is actually providing its users with not one, but two blue check marks just to have an edge over other social media platforms.
While introducing this new feature, Tumblr's official post read – "Hi! We're introducing Important Blue Internet Checkmarks here on Tumblr. They're a steal at $7.99—that's cheaper than some other places, when you consider that you get not one but TWO checkmarks for your blog on web only (for now). Why, you ask? Why not? Nothing matters! ¯\_(ツ)_/¯"
While all fun and games, Tumblr was also specific that the blue check marks do not really mean identity verification. While sharing the properties of the important checkmarks Tumblr mentioned – "This is not a verification status, it's an important Blue Internet Checkmark, which in 2022 is just as legit. Also the Important Blue Internet Checkmark may turn into a bunch of crabs at any time"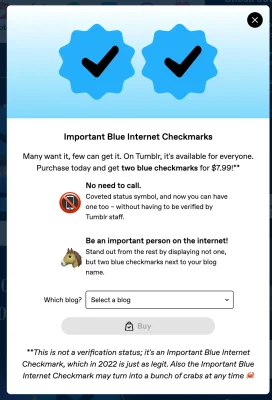 It is quite evident that Tumblr is poking fun at Twitter's latest $8 subscription model that allows users to get verified on the platform. It will be interesting to see if Tumblr's 'shitposting' business model allows it to float its boat!