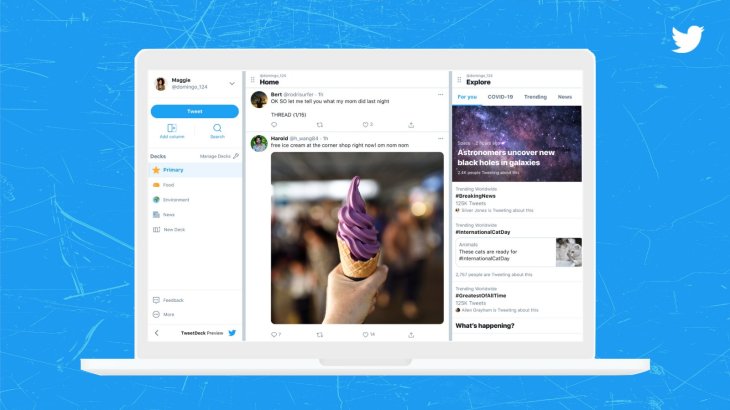 TweetDeck provides a column layout that allows users to keep a tab on tweets from different accounts at once. Twitter made an announcement today that it will begin testing a new set of features for TweetDeck.
The company is looking forward to revamping its often-ignored dashboard with a few US, Canada, and Australia users. Kayvon Beykpour, Twitter's Product Head said that the updated TweetDeck would include 'a full tweet composer, new advanced search features, new column types, and a new way to group columns into clean workspaces.'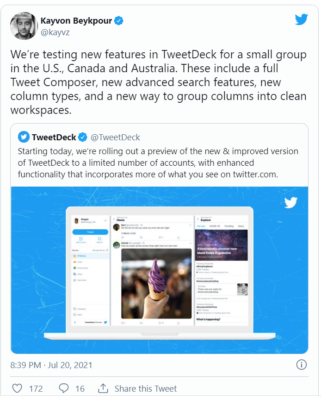 Previously in an interview with The Verge, Beykpour had admitted that Twitter 'hadn't given a lot of love to TweetDeck recently.' He then described the revamp as a 'pretty big overhaul from the ground up.
Notable changes are being promised with the recent update. The new tweet composer will allow the user to add GIFs, polls, or emojis to their tweets. This will also include scheduled tweets and not just photos and videos as it was before the update. You will also be able to write threads and tag your images. 
The old column types, including Activity, Followers, Likes, and Outbox, have been removed. At the expense of these, new column types such as Profile, Topics, Explore, Events, Moments, and Bookmarks have been added. 
The new features also allow you to use Boolean queries. You can easily choose between viewing either the top tweets or the latest tweets. 
Additionally, the 'Decks' feature allows you to organize a set of columns into separate workspaces. It is helpful for people who want to create workspaces based on different themes or interests or if they want to organize tweets related to their clients.
Are We Getting Along?
These features undoubtedly provide many benefits, but the testers are concerned about losing the 'Activity' option that shows whenever someone you follow on Twitter follows another person or 'favourites' a tweet. The messages column is also perhaps a big miss.
Many users also complained about how it is difficult to resize the columns and the problems occurring while using it with multiple accounts. 
Remember that the feature is still in its testing stage, and there are chances of better updates when TweetDeck rolls out more broadly. Beykpour wrote in a tweet,
"Through these tests, we're exploring how we can give people more customization and control using TweetDeck."
Rumours also suggest that TweetDeck might become part of Twitter Blue, which is the company's subscription service.