My life is more like a blank page. I would like to fit myself in other people's biography. I would like to take their color in mine.
A master in his art of acting, storytelling and making you feel, Irrfan Khan was one of the most treasured actors that Indian cinema had seen. His simplicity oozes out of his personality that will always leave you with a smile. From being a letter writer in his first movie, Salaam Bombay! to his latest, Champak Bansal in Angrezi Medium, we will remember Sahaabzaade Irrfan Ali Khan in our fondest memories, always.
Till then, here is a peek into his life back in 2016. We couldn't help breaking into the make up room and have a tech chat with this superbly skilled personality. What makes him so perfect in whatever he does?
Lets find out.
Ex: What is next in line for Mr. Khan?
IK: Next in line are surprises, hopes and expectations. 
Ex: Currently, any project you are working on?
IK: I would probably come to know in a weeks' time. I might be going out of the country for a shoot.
Ex: You seem to disappear into characters you play; do you put in a lot of research into every role?
IK: Not always. It depends. If the role requires research, I do. I also get into discussions with my director. But most of my work, I do by instinct. I go by my instinct. Sometimes however, I do prepare for certain roles. 
Ex: Which has been your best project till date and why?
IK: I have no idea. Shooting wise there are few which gave me pleasure but coming to the output, what will be the best, I am no one to judge. I think it's the audience, which can claim that. For me, there are lots of films, which didn't do well but they gave me immense pleasure.
Ex: Are you a very brand conscious person when it comes to buying gadgets? Do you follow particular brands for phones or laptops?
IK: Not at all. I see the features and go by that. However I do have a concern about the services. Sometimes a product could be great, but the services are not there, so I wouldn't go in for that. For me, reliability is the ultimate.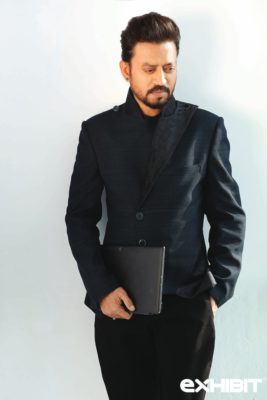 Ex: Android or Apple?
IK: I have used both. The thing is I don't like the business model of the Iphone. Things become redundant after a while. That is a philosophy that I detest.  I still use an Iphone but then as a philosophy it's alluring.  
Ex: Would you invest in a not so fancy phone just because it has a better battery life?
IK: Battery does matter, but just for the battery, no. You need to have combination of features. But again, battery does matter a lot. If there is a very good product but the battery life is bad, then the product is useless. 
Ex: Do you use a smartwatch?
IK: I have used an apple watch and it's really not convenient. There is a battery issue with it.
Ex: Are you an online shopper?
IK: Yes, I used to buy DVD's online but definitely not clothes or fabrics. Sometimes, I do order super foods online. There are various gadgets too, which I buy online. In India trust is a very shaky thing, but abroad, online shopping is a very reliable thing.
Ex: Are you into reading? Is there any book you consider as an inspiration?
IK: I am not a junkie but I do read up on things, which interest me. 
Ex: Can you envisage what kind of environment it will be 10 years from now?
IK: See, we would only go forward towards convenience, not something that is totally going to change our life. Things will be alluring us again and again. I wont be surprised if somebody brings out a chip to put in your eyes or your hair with a switch on and off button. 
Ex: In a biographical film of your life, who would you like to play you?
IK: I have never ever thought of writing my biography. I am not ready for it. I don't think my life is that great enough to make a movie on. My life is more like a blank page. I would like to fit myself in other people's biography. I would like to take their color in mine.
Ex: Tell us why do you love Exhibit?
IK: We don't have that many magazines about technology. Its keeps you updated with new things in the market. 
Ex: What does your tech wardrobe consist of?
IK: My iphone, desktop and laptop.
Ex: Do you believe in staying updated with technology all the time?
IK: If something attracts your attention, then I would mostly go for it but I don't have a phobia. If a new phone comes into the market, I wouldn't be dying to have it. I completely detest that. When a company allures you with nothing new, it's the same invention with just 2-3 more features, then its pointless. If something new comes up which is different altogether and is also user friendly, I would prefer that.