Intel's 12th generation processors are a giant leap forward in performance, and many brands are soon adopting newer processors. Intel is still the preferred choice of many professionals for its hassle-free operations and no unnecessary need to update BIOS to get the best performance out of their hardware. We have been using the Asus Zenbook 14 OLED for about a month, and here is our take.
Designed to be casually professional 
The design is professional yet classy, with design elements finished in matte and glossed geometric lines. Overall, it is lightweight at 1.4Kgs with an all-metal chassis. It is still bottom heavy like most non-touchscreen laptops, but overall weight distribution is even across the computer. The gloss metal hinge looks interesting in real life. There's also a 180-degree ergo-lift hinge. Two Thunderbolt 4 Type C USB ports, a Type A USB port, a full-fledged HDMI 2.0 port, a MicroSD card reader, two status lights, a 3.5mm headset jack, and Kensington lock ports complete the Asus Zenbook 14 OLED's good I/O selection. 
The display is glossy, unlike the entire matte finish feel of the laptop. The keyboard is a highlight with contoured keys and a clicky feel. Three levels of illumination with TKL design make it ample space for typing and a biometric fingerprint scanner in a subtle thin chrome bezel is fast. There's a large touchpad with Asus NumericPad 2.0 and two brightness levels on this, along with usual gesture recognition. Both the camera and mic get a dedicated one tap manual access for privacy and hardware-level control.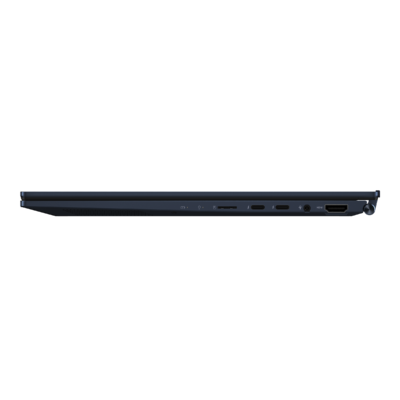 OLED beauty
The USP of this laptop has to be an insane 550nits bright 2.8k OLED display featuring a 16:10 aspect ratio. With 100% DCI P3 and 109% sRGB colour calibration, this display is bright, colour accurate for professionals, and display nerds would be more than happy staring at this laptop all day long. The brightness levels are ample for outdoor viewing, but the glossy panel will have you staring at your face while using this laptop outdoors. Indoors, this is one of the best displays money can buy. Adding to the credibility of this laptop is Pantone validation. 
Performance – Fast and Furious!
 Asus Zenbook 14 OLED's performance is top-notch thanks to their integration of Intel's latest 12th gen processors. Ours was an i7 1260p with 12 cores and 16 threads paired with 16GB DDR5 RAM at 4800mhz and 1TB PCIe Gen 4 SSD by Samsung. Productivity is snappier than any Zenbook series we've ever tested. The only downside is the heat it produces. It can get warm enough to be uncomfortable on your lap, and fans tend to get audible enough to notice.
What surprised us was the efficiency level of this chip. This laptop is like a sprinter with a marathon runner's stamina with normal work usage on multiple chrome tabs, including videos and audio. Throw any task apart from graphics-intensive tasks, and the laptop simply flies through the task. Over a week, we charged it only twice. At 75kWh and new-gen processing efficiency, this laptop is a thoroughbred business companion. Bundled inside the box is a Type C 65W USB fast charger, and the most exciting part of this laptop is its innate capability to charge through chargers with as low as 5W-20W output. Theoretically, it can charge over any normal power bank as well. This eliminated the need to carry multiple chargers, especially while travelling. It does take forever to charge on mobile phone chargers, but heck, it charges, and that is what matters. Video conferencing was a pleasant experience thanks to a better 3D NR camera, and noise cancellation featured mics with Dolby Atmos configured speakers. Nothing too impressive but definitely way above average.
Verdict 
A relatively higher MSRP could be a deal-breaker when this amount of money could get you something like the Samsung pro book 2 360, an AMOLED 2k display with similar hardware, and spare you enough money to get a basic Asus laptop while weighing a mere 870 gms instead of a 1.4kg Asus Zenbook 14 OLED. In isolation, this OLED laptop is beautiful, powerful and classy, bundled with all the necessary Office suite and Windows seamlessness. 
Specs
Processor – Intel 12th Gen i7 1260P (12C 16T)
Ram – 16GB LPDDR5 4800MHz
Storage – 1 TB PCIe Gen 4 Samsung SSD 
Display – 14-inch 2880×1880 2K OLED 90Hz refresh rate 550 nits brightness 16:10 aspect ratio
Wifi 6E
Good – OLED display and brightness 
Bad – Intel 12th Gen i7 1260P runs warms 
Ugly – The price tag