It won't be an over-exaggeration to claim that the 2023 variant of the HP Omen 17 with the RTX 4080 GPU and 13th Gen Intel Core i9-13900HX is the best gaming laptop money can buy right now. It comes with a hefty price of ₹2,69,990, which confused me as to whether a gaming purist would invest this much in a laptop rather than custom building their own desktop. But after spending a reasonable amount of time with the HP Omen 17, I can confidently say that even the hardcore gaming desktop user will consider it their primary gaming device. There's a lot to love with this gaming beast but also two major issues which can be a deal breaker for many. 
Design: Nothing New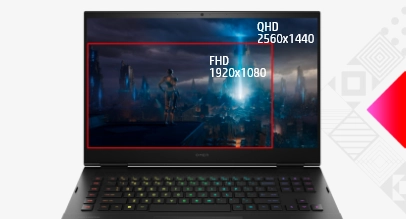 The HP Omen 17's 2023 model does not bring any changes in the design section but boasts the latest hardware. It has a simple and plain black design with an HP Omen logo on the lid which reflects lighting. People looking for an aesthetically pleasing laptop cannot consider this one as it is not exactly eye candy. The first thing you'll notice when you pick it out of the box is how bulky this machine is. This by no means is a lightweight laptop as it weighs a huge 2.78 kg. The 'Heavyweight Champion' title for this one suits it the best! It has a sturdy metallic build with a matte finish all over it. This is a double-edged sword as while the matte finish itself flaunts a classy aesthetic, it is also a fingerprint magnet. The 17.3-inch QHD display rests strongly on a solid hinge but the lid wobbles a little too much for my anxious self. 
It sports an optical-mechanical keyboard which does not come with a dedicated number pad. Thus, heavy-duty typing will not be an issue for users. HP has shown no stringency when it comes to the port selection of this laptop. On the left side, you get a Gigabit Ethernet port, a USB 3.2 Gen1 (USB-A) Port, a Mini DisplayPort, an HDMI 2.1 port, One Thunderbolt 4 port, an audio jack and an SD card slot. The right side features just two USB 3.2 Gen 1 (USB-A) ports. 
Display: Standout
The Omen 17 brings in a 17.3-inch IPS display with a high refresh rate of 240Hz. It sports a QHD resolution of 2560×1440 pixels with a peak brightness of 300 nits. The brightness is good enough for indoor settings and given the weight of this laptop, very few would consider carrying it around so it won't be an issue. There's a lot to love with the display as it produces punchy colours and has great viewing angles coupled with a high refresh rate. While it was not a problem with me, some would definitely not appreciate HP sticking with the 16:9 aspect ratio while many companies have now moved on to 16:10. 
Performance: One Complaint
With a laptop which boasts features like a 13th Gen Intel i9 and RTX 4080 GPU and 32GB of DDR5 RAM, you don't really worry whether it will perform well. It handles pretty much everything you throw at it ranging from gaming to editing high-resolution videos. I played Detroit: Become Human and Marvel's Spider-Man on this machine resulting in optimum performance for an immersive gaming experience. Sure, the laptop needs to dissipate heat and its fans get loud, but never loud to the point where it takes you out of the game. You can barely notice any frame rates dropping during extensive gaming sessions on the HP Omen 17 which is simply amazing. 
However, there is one major complaint when it comes to this laptop. You simply cannot run it without keeping it hooked to the power source. It does not matter if you're playing games or consuming content on OTT platforms, the battery drains quickly. This is the quickest battery drain I've ever experienced on a laptop with a 100 to 50 power drop in just half an hour of YouTube. Additionally, the weight of this laptop coupled with the weight of the bulky charger packaged by HP in the box makes it impossible to call it portable. 
Verdict
The HP Omen 17 is the quintessential laptop for all gamers out there who do not wish to invest in a desktop setup. The NVIDIA 4080 GPU coupled with 32GB DDR5 SDRAM and 13th Gen i9 makes it a complete package.
Rating – ⭐⭐⭐⭐