If this were a Hollywood movie script, the title would perhaps sound sarcastic or even satirical. But unfortunately, it is a thorough reality that John McAfee, undoubtedly one of the most famous names in the tech world, is no more. According to the Spanish outlet El Mundo, the antivirus software entrepreneur who faced extradition from Spain to the U.S. on tax-related criminal charges is dead. The authorities made futile attempts to resuscitate McAfee and are now investigating the cause of death.
Earlier today, the Spanish National Court approved the extradition of McAfee to the U.S., where the government wanted him on tax-related criminal charges that carry a prison sentence of up to 30 years. While many aspects of his story might remain unknown to us forever, there is undoubtedly a mystical, albeit grim, charisma that his story carries. From being the herald of one of the most significant tech companies in the world to dying in a prison cell, presumably of suicide, here is the life and death of John McAfee: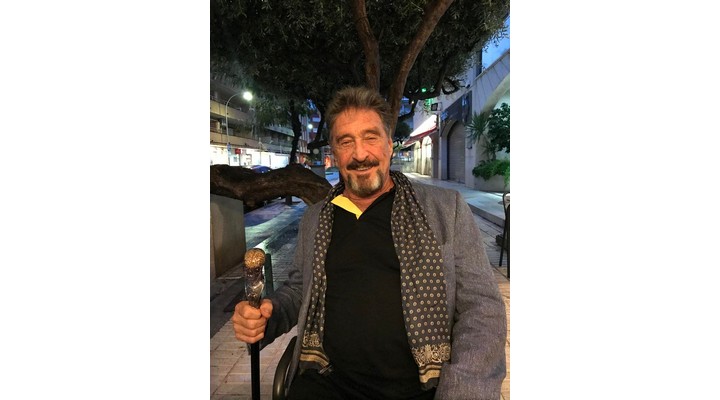 Rise and Fall of John:
McAfee was a former programmer at NASA in the late 1960s and made his name and fortune by building a cybersecurity empire at then-McAfee Associates. However, his stint as the Emperor was relatively short-lived as he would resign as its head in 1994. Fast-forwarding to 2010, tech giant Intel acquired McAfee in a deal worth $7.68 billion. For most, this would have been the life-changing moment that would have facilitated an early and gala retirement. Instead, however, McAfee was struck with a series of bad luck and bad decisions. After he sold his stake in the business, McAfee went all-in on various companies that were unfortunately short-lived. These included an instant messaging system, a firewall provider, and a ranch providing flights in "trikes" (cabins suspended from hang-gliders). Consequently, his fortune dwindled from a reported peak of $100 million to $4 million because of the global financial crisis and recession.
Things took a serious turn when he headed south to Belize in 2008. There, he founded a company called QuorumEx. It aimed to produce herbal antibiotics disrupting quorum sensing in bacteria. Things went well till April 2012, when the Gang Suppression Unit of Belize's police force raided QuorumEx's research facility. It was on suspicion of a methamphetamine lab, and they confiscated both McAfee's passport and licensed weapons. They also shot his dog and briefly imprisoned him before charges of unlicensed drug manufacturing and unlicensed weapons possession were dropped. This was because when the police arrived, they found McAfee in bed with a sixteen-year-old girl.
By early 2010, McAfee was in the antibiotics business in Belize with a venture called QuorumEx. But in later years, his renegade life rose to the forefront. In 2012, he was named by Belize authorities as a" 'person of interest" in the murder of his neighbour. Showtime aired the documentary "Gringo: The Dangerous Life of John McAfee" in 2016 about his time in the Central American country.
Why McAfee had to flee:
Faull was irate about McAfee's disruptive lifestyle, especially his frequent visitorship of underage girls and bodyguards. He also complained to the local mayor about McAfee's nine disruptive dogs. A couple of days later, Faull was found dead with a bullet wound to the head by his housekeeper. When local authorities sought McAfee out, he went on the run, claiming that he would be "silenced" if he was thrown in jail. Instead, McAfee sought public attention and aimed to portray himself as innocent and a victim. He conducted interviews while living as a fugitive but was soon caught and arrested in Guatemala. After McAfee sought and was denied political asylum from Guatemala, he faked two heart attacks in prison to avoid deportation to Belize in desperation. It surprisingly worked, and McAfee was instead deported to Miami.
In the United States, McAfee continued to grab attention. He announced his run for president in 2015. He was to be the candidate for the newly formed Cyber Party; later that year, he switched his ticket to the Libertarian Party. After that, McAfee ran again for the Libertarian nomination in the 2020 election. However, this time, he ran "in exile," as reportedly his wife and four of his campaign staffers were being investigated for tax felonies, along with him.
My campaign slogan was:

"Don't vote for me"https://t.co/KV2WtJjmgU pic.twitter.com/nfIrBuusmP

— John McAfee (@officialmcafee) September 12, 2020
Shutting down, permanently:
McAfee was most recently arrested in Spain on behalf of the United States government. The U.S. Government had accused him of failing to file tax returns for four years, despite earning millions from consulting work, cryptocurrencies, speaking engagements, and selling his life rights. The government also accused him of concealing assets, like yachts and real estates, in others' names. In March, McAfee was indicted on additional fraud and money laundering charges. The U.S. Justice Department alleged that he and a business partner frauded investors of over $13 million by falsely promoting cryptocurrencies. Although McAfee resisted extradition to the United States, claiming he faced political persecution, it was to no avail. On June 24, 2021, a Spanish court ruled that extradition must go forward.
Today afternoon at roughly 1 PM ET, McAfee was found dead in his cell at a Spanish jail near Barcelona. The Catalan Justice Department said that "everything indicates" that McAfee took his own life.