A month ago, Lenovo came out with Yoga Tab 13, Yoga Tab 11, and Tab 11 Plus with global availability. In a new online leak, Lenovo P12 Pro was spotted on Google Play Console. According to the listings, this successor to Tab P11 Pro is not just another budget or mid-range tablet but is a powerhouse. 
While Tab P11 Pro featured the Snapdragon 730G mid-range processor, the company is now offering a significant performance upgrade with the Snapdragon 855 chipset in the latest Lenovo Tab P12 Pro. The device also comes equipped with 8GB of RAM, yet another major upgrade from the maximum of 6GB RAM that P11 Pro offered. 
However, the device does not match the level of Lenovo Yoga Tab 13, which is equipped with the latest Snapdragon 870, but its small size would appeal to OLED fans. The tablet is expected to run Android 11, and the display resolution is noted to be 2560×1600, which is equal to a pixel density of 240 PPI. 
The console neither mentions the screen size of the tablet nor includes the image. But as rumours suggest, Tab P12 Pro looks quite similar to P11 Pro. 
Full Specification Of Lenovo Tab P12 Pro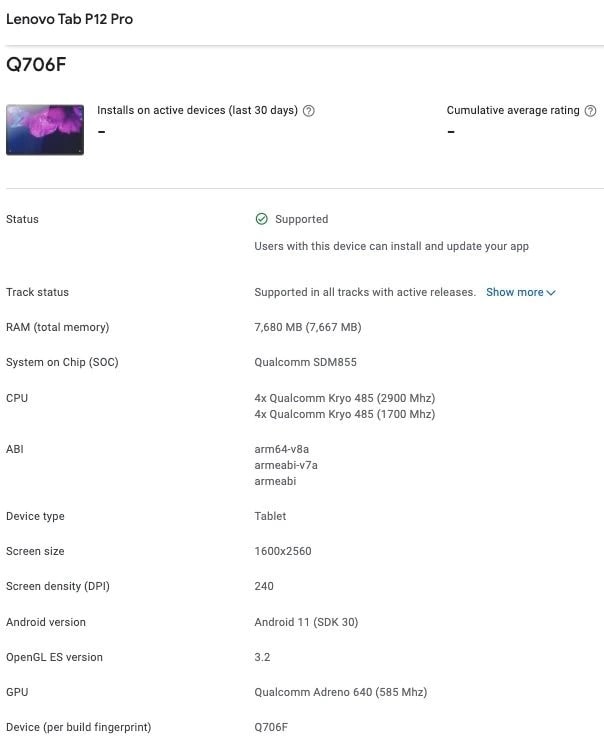 This is pretty much everything we know about the P12 Pro currently, but we are expected to hear more about it in the upcoming weeks. 
It is also interesting to note that even though Samsung is the top Android tablet seller by market share, Lenovo is now the fastest growing Android tablet manufacturer. Lenovo saw a 67% increase in shipments compared to Q2 2020.