Don't we all love large displays, why else would we want to watch movies on those large crisp projections in a movie theatre? LCD, and OLED displays as good as they may be and as large as they get, might not be the optimal solution when it comes to viewing content on a large canvas especially while saving some bucks. Do you know how much a 55-inch television with 4K HDR 120Hz refresh rate costs in India? You might want to google search and see for yourself!  This is exactly why movie theatres use projectors rather than large AMOLED displays. Today, we have an alternative to something as large as a 300-inch crisp 4k HDR 120Hz display, powered by something so small, that we could carry it around. Meet the Optoma GT1080HDR DLP Projector. 
Simply Optoma:
Design is simple yet lightweight and installation on a table or ceiling is easy. The front-facing projector is about a foot wide with 12.4-inches, 4.5-inches tall and 9.5-inches in length. The remote has all the necessary buttons and every button is illuminated. There's also a lens cover that covers the short throw lens neat and complete.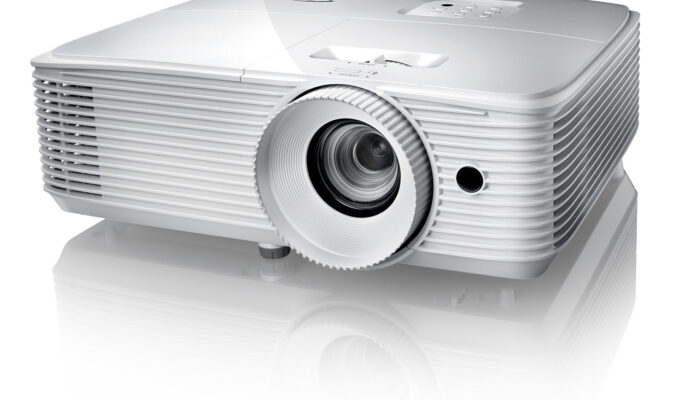 More value than money:
Being DLP this projector is virtually maintenance-free, has better picture quality, wider colour range and greater contrast while also being capable of displaying up to 3800 Lumens of vibrant bright projection. Do not go by its name of GT1080HDR as the projector is able to project up to 4K HDR at 120Hz refresh rate. Optoma has packed the GT1080HDR DLP Projector with multiple I/O when it comes to connectivity. HDMI 2.0, HDMI 1.4a, VGA in and out, USB power in and out, audio in and out, RS 232 port, AC power and Kensington lock. 
Projector distance can be adjusted from as low as 1.3 feet to 11.3 feet. Being a short-throw projector the Optoma GT1080HDR DLP Projector can produce a crisp 4K 120inch display from a mere 4 feet. The remote is illuminated, a clever trick especially for a projector. Active and passive 3D is offered with the right content and glasses at a rapid refresh rate of 144Hz, mighty impressive for a product that costs less than a 55inch 4k television with similar specs. The contrast is 50000:1 and thanks to DLP, the projector lamp is easily replaceable by a claimed viewing time of 10 years as per normal usage of 4 hours per day. If all of this wasn't enough, Optoma has loaded a 10-watt speaker inside the projector to have an audio and video experience right out of the box. 
We played a couple of games at a 4K HDR high refresh rate and the projector pleasantly surprised us. Colours and contrast are amazing in games and games look more immersive with naturally punchy colours. The speaker too performs decently for a built-in speaker and no complaints here. The built-in fan is relatively silent and never audible. Next, we tried a couple of movies, youtube songs and the audio-video experience left us mesmerised. Optoma colour reproduction is one of the best when it comes to projections. Colour tones are natural throughout ECO and ECO+ modes. HDR performance was at par with expensive projectors and overall, the Optoma GT1080HDR DLP projector seems to have more value than money for what it provides.
Verdict:
If you are looking for a capable 4K display and own a new-gen console like the PlayStation 5 or Xbox Series X, definitely consider auditioning the Optoma GT1080HDR DLP Projector. With the right panel, proper sources and innate capabilities like impressive colour tones, passive 3D, and keystone correction with +/- 40 degrees, this Optoma projector is definitely a great value addition to your display arsenal. 
Rating – 4.5/5
Good – Short-throw projection, display customisation
Bad – Manual keystone correction, old UI
Ugly – Bright mode distorts colours
Projection – Upto 300inch 4K Signal / HDR Compatible
Shorter installation distance with short throw lens design
Bright 1080p projector – 3,800 ANSI Lumens
High contrast outcome – 50,000:1
Easy connectivity – HDMI, VGA, R232, 10W speaker
Low ownership costs – up to 15,000 hours of lamp life (Eco+ Mode)
26dB Quiet Operation