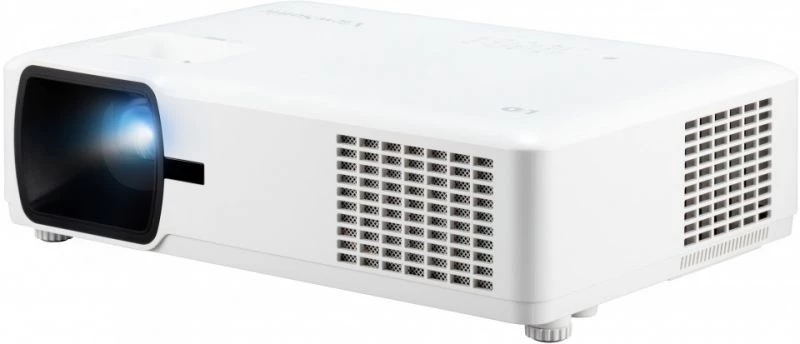 It was only at the start of this year that I reviewed ViewSonic's X2 projector. It took me by surprise to how many features that projector managed to pack in a small form factor. When I was tasked to review the ViewSonic LS610HDHE projector, the excitement went above the roof as I was expecting another smart Android-based projector from the company. However, to my disappointment, the LS610HDHE projector is a pretty standard affair which does not cramp up features. It takes a different approach of being a projector suited for classrooms, boardrooms, and similar settings. So, is the ViewSonic LS610HDHE not worth exploring? I beg to differ as it definitely stands in a league of its own when it comes to picture quality. 
Design & Features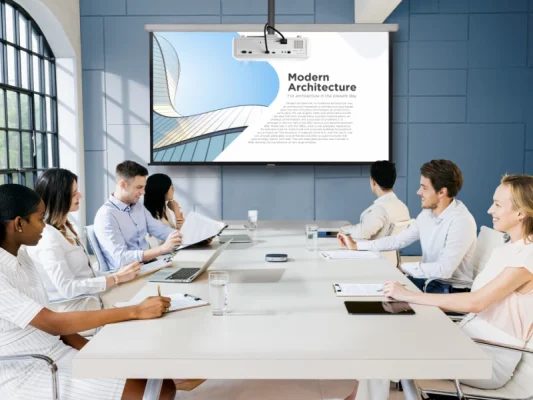 ViewSonic LS610HDHE is rated to produce 4,500 ANSI lumens and comes with Full HD resolution at 1920 x 1080. For a business and education projector, it weighs pretty light and it won't be an issue for users to move this one around. It also boasts some high-end features like HDR, HLG and 4K signal support. When it comes to the design, the ViewSonic LS610HDHE does not innovate in any sense but presents a known design aesthetic which was not an issue for me in any way. 
What comes with the 4,500 ANSI lumens is the capacity for the projector to cut through ambience lighting and present some sharp images even in the brightest settings. Testing the projector out in a dark room was a grave mistake I made as its brightness prowess nearly blinded me for a second. What users also get here is a maintenance-free sealed light engine which keeps dust and moisture away from the lens. 
Performance: Beyond Impressive 
One of the few reasons why people opt for projectors is to get the best picture quality out of their films and series. On the performance side, the ViewSonic LS610HDHE is one of the best projectors you can buy right now. It not just produces a sharp picture quality but takes it a notch further by allowing users to choose between multiple color modes. Users get to choose between Brightest, Standard, Photo, Movie, User 1 and User 2 options. The 'Brightest' color mode has a green tint to it and is suitable only for ambiences with plenty of light. I found myself sticking to either standard or movie mode during my testing of the projector. 
LS610HDHE houses a standard control panel on the top which allows users to quickly play around with the settings. It houses a power button and keystone buttons coupled with color mode, menu, source, and more. There is also a handheld remote control which gets the job done with ease.
The projector also houses a standard 10W speaker system which works well enough given it's not the premium Harman Kardon speaker system which the X2 boasted. The projector can handle 4K content generally but downscales it to 1080P. I watched films like Avatar: The Way of Water & Spider-Man: No Way Home during my testing of the projector and I was glued to the superior picture quality of it.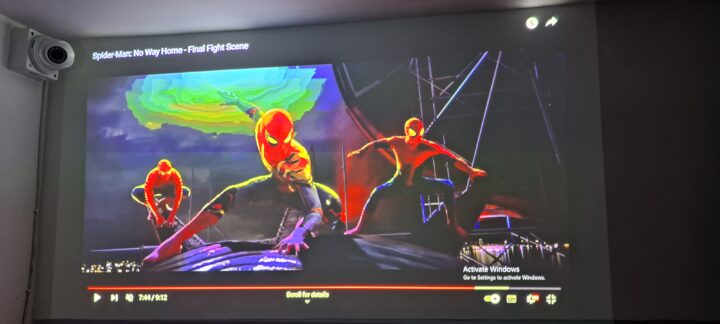 Verdict
If you're in the market looking for a capable projector and do not obsess over smart Android features which modern projectors offer then the ViewSonic LS610HDHE is definitely the one for you. It produces some punchy colours which can be enhanced furthermore using the color management features.
Rating – ⭐⭐⭐⭐