Televisions have evolved to become an integral part of our lives. While some users are glued to the screen enjoying their favourite shows and movies, others prop up their living room with a television that compliments their aesthetics. However, one thing I thoroughly appreciate about television in the last decade is that they have become accessible. A buyer can now spend as little as 9-10K to get a TV up in his room, on the other end of the spectrum we also have TVs which cost upwards of 10 Lakhs. Xiaomi however, has always played its cards right offering feature-packed Smart TVs at an affordable price. The latest in the roster is the Xiaomi X Series 2023 variant. This time around, Xiaomi is offering the X Series TV at the massive 65-inch option which simply stuns with its superior picture quality. So at ₹61,999, is this the television you should be going for? Let's find out – 
Design
With the latest X-series, Xiaomi sticks to the tried and tested design aesthetic. It is a pretty standard design which does not scream premium but surely is minimalistic. The design is pretty much synonymous with the previous X series TVs. There is only a single colour option (Black) and I stand firm on the belief that Xiaomi should introduce TVs with a wide range of colours now, it's high time! Xiaomi's logo is placed right at the centre which is not a distraction in any way. The bezels around the screen are slim and do not bother the viewer while watching films, etc. However, the bottom bezel is slightly larger than the others. The television isn't entirely slim but not thick to the point where it's a hindrance. We tested the TV using the in-box plastic stands which hold their ground really well. The remote also maintains pretty much a standard Xiaomi design. During our interaction with a Xiaomi India spokesperson for the briefing of this television, we recommended Xiaomi integrate a better remote design for future televisions. Let's see if that comes to fruition in the near future.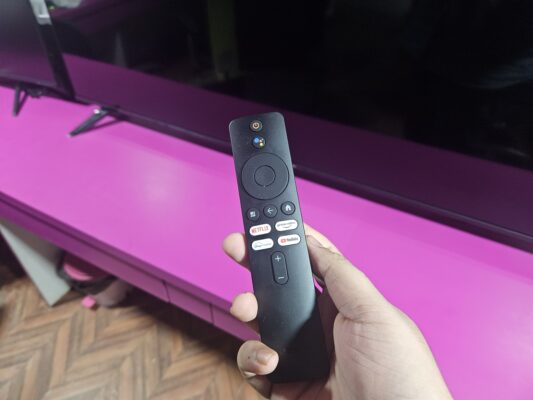 Performance
Xiaomi clearly does not like to experiment when it comes to the software experience of its televisions. While some might call that playing it safe, I call it playing with sense. The singular software experience across all its televisions builds a UI language that has become synonymous only with Xiaomi TVs and no other brand. The Xiaomi TV X-Series is powered by a quad-core processor powered with 2GB of RAM. The internal storage available here is also just 8GB with 4.3GB available for users. This surely works for people who stick to a few mainstream streaming applications. People keen on side-loading third-party app stores and downloading heavy games to test them out will not exactly have a pleasant experience. 
A 65-inch TV is definitely Xiaomi's flagship offering and 2GB RAM does not ring flagship in any sense. Additionally, having more space would also be beneficial. The UI works smoothly and shifting between apps will not be a hassle for users, at least until they don't load up the storage with apps. The software here is the latest Google TV UI which is patched along with the Patchwall. Google TV's features like Assistant and Chromecast work without any issues. 
Thanks to home entertainment reaching its full potential due to the pandemic, there is a lot of UltraHD and high-dynamic content readily available on streaming services for viewers to enjoy. I watched hours' worth of content on the immersive 65-inch screen of this television which left me truly stunned. Mission Impossible: Fallout was the one film that looked the best as it took advantage of the entire screen real estate using a bigger aspect ratio in certain scenes. Watching shows like Taali & Barry on JioCinema was also a surprisingly delightful experience given the streaming service is notorious for having a low bitrate even for 4K content. UHD content was the sharpest to watch, however, some details looked washed out. Watching series/films in a well-lit room with natural light was also not a hassle at peak brightness. The speakers here provide 30W of sound output. We do not get support for Dolby Atmos from this set of speakers. However, the TV is loud, crisp and clear even at moderately low volumes. The latest Patchwall+ service which brings a traditional cable TV experience to the smart TV is definitely a welcome addition. 
Verdict
Xiaomi X-series 65-inch is one of the best affordable big-size TVs you can buy right now. It brings a classy minimalistic design coupled with a powerful performance for a complete package. 
Rating – ⭐⭐⭐