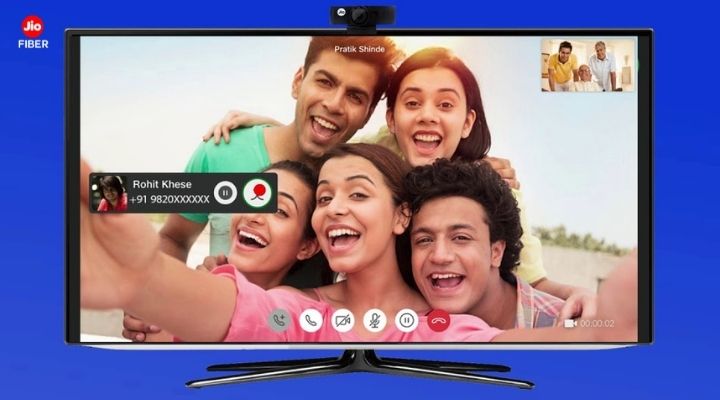 We've missed a lot of events, functions and ceremonies due to the pandemic and its after-effects. Over a year, we've managed to watch our friends getting married or celebrating someone's birthday through WhatsApp calls, but being there at the moment has its perks.
Well, technology can not put you at the live event, but if you're a Jio Fiber user, you can skip the small smartphone screen and make video calls from your TV. Jio has launched a new feature named 'Camera on Mobile' for its Jio Fiber users, where they can make video calls from their TVs without even connecting their TV's to an external camera or a webcam. 
The feature would let users make video calls from their TVs using the JioJoin app, previously termed the JioCall app. The app is available on Google Play Store and Apple's App Store; after downloading the app, users will be required to download a 10-digit JioFiber number to connect their Android smartphones and iOS devices with the TV which enables video-calling through the JioFiberVoice.
Once you've completed the configuration process, you can enable the 'Camera on Mobile' feature from the app. The enabling option will turn your smartphone into a web camera to make video calls via your TV. Jio Fiber users can use the same app to make voice calls using their landline number. 
A step-by-step guide to help you use Jio's 'Camera on Mobile' feature:
Download the JioJoin app (works on Android phones running 6.0 and newer and iOS 10.0 and newer)

Download the 10-digit Jio Fiber number and configure it on the JioJoin app

Enable the 'Camera on Mobile' feature in the JioJoin app settings

The option will turn your phone into a web camera, place it alongside the TV to make video calls
Furthermore, Jio has urged users to get a 5GHz Wi-Fi band on their modems to experience better connectivity and quality in their video calls. The "Camera on Mobile' feature will be beneficial for Smart TV's that do not provide an inbuilt webcam.