Often luxury is confused with comfort and survival is mistaken to be bare-boned. Well, Swiss luxury watchmaker Luminox seems to be adamant on changing that notion. It recently collaborated with survival expert and everything-eater Bear Grylls to debut a series of new Bear Grylls-branded watches. Called the "Bear Grylls Survival" series, it comes in six varieties based on Luminox's Land, Sea, and Master series ranges. I got a chance to review the Luminox Bear Grylls Survival MASTER Series 3749 watch and this is how it went:
First impressions:
Okay, practically speaking, there are hardly any chances that a person who buys a watch north of Rs 70,000 will ever find him/herself on a deserted island, in the middle of nowhere or just stranded in general. Nevertheless, Luminox has ensured that even if such a disaster occurs, you are well-equipped to face it. Right from basis SOS Codes to Bear Grylls' signature statement of "never give up", everything has been smartly yet artistically inscribed on the watch. Such is the inclusion of Grylls in the watch design that I felt that the former British SAS agent would swoop in anytime and whisk me away on an adventure!
I might have exaggerated there a little, but there is no exaggeration in the opulence of the Luminox Bear Grylls Survival MASTER Series 3749 Watch. Yes, that is a long name and still, I feel like using it in its entirety. The bright orange strap that has been produced from natural rubber hold the watch firmly on your wrist but does not make it uncomfortable. Wearing the watch for the whole day and going for outdoor activities didn't bother me much, and that is saying something as I can sometimes get extremely sweaty.
Usage:
Being an office-goer and living right in the heart of Mumbai means you don't find much adventure around (unless you count travelling in bumper-to-bumper traffic every day as an adventure!) Nevertheless, I found many small bits of useful tech on the watch to increase your chances of survival. I was enamoured by the watch dial itself, which glows in the night. Despite being 45mm wide and 14mm thick, I did not feel its weight on my wrist at all. Even its 24mm wide straps did not cause trouble, which I was frankly surprised by. One of the main contributing factors to this was the lightweight of 98 grams, thanks to "Carbonox", a special type of forged carbon material from Luminox.
The case is not only water-resistant to 300 metres, but it is also protected by an anti-reflective (AR)-coated sapphire crystal. The dial is surrounded by a uni-directional Carbonox-made rotating bezel and gets a protected tritium gas tube at the midnight position. This, along with self-illuminating tritium gas tubes on the hands and hour markers accounts for the effortless and sufficient nighttime illumination.
The dial itself is quite easy to read and the chronograph subdials are not at all intrusive. The watch runs on a Swiss-made RONDA 5030.D analogue quartz movement. It includes the time, date, and 12-hour chronograph that also gets a split-second function. The watch offers over 50 months of battery life, meaning you don't have to worry about it faltering for quite a while.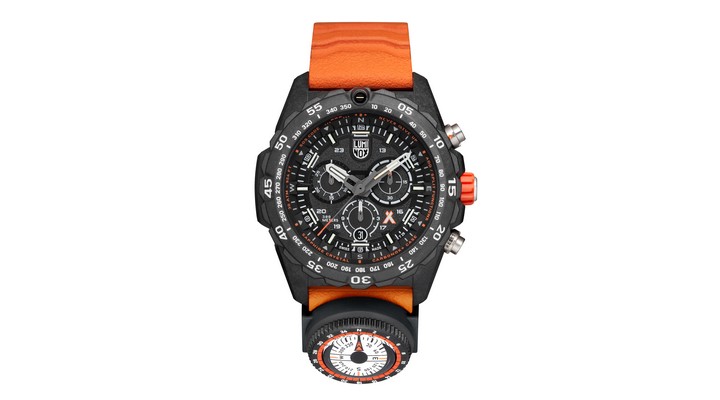 Conclusion:
The Luminox Bear Grylls Survival MASTER Series 3749 isn't a watch for everyone, but then again, not everyone will be able to afford it. For those who do, I recommend you try it out first, especially if you have a smaller wrist. Considering its sheer features, it has a justifiably large size as compared to usual watches and might look odd on the wrong wrist. Also, it will be a value for money deal only if you are an ardent adventurer or just like the look of rugged things on your person. Nevertheless, Luminox watches are a delight to use and the Luminox Bear Grylls Survival MASTER Series 3749 is no exception.
Specifications:
| Origin | Swiss Made |
| Always Visible | Constant glow for up to 25 years |
| Size/Diameter | 45mm |
| Water Resistance | 300 meters, 30 ATM, 1000 feet |
| Movement | Ronda 5030.D |
| Case material | CARBONOX™+ |
| Bezel | CARBONOX™+, uni-directional turning, count-up and compass |
| Case back | 316L stainless steel, screw-in |
| Crystal | Sapphire crystal, anti-reflective coating |
| Crown | 316L stainless steel, screw-on |
| Case Height | 14mm |
| Weight | 98g |
| Standard Strap | Orange rubber EPDM strap, stainless steel buckle |