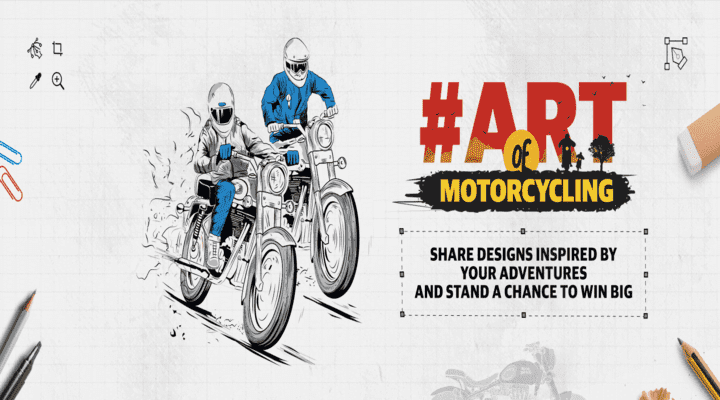 Did you know the first-ever Royal Enfield was designed and produced in 1901 by Bob Walker Smith and Frenchman Julius Gotiet; in which the rear wheel was driven by a long rawhide belt? It had a 11/2 hp Minerva engine. Another one was launched at Stanley Cycle Show eight years later, in 1909~ the V-twin which had a 297cc Swiss-made Motosacoche engine. I can go on and on about the history of the legendary Royal Enfield and wouldn't finish!
Every rider till date has had a fantasy of designing his/her own motorcycle; they never stop fascinating over the designs! For all the enthusiasts out there, Royal Enfield, the global leader in the mid-size motorcycle segment, has announced the commencement of its first-ever designing platform— ArtofMotorcycling to design their first own Motorcycle! The brand is basically giving artists, creators and motorcycling enthusiasts a chance to step into the world of designing motorcycles and unleash their imagination by expressing their love for motorcycles in front of the whole world. Throughout the year, Royal Enfield launches various campaigns to encourage the riding community and elevate the riding culture. In this journey, ArtofMotorcycling might look like any other campaign; but it's not!
Mr. Puneet Sood, Head – Apparel Business, Royal Enfield said, "#ArtofMotorcycling' is a unique creative platform that draws inspiration from the dreams and journeys of young creators and motorcycling enthusiasts giving them an opportunity to express their love for "the motorcycling way of life". We, at Royal Enfield, are really excited about bringing this platform to life as it focuses on one's imagination, experiences, passion for riding and the never-ending quest towards self-exploration and self-expression."
This annual competition will give creators/riders a platform to express their love for motorcycles and riding through creative illustrations. The winners of the competition would get an opportunity to be a part of the brand in its artistic journey. As an artist, you're required to express yourself without any barriers, follow your passion for riding and motorcycles, and explore your imagination through keeping in mind your experiences. Design Vintage or modified, design what you want; but shut the stereotypes in your head and design an exceptional marvel for the sensational brand!
For participation, candidates can head over to the #ArtOfMotorcyling section on Royal Enfield's website to register and download the toolkit. Participants can then create their own unique design and share it on Instagram, tagging @royalenfield and using #ArtOfMotorcycling #REApparel. The top five designs/illustrations of this challenge will get featured/printed on the official Royal Enfield merchandise, and the winners will get a sum of INR 30,000 each and one lucky winner will earn an opportunity to intern with Royal Enfield.
Your designs will be viewed and selected by the greatest motorcycle enthusiasts, storytellers and experienced designers in the world of motorcycles. The jury members include Gary Inman, a London-based motorcycling enthusiast who covers personal riding stories and editor and co-founder of the self-published motorcycling magazine 'Sideburn'; Nandita Abraham, the CEO of Pearl Academy and the woman who put the institute on the world map for fashion and design education; Toria Jaymes, a designer and illustrator, the founder of Stay-Outside Studio as well as the Art Director for Gary Inman's 'Sideburn' magazine; and Max Paternoster, a renowned moto-artist based in London, with experience varying from designing h helmets and motorcycle body paintwork, to creating art inspired by famous motorcycling adventures. 
While designing, don't resist yourself. This is your chance to pursue the perfect design, celebrate your passion for motorcycles, and approach the hidden artist inside yourself. Remember, your love for Royal Enfield is a love that'll never die!