The long-awaited summer season is upon us, and it's time to gear up for your next outdoor adventure. Whether you're planning a thrilling mountain biking expedition or an underwater scuba diving excursion, capturing the perfect shot is essential to reliving the moment. In a world where action cameras are as ubiquitous as sunscreen, it can be daunting to choose the right one. Fear not, adventurers! We've scoured the market and compiled a list of the top 5 action cameras to make your summer escapades unforgettable. So, grab your helmets, tighten your straps, and get ready to capture your most epic moments yet.
GoPro HERO 11 Black
The GoPro HERO11 Black is a significant upgrade with best-in-class stabilisation and a versatile, almost square sensor. The camera shoots great-looking videos and has new modes like light painting. The standout feature is its 8:7 aspect ratio, allowing content creators to create new clips from a single video. The camera can shoot in 5.3K at 60fps, 4K at 120fps, and 2.7K at 240fps and capture 27MP stills from 5.3K video. Despite no significant improvement in lowlight performance, the HERO11 Black's simplified interface and enhanced horizon levelling make it appealing to social media enthusiasts.
Insta360 One RS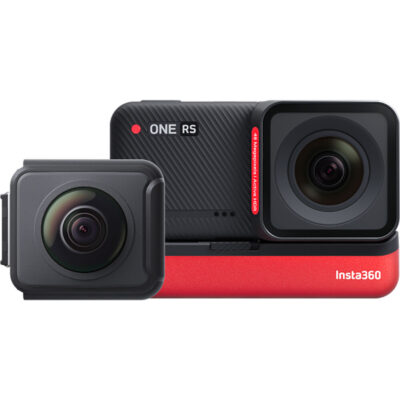 Get the best of both worlds with Insta360's One RS. The camera comes with three interchangeable lenses: a 4K mod, a dual-lens 360-degree camera, and a Leica lens with a 1-inch sensor that captures 5K video. The 4K mod and 360 mod pairing offer the best value, while the Leica 1-inch mod delivers top-notch video quality. The updated Insta360 One RS shoots 5.2K video with its improved 4K mod and processor, which features a motion-smoothing algorithm. Plus, firmware updates continuously enhance its features, making it a wise investment.
AKASO Brave 7 LE
Looking for a
 GoPro alternative that won't hurt your wallet? The AKASO Brave 7 LE is an excellent option. This affordable camera has an IPX7 rating and feels sturdy. It can endure submersion in 1m of water for 30 minutes, but you'll need a protective case for more comprehensive underwater adventures. The Brave 7 LE features a front screen for vlogging and decent stabilisation, albeit with a 1.6x crop. Although it maxes out at 30 fps in 4k, it can still record 120 fps slow-motion footage in 1080p. Overall, it's an excellent action cam for the price.
DJI's Osmo Action 3
DJI's Osmo Action 3 combines the form factor of the original with the magnetic clip system of the second. Its GoPro-like design features dual touch screens and a magnetic quick-clip system, making it a solid alternative to GoPro. With great battery life and excellent video stabilisation, the Osmo Action 3 is cheaper than GoPro, making it a compelling option. However, GoPro Hero 10 and 11 have better video resolution, with the Osmo Action 3 maxing out at 4K and 12-megapixel stills, compared to the Hero 11's 5.3K stabilised video and 26-megapixel stills. Nevertheless, at 30k, the Osmo Action 3 is an excellent value for money.
DJI Pocket 2
The DJI Pocket 2 may not fit the traditional definition of an action camera, but its built-in gimbal makes it stand out. This pocket camera stabilises footage smoothly and effectively across three axes, with customisable settings like horizon lock and tilt prevention. Additionally, it has an active tracking mode that can lock onto subjects and follow them. While lacking some frame rate options, the camera's 1/1.7-inch sensor provides superior video quality and low-light performance compared to most action cameras. It's an excellent option for capturing handheld, stabilised video without carrying additional gear.