What do we do when we go to the restaurant for lunch or dinner? We skim through the complete menu card for a couple of minutes, and then except for the foodies, the rest of the people order the same favorite food they have ordered in the last few yea₹ But, we can not apply this logic when we're looking for a nice pair of earphones, earbuds, or headphones . The confusion starts from there and we will stick to True Wireless earbuds which are all having some great deals going on on Amazon and Flipkart around the world. I have kept a few parameters in mind while choosing these, such as:
 Great Battery life , it's a must and all of them have 20-30 hours of juice.
Water & sweat resistance. Don't need to go swimming underwater but anywhere near a pool is ok.
Descent to great sound quality.
Should work with Android and iOS both.
 All of them have magnetic properties and won't fall off accidentally while
opening.
 All of them have C type Charging and a wireless charging case to hang
around with.
OPPO Enco W51 True Wireless Headphone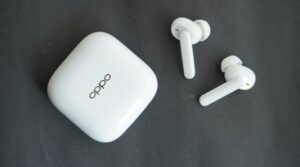 Good:
Premium Design
Wireless Charging Support
Excellent Call Quality
Bad:
Audio Lacks Refinement
Customization Is Limited To Oppo Smartphones
Oppo has been contributing to the Indian market with some excellent audio
products and W51 is one of them. These headphones are available in two colors, one in starry blue and another one is in floral white; the price of these earbuds is ₹4,999, but now have deals going on in e-commerce sites.
Just 15 minutes of charge can entertain you for 9 hours of music playback/calls with ANC (active noise cancellation) on. Connect them once with your device, and then you don't have to repeat that ever. Open the case, and the buds will connect with your device automatically, and they'll disconnect when you put them back to the case.
The Enco W51 earbuds are half in-ear buds with soft silicone tips. The buds feel comfortable in the ears and offer a reliable fit. They stay at their place and do not fall off even while running or cycling. Weighing only 3.95 grams, these earphones are professionally designed and are certified IP54 dustproof and waterproof. The sound quality is not so refined, but at this price range, they are one of the best and can pass off as Apple buds.
Verdict: It's going to be my pick at sub 5k level and is the only one amongst these five which comes with wireless charging and is light in your ears.
OnePlus Buds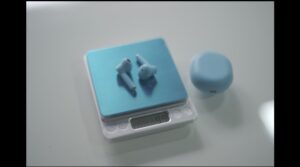 Good:
Looks good especially the Nardo blue.
Bad :
No advanced Bluetooth codec support
The sound quality is below the oppo w51
Does not have rubber tips , and it might just slip out of your ears.
OnePlus is like that excited teenager who wants to try his hands at everything; First, they started with smartphones, then they moved on to accessories and audio products, and then last year, they launched their television sets. Launched alongside the OnePlus Nord smartphone, these OnePlus buds are priced at ₹4,990, and are the company's first true wireless headset.
Giving a loud and clear output, they are equipped with a unique noise cancellation algorithm and three microphones to improve clarity. They have a powerful sound and allow you to enjoy up to 30 hours of listening time. The case we get alongside these buds work like a power bank. Charge it for 10 minutes and you can enjoy up to 10 hours of listening. You can experience 3D stereo with Dolby Atmos or stunning sound quality with Dirac Audio Tuner support. I quite liked the Nord blue colour buds that were sent for review, but you also have another option for buying the OnePlus Buds, they are also available in white. These buds are said to work best when used with an OnePlus smartphone, but to our surprise, they work just fine with other devices too. The charging case is tiny and easily pocketable. The USB Type-C port for charging is at the bottom, and the pairing button is at the back.
Verdict: Once paired, it's easy to connect and reconnect and the same silicon tip might just work best for some ears If you are a OnePlus user its best
recommended.
Creative Outlier Air TWS
Good:  IPX5 water resistance
Almost 50% discount on the e-com sites now.
Bad:
Slippery charging case
Poor isolation
The cylindrical shape is a little bulkier to tug along and not pocketable.
The Creative Outlier Air earbuds and its charging case are lightweight and compact, making it easy to transport them in a purse or pocket. Like their name their manufacturing is also a little creative, they come with IPX5 certification, they are sweatproof, water-resistant, and can handle all that hard-earned sweat, accidental splashes, and even rain very easily.
The Bluetooth 5.0 earbuds have a 10-meter wireless range, and the 380mAh
charging case it comes with provides an additional two charge cycles, carrying you through nearly a full day of listening. Charging takes up to two hours, and the same applies to the USB-C charging case. They have stunning 30 hours of battery life and graphene-powered audio excellence, and dual voice calls along with controls. One can hear audio out of both earbuds when making a call and enjoy convenient access to Siri or Google Assistant with Outlier Air.
They are said to be graphene drivers, but I'm not sure these drivers are completely built from graphene. I found the sound output to be playful and more tuned towards bass response. It prioritizes the bass response over clarity, but still, the sound output is appreciable. It has a decent design with IPX5 certification but also fragile in terms of the structure of the case.
Verdict: Not the best bet; If the charging case was not so bulky, it would have
made a perfect cut.
Jabra Elite Active 75t True Wireless ANC Bluetooth Earbuds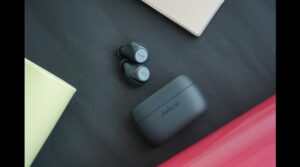 Good :
Fantastic Carrying Case.
More comfortable, smaller design.
Good sound quality with thumping bass.
Easy to pocket, looks premium
Bad :
Average Jabra ANC.
Controls can get confusing
At ₹13,999 Jabra hits the second place in our list. They are claimed to be the best-fit earbuds yet in the market. Jabra says they have scanned thousands of ears to create these best-fitting sport earbuds with a special grip coating to make sure they stay in while you work out, and I guess Jabra is right. You can run, jump, you can do any physical activity while wearing them, and they will stick with you all the time like they are one of the parts of your body. Although entirely plastic, the earphones look and feel good. The Jabra Elite 75t is available in a single color – titanium – and is IP55-rated for dust and water resistance. This is the biggest difference between the Elite 75t and Elite Active 75t; the latter is IP57-rated for better water resistance. That said, the Elite 75t will be able to handle reasonable amounts of exposure to sweat, water, and dust, making them appropriate for standard everyday use.
The earphones each have a physical button, an indicator light, and a motion sensor. The sensor is used to automatically pause music when either earphone is removed, and resume when it is worn again. The buttons can be used to control everything on the earphones, including volume, playback, hear-through mode, and the voice assistant on a paired smartphone. However, the button-press combinations are a bit complicated, and I often pressed the wrong button because to remember each function with the tap will not be easy and anyways our memories are all gone to surf the internet.
The headset uses Bluetooth 5 for connectivity, with support for the SBC and AAC Bluetooth codecs. 6mm dynamic drivers power the earphones, with a frequency response range of 20-20,000Hz. Up to two Bluetooth source devices can be actively connected to the earphones at a time, and up to eight devices can be remembered. The earphones have four microphones (two on each earbud) for calls and noise reduction on calls.
Verdict: It's the best premium TWS earbuds that you can buy and has practicality, style , quality all mirrored in. And through the Jabra Sound App you can customize controls and hear through.
Sennheiser Momentum True Wireless Earbuds
Good:
Excellent sound Quality, best in its class.
Customizable controls.
Solid ANC performance.
Bad:
High price
Unintuitive default controls
No wireless charging on the case
Charging Case bulky
Weight of the buds is on the heavier side.
Now, it's time to know about the last one but the best one in our segment, when it comes to sound quality: The Sennheiser Momentum True Wireless in-Ear Bluetooth Headphone with Multi-Touch Fingertip Control. With these advanced headphones, you can control your music, calls, and voice assistant simply through intuitive touchpad technology built into both earbuds.
It doesn't come with many accessories, but they cover the basics. You get the
earbuds, the charging case, a piddly 20cm USB-C cable to charge the case, and four different sizes of silicone ear tips, ranging in size from extra small to large. There are no extra little wings to hold the earphones in your ear's cartilage, but thankfully, I didn't find them necessary. I popped the MTW2s in my ears, and they fit snugly the first time.
In fact, whether I was exercising or out on a cycle ride (with noise-cancelling turned off, naturally), the earbuds stayed snugly in my ears The only time I had to take them out mid-exercise was when I couldn't remember if they were IP rated high enough to deal with my sweat. I needn't have worried; they're IPX4 rated, meaning they should survive light splashes. They protrude a little more from your ears than the smallest of earbuds like the Jabra Elite 75ts.But the important thing was that they still felt snug, and they didn't feel like they were dangling at all. I tried wearing them while eating, and they held firm.
I think that everyone should customize the controls of the MTW2s when they first get them because, out of the box, the controls are wildly unintuitive. By default, you tap the left earbud once to play/pause, twice to skip to the next track, three times for the previous track, and you hold it to turn the volume down. The right earbud summons your voice assistant, turns on transparent hearing, turns on ANC, and raises the volume using the same commands. It feels oddly one-sided. The transparent hearing keeps you aware of your surroundings, allowing you to easily listen and chat without having to remove your earbuds.
Their premium price (and, for some, the touch controls) mean they won't be for everyone, but if you're after a pair of truly wireless earbuds that come close to matching the quality of a premium pair of noise-cancelling over-ear headphones, then Sennheiser's Momentum True Wireless 2 are easy to recommend. You can experience the good quality sound of these headphones which are made for every environment with durable, tough, splash-resistant materials.
Verdict: If it was not the weight of the earphones and the beautiful but bigger
charging and carrying case. I would have put my money on it. But If you are an audiophile it's the closest you can come in TWS. Period.