Cult movies are recognized for their dedicated, passionate fanbase, which forms an elaborate subculture, members of which engage in repeated viewings, dialogue-quoting, and audience participation. Bollywood cult classics have become meme materials and conversation starters. 
Andaz Apna Apna
Aamir Khan and Salman Khan starrer Andaz Apna Apna, a comedy movie has gained a cult following over the years. The story revolves around Amar and Prem trying hard to impress a multi-millionaire heiress but end up protecting her from the criminal.
Swades
Story of an Indian scientist based in the USA who returns to his native village for his nanny. Mohan, played by Shahrukh Khan, comes back to take his nanny with him. Instead, he rediscovers his roots and the development issues at the grassroots level.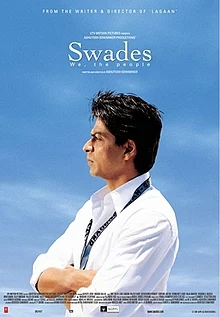 Oye Lucky Lucky Oye
 Lovinder Singh, aka Lucky, played by Abhay Deol, is a charismatic and fearless thief until he gets caught. Nothing was too big or small to escape his attention, a modern-day Robin Hood who robbed everyone.
Rang De Basanti
A multi-starrer film based on the life of carefree college students. When Sue asks the college students to act in her play on the freedom fighters of India, patriotism awakens in the group of friends. The patriotic feeling turns them into rebels for a cause making them criminals. Rang De Basanti stars Aamir Khan, R Madhavan, Sharman Joshi, Soha Ali Khan, Siddharth, Kunal Kapoor, Atul Kulkarni, and others in lead roles.
Jaane Bhi Do Yaaro
Two photographers who set up their studio. The first assignment they get is from a magazine owner who asks them to expose the scandalous truths of the rich. This draws them into the dark world of Bombay Real Estate and the corruption there is. It is a cult comedy not to miss with a star cast of Naseeruddin Shah, Ravi Baswani, Sathish Shah, Om Puri, Pankaj Kapoor, Neena Gupta, it is a cult comedy not to miss.
Hera Pheri
This film needs no reference. If you haven't watched it, go and watch it!
Gol Maal
This OG Gol Maal is a laughter riot when Ramprasad, a recent graduate, gets a job under Bhavani Shankar, a demanding businessman. Shankar believes that a man without a mustache is a man with no character. Ramprasad is caught by Shankar at a football match, which forces him to lie to his boss that he has a twin Laxmiprasad. Things take a hilarious turn.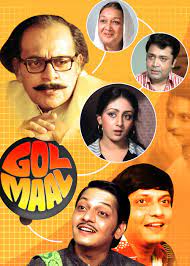 Satya
Story of a young man Satya, who comes to Mumbai searching for a job, gets jailed despite being innocent. There, Satya meets Bhiku Mhatre, an underworld boss, and joins his gang. Satya rises to power with time and is stuck between his love life and gangster life. This cult thriller stars Manoj Bajpayee, J D Chakravarthy, Urmilla Matondkar, Paresh Rawal, Makrand Deshpande, and Shefali Shah.