You can't help but feel joy when scrolling through your Instagram feed full of zingy colours and vibrant pieces, precisely what Dopamine Dressing does! As we emerge from the pandemic and break free from isolation, we drench ourselves in neons and hot pinks to brighten our spirits and feel upbeat. With the return to normalcy, the world is celebrating in cheery Fuchsia hues and bold corals.  
Dopamine dressing is dressing to find happiness in clothes. With fashion being the perfect vehicle for self-expression and inspiration, dressing to boost your mood and feel good is the current trend. This trend has taken birth in a generation obsessed with breaking the monotony and making a statement, and what is a better way to stand out than to sport eye-catching colourful outfits? 
Millennials believe in dressing for themselves and steer away from external validation. This freedom of celebrating a unique style of expressing emotions is a dopamine trigger. Clothing has a more profound impact on our mood than we think. In fact, it can lead to increased confidence and pleasure. The rise of colour in fashion is steeped with meaning.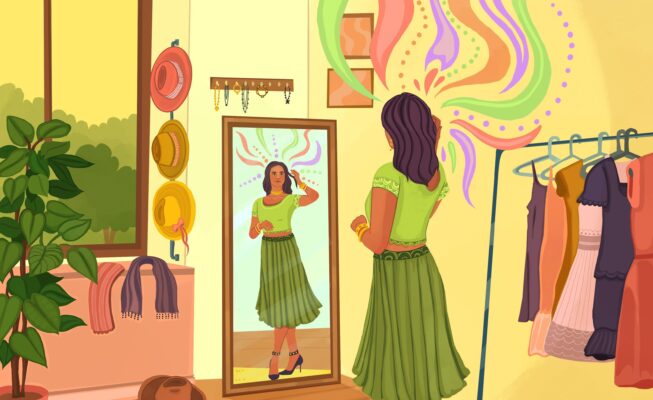 Neons are definitely the new Black. Fashion's embrace of celebrating personal style and playful dressing has made wardrobe a powerful means of communication. Mass brands like H&M and ONLY have included bold hues like neons, glowing scarlets, shimmer, and a plethora of bright colours in their collections to keep up with the latest fashion trends, focusing on spreading optimism and happiness. 
Dopamine dressing isn't all about dressing up in colours, prints, textures, and hues but rather pieces that make you happy and uplift your mood. It could be an oversized T-shirt or your favourite joggers. There are no rules and regulations: it's all about using clothing to induce joy and pleasure! The happiness hormone is not just associated with flashy colours but is about fashion which brings you a better mood. 
Our Top Dopamine Dressing Tip:  
Get creative, get out of your comfort zone, wear what truly excites you, and don't feel afraid to add a pop of pink or look like a disco ball!