Are you aware of a concept known as 'Revenge Travel'? It is definitely not as dramatic as it sounds but something that makes me think. With more than two years of COVID restrictions, people became eager to travel around and make up for the lost time. The traveling industry has seen a resurgence of people taking trips domestically or internationally as they were forced to be stuck in their homes for a long time. The trend is only going to see an upward surge now as more and more people take the trips they have been waiting for. However, what role does technology play in all of this?
In today's day and age, technology has seeped its way into almost every aspect of the human experience. There is no doubt that it has also emerged as one of the driving forces in the travel industry. I mean, traveling across seas wouldn't be possible without the emergence of technology, but we're not going that far deep in history. For our travel edition, I wanted to have a look at all the technological trends which are currently paving their way to becoming a mainstream norm in the travel industry. 
Technology and travel are a perfect combination. Right from the start while deciding the destination, to booking flight tickets to once you're there and back, technology enables you to carry out difficult tasks with ease. The emerging technologies have brought about a paradigm shift as travel adapts to a new context altogether. Nowadays, social media, apps, blogs, and much more have an important part to play when it comes to traveling. Let's be real, we all have seen our favorite celebrities take a trip to the Maldives and flex up on social media. While this is a narrower perspective of an industry that is expected to reach a total market size of $1,737 billion by 2027, let's look at the bigger picture and explore the emerging technological trends in the travel industry: 
Smartphones have become an integral part of people's lives. Be it attending an important meeting during your vacation or video calling your kid when you're out of town, smartphone technology allows you to bring the world closer. The evolving roles of these communication devices have now enabled them to become maps, personal travel guides, restaurant locators, planners, and much more. Here are some of the use cases of mobile technology during travel: 
Mobile Apps: Be it Android or iOS, there are multiple mobile apps that make it easier for travelers around the globe. Many airlines and hotels now provide mobile applications. People can book flight tickets, check flight status, and get their boarding passes on mobile apps now. Whereas, some hotel apps provide its guest with digital room keys for easy access. 

Virtual Queues: This is definitely an important technological development as it allows people to skip long queues that sometimes run up for hours. Virtual queues enable tourists to join a line without physically waiting with other people. Many Disney World attractions around the world now allow people to join a virtual queue. Visitors can simply scan a QR code with a smartphone and enter their details to join the virtual queue. They then receive a text or a notification when it's time to enter. 

QR codes for menus: This is quickly becoming a norm in restaurants around the world. Many restaurants and even food joints around the world come with QR codes for menus where customers can simply scan a QR code while dining in. The COVID pandemic turned QR code menus into a norm to avoid possibly germ-filled physical menus. 
Augmented reality (AR) or Virtual reality (VR) is currently the top emerging trend in the travel industry. It has become a trend due to all the possibilities they can offer. Imagine you as a hotel chain owner in India wishing to show the best your hotels have to offer to a corporate prospect client in the USA. It would surely be best to fly them out in the country but VR can surely get the job done effectively.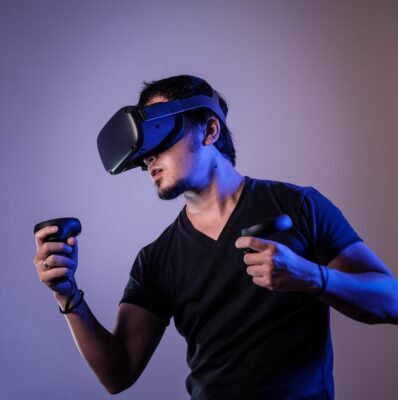 AR & VR have allowed people to teleport themselves to the most picturesque places around the world without leaving the comfort of their couches. One example of the same is the EVEREST VR application which transports people to the top of Everest without having to climb anything. Various VR/AR apps give people a taste of their possible next vacation. 
We all know how helpful Siri and Alexa are in our day-to-day lives. Virtual assistants bring ease to your life by performing various tasks by just hearing your voice commands. The same technology of virtual assistants is now being integrated into the travel industry. Hotels are currently using virtual assistants to assist hoteliers with routine and repetitive tasks. Booking and reservations are one of the main reasons why virtual assistants are used in hotels. Besides this, meal suggestions, room service, cab bookings, itineraries, concierge services, etc. are some of the uses of virtual assistants in the travel industry. 
Big data is currently being used by most businesses to take a leap further in the future. Before jumping on how big data can help the travel industry, it is important to understand what it really is. Basically, big data is a term referred to a large set of data that can be sourced from both internal and external sources of a certain industry. It is usually associated with customer views, habits, and behavior which is now also being implemented in the travel industry. 
One way big data can help the travel industry is in revenue management. To maximize the revenue output, hotels and tourism companies need to sell the right product at the right time to the right customer which can be enabled with big data. Customer experience can also benefit from big data. The tourism industry has major interactions with its customers which can result in valuable data. This data can be used furthermore to bring the best services to the customers. 
We all know how cash payments were frowned upon during the COVID-19 pandemic. Even food delivery applications during peak COVID times were not accepting any cash payments and strictly moved to card/UPI payments. This is now reflected in the travel industry. For the unversed, contactless payments work by holding a credit/debit card or a smartphone/smartwatch near a card reader. The user's device then communicates with the reader using RFID technology. Disney World has one of the most innovative uses of the contactless payment method using wristbands. These wristbands are known as MagicBands, guest can link up their credit card to a MagicBand and make purchases inside the Disney World park with the swipe of a wrist. A convenient way to pay for overpriced food and drinks at the park for sure!
Ultimately, the rapid progression of technology is bringing a welcoming change in the travel and tourism industry. The emerging technology is allowing the hospitality and travel industry to go through a sustainable transformation which is providing the best services to the end customer. Technological advancements like big data give the travel industry an opportunity to make evidence-driven decisions and make it a trip of a lifetime for the traveler!