There is something oddly lazy about the rainy weather: the sound of raindrops lashing against the window sill and heavy clouds lugging across the somber grey tones of the morning sky. While this makes for a perfect stay-in, stepping out can feel like a traumatizing experience. The last thing on your mind is deciding what to wear, but it is also something that can dramatically change the course of your day.
Colours
The gloominess of a rainy day calls for brighter colors that can significantly improve your mood. However, wearing white is a vehement no. White clothes can be easily stained and ruined in weather like this. Your best bet would be opting for darker hues of any color you choose to keep your attire functional. That being said, don't hesitate to have fun with an orange shirt or a funky yellow umbrella to brighten up your day just a tad.
Fit
Humidity is a frequent visitor in the wet season. To make your clothing comfortable in this time, you can opt for loose fits like a shirt dress. When it comes to bottoms, you can go for relaxed-fit jeans or culottes. Comfort should be a priority at all times, but especially so when the weather is unpredictable.
Prints and Patterns
If you are anything like me, floral prints will effectively lift your mood on a gloomy day. Tropical or animal prints can be a great choice for an otherwise dull day. An exotic print balanced with a silhouette shirt, for instance, would make for a brilliant choice. 
Additional Tip
:
The best addition to a rainy-day outfit is a pair of comfy shoes or sandals that help you navigate slippery surfaces that are inevitable on a rainy day. Also, invest in a trench coat for a fashionable and useful addition to your monsoon wardrobe. 
Monsoon Must-Haves
Waterproof tote bag: This makes for a smart yet fashionable choice to keep your belongings dry and safe at all times.
Ultralight Raincoat: There is nothing like a raincoat to make your outfit practical and stylish during the monsoons. 
Waterproof Boots and Socks: To keep your feet warm and dry, a pair of waterproof socks and boots will work wonders. 
Umbrella: Needless to say, you must always carry an umbrella. Always.
Things to avoid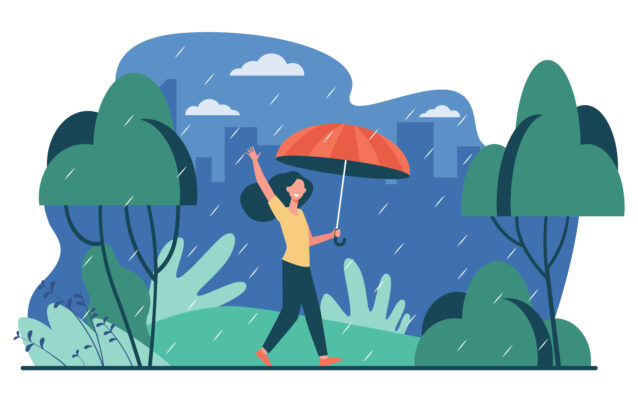 Stay as far away from leathers and suedes as you can. 

Keep your georgettes and chiffons safely tucked away in your wardrobe. 

Avoid long outfits and bottoms. 

Keep in mind you may have to maneuver muddy waters, and you don't want to ruin a perfectly good pair of wide-leg pants.
Fashion, in every way, should be a tool to allow you to show up as your best self. It is always a game-changer to dress according to the season and choose outfits that feel comfortable and, at the same time, elevate your style quotient.