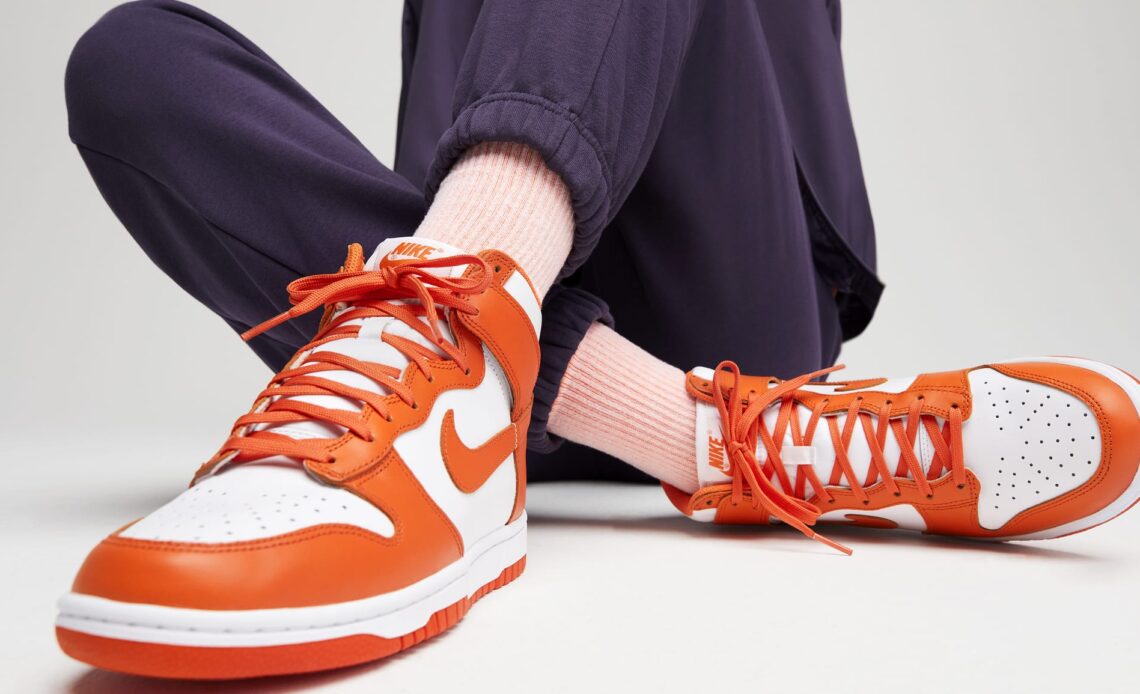 Hey, sneakerheads! We hope you all are taking good care of your sneakers and brightening up your shoe rack (cupboard, in some cases), no matter how crowded it becomes. Sneakers are not only limited to sneakerheads, as they are made to spread joy, and even a non-sneakerhead can have them in their rack.
The sad thing about loving sneakers is that the sneakers you are planning to buy might run out of stock if you don't buy them when you see them first. Also, one can not compile the list of top 10 sneakers as the market they're in is pretty sneaky, and after every launch, you'll fall for a new one. To date, these 10 are the best sneakers.
Nike Blazer Low '77 Jumbo – ₹8,595
Nike Blazers were originally designed as basketball shoes but have earned the status of street-smart shoes in the last few years. The iconic sneakers are all-time classics and offer you a cool look. The shoes feature an oversized Swoosh design, jumbo laces and thicker stitching and allow you to slay in an old-school look.
Nike Waffle One SE – ₹9,695
Inspiration can come from anywhere. The designer of the Nike Waffle, Bill Bowerman, sewed the waffle sole to a pair of running shoes after getting inspired by a breakfast waffle iron and then offered the shoes to the runners, who ran like a rabbit. Since then, the Waffle franchise has become a favourite for runners as it offers a stunning appearance and good running properties.
Adidas Retropy F2 – ₹8,999
What happens when your sneakers offer a retro vibe with a modern design? You stay one step ahead. The Adidas Retropy F2 have taken inspiration from classic '80s running styles and upped the game with a fresh design. The supremely comfortable sneakers are techie and available in various futuristic colours that take cues from gaming consoles.
Puma PWRFRAME OP-1 Nature Knit – ₹11,999
Quite a long name for a sneaker, right? The Puma PWRFRAME OP-1 sneakers stand out in the crowd as they have progressive design and futuristic 3D embroidery. The cutting-edge sneakers are inspired by elements of street style and tech culture. If you're into football by weekends, these sneakers could be your best companion as they're developed for the football pitch.
Adidas Adizero Boston 11 – ₹13,999
Adidas Adizero Boston 11 arrives with a maximal stack height and a firmer uptempo trainer. The shoes are best suited for workouts and people who love a firm ride while taking medium to long-distance running. The sneakers are made of recycled materials and bring a race-day feel to training with a propulsive feel from ENERGYRODS.
Top 3 Sneakers for Women
Nike Dunk High – ₹9,295
How could you ignore the '80s basketball icon? The classic hoops design sneakers return with crisp leather on the upper ages, retro colours, and foam midsole that offers lightweight and responsive cushioning. In short, they match any outfit.
Puma Mayze Breaking News Sneakers – ₹8,999
The Puma Mayze Breaking News Sneakers are made for the hype girls and draw inspiration from the '90s basketball and soccer culture. The sneakers arrive with a luxurious leather upper, sleek suede overlays and have a double PUMA formstrip to double up your PUMA love.
Nike Air Max 90 – ₹10,795
The most comfortable retro runners are here! The Air Max 90 sneakers arrive with an attractive design and have a thick, wedge-shaped midsole which adds about 3 cm to your actual height. Go for it if you are a fan of music and culture.
Luxury is in the AIR
Nike Zoom Mercurial Superfly 9 Elite FG – ₹24,995
With the ongoing FIFA 2022, many football fanatics and even non-fanatics will surely try their legs (in this particular case) at the game. They are loaded with a Nike Air Zoom unit in the heel for the best comfort. The football sneakers from Nike are available in flamboyant colours, and one can even customise them according to their choice.