Fashion is an industry that spans the world and inspires people to find their voice and approach. However, it is crucial to consider the tremendous environmental impacts of fashion on our planet. From Fast Fashion declining the lifespan of garments to trends taking over social media, consumerism has increased, and the industry desperately needs sustainable practices. 
Reusing, recycling, renting and thrifting to increase the lifespan of garments is essential in the fight to tackle the existential threat of risen carbon footprint and climate change. It is time to hit the brakes on fast fashion and mindless shopping and work towards creating a fashion industry that supports ecological practices and addresses overconsumption. 
More importantly, brands must adopt ethical practices, use eco-friendly packaging, and strive to be more sustainable to defend the planet and help consumers in their slow fashion journey. Throwing a spotlight on three homegrown indie brands that are socially and environmentally responsible and will help you build a greener wardrobe.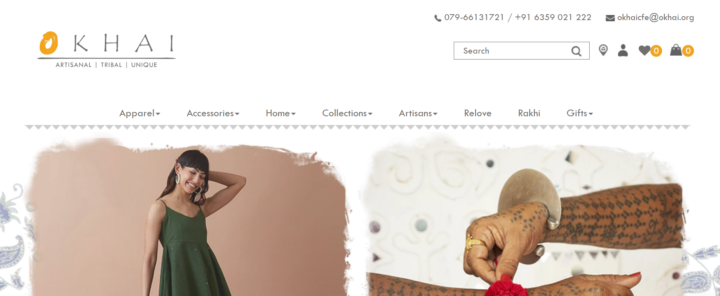 Okhai offers handcrafted apparel created by rural artisans across the country. These artisans are gifted with the skill to craft exquisite designs, and the pieces transcend trends by giving classics a fresh twist. Embroidery, patchwork, and mirror work emphasize handloom and are a vibrant expression of culture. The brand has helped improve the economic conditions of women artisans. 

Ritu Kumar believes in slow fashion and uses soybean and banana fibres to create her signature crafts and embroideries. The brand is rooted in sustainability and is devoted to reducing its carbon footprint by using natural fibres. The collection celebrates bandhini, aari work, geometric patterns, florals, patchwork, and dyed prints with a promise to stay true to their vision of transparency. 
Bareek is a sustainable and green menswear brand specializing in light and breathable clothing. Bareek strives to lessen its impact by using handwoven fabrics such as khadi and handloom cotton and ensures that each piece is sourced mindfully and responsibly. The fabrics increase the longevity of the pieces and promise modern, sensible use and reuse of the collection. The heritage crafts such as jamdani and ikat are their bestsellers.